Album Review
Solange - A Seat at the Table
4 Stars
Take a seat at the table, open your mind and let Solange tell her truth. It's worth it.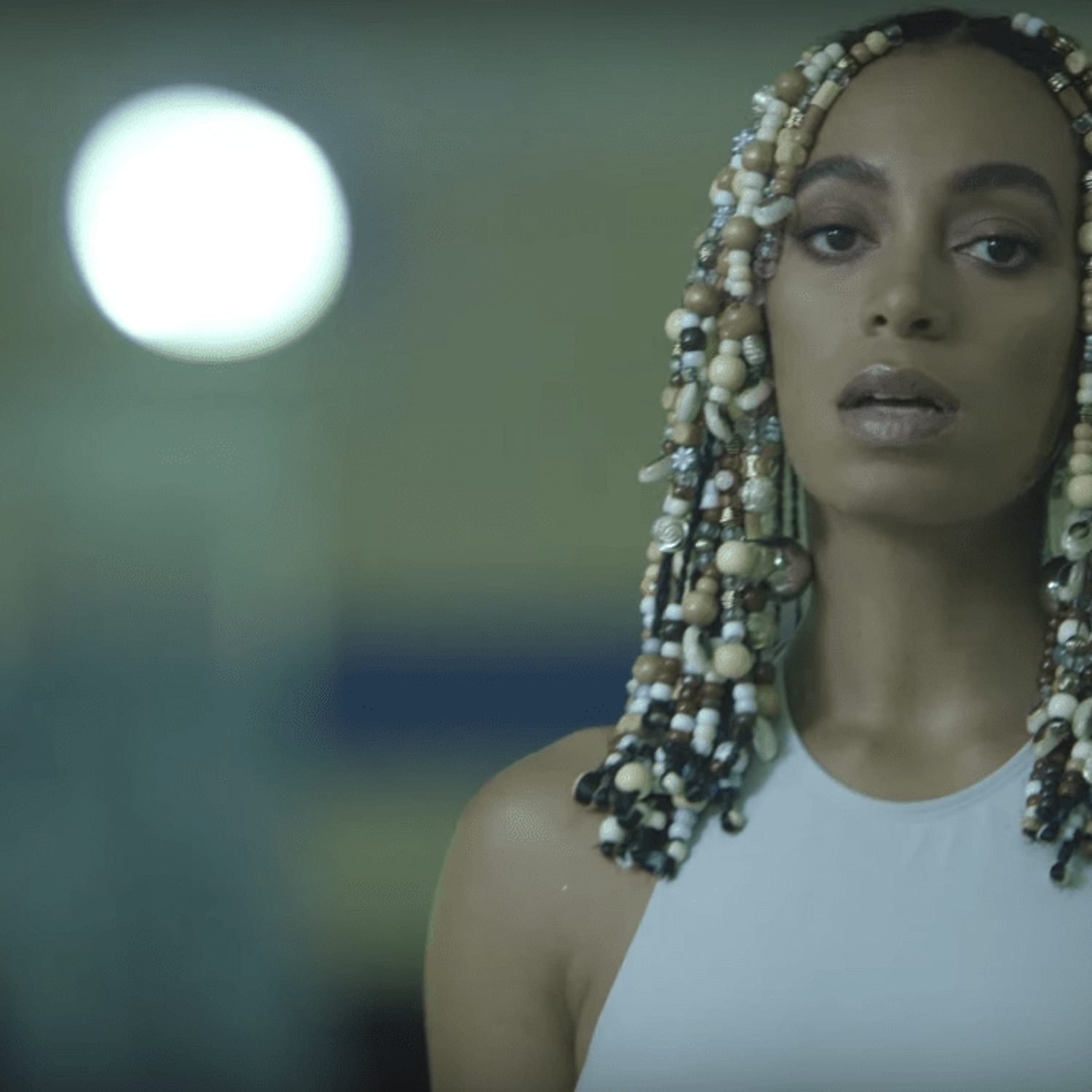 In a conversation with her mother, Mrs. Tina Lawson, and journalist Judnick Mayard, Solange Knowles explains the meaning behind her new album's title, her first full length collection in eight years.
"I think that 'A Seat at the Table,' for me, is an invitation to allow folks to pull up a chair, get very close and have these hard uncomfortable truths be shared," she explains. "It's not going to be pretty, it's not going to be fun, you may not get to dance to it, you're not going to breathe easily through it, but that is the state of the times that we're in right now. It's my invitation to actually open up those doors and to have that voice, get messy and lay out my truths and stand firm in them."
This explanation should, for the uninitiated, give way to why the singer's third album doesn't exude the pop sensibilities of her 2012 EP, 'True', and the now anthemic single 'Losing You'. 'A Seat at the Table' isn't just an album about sonic exploration and pushing the boundaries of what is considered pop and R&B. Rather, the sprawling 21-track collection acts more like the pages of a diary, painstakingly ripped from the binding of the mind.
Album opener 'Rise' is an affirmation that Solange is traversing her truth, acknowledging the fragility of her journey and her position in the wider context of the album's themes. Immediately, the listener is plunged headfirst into an exploration of self and belonging. "I'm weary, of the ways of the world," Solange laments, before venturing into questions about her position of a black woman in society. "Do you belong?" someone asks, to which she replies, "I do, I do."
The stunning melancholy of 'Cranes in the Sky' assiduously delves into grief and denial, Solange's dynamic and airy vocal matched with guest vocalist Tweet in exquisite harmonies as the track glides toward its emotional fade-out.
Where 'A Seat…' excels most is in the contrast that runs through select moments. It's both extremely personal to Solange's experiences, and specific in its examination of black lives, but it exudes a universality that doesn't exclude or discriminate. As Mrs. Tina Lawson explains on 'Tina Taught Me', one of the albums nine spoken word interludes: "there's such beauty in black people and it really saddens me that we're not allowed to express that pride in being black. And that if you do it's considered anti-white. No! You're just pro-black and that's okay. The two don't go together. You celebrating black culture does not mean that you don't like white culture."
That's not to say that the album is without its moments that are explicitly and gloriously black. Segueing into 'Don't Touch My Hair', which features British singer Sampha, Solange pertinently addresses one of the many micro-aggressions aimed at black women, the disrespect and fetishisation of black hair. "You know this hair is my shit," she sings. "Rode the ride, I gave it time. But this here is mine."
Elsewhere, 'Mad', featuring Lil Wayne, and 'Don't You Mind' blend accessibility with specifics. While both songs could be about the expulsion of bad relationships and the tumultuous anger and sorrow that accompanies that, in parallel they also explore themes of racial resignation and inequality. The latter in particular speaks to white media, echoing Tina's sentiments that by acknowledging and celebrating her blackness, Solange is, in some way, rejecting the white audience that connected with 'True'. On 'F.U.B.U' (for us by us), a musically dissonant track, Solange relents; racial accessibility parting ways for a powerful exhibit of black solidarity: "This shit is for us."
Areas of the album linger in despair, but that's not the overall message of 'A Seat…'. Rather, it's essential that, as a listener, you're subjected to the darkness before you can find the album's cooling juncture of healing. 'Junie', a collaboration with Andre 3000, sees the singer explore cultural appropriation by humorously juxtaposing them with the bounciness of her 2008 record 'Sol-Angel and the Hadley St. Dreams'. Similarly, Solange emerges resolute on the ominously electronic 'Don't Wish Me Well', as she rejects naysays with renewed strength that's echoed in the tracks self-assured and cascading production.
Like Lauryn Hill and her sister Beyoncé before her, 'A Seat at the Table' is Solange pinpointing that art - and specifically black art - can and should be universal, regardless of its themes. It doesn't matter that songs like 'F.U.B.U' might exclude a white audience from singing along at a show due to its repetitive use of the n-word. For years, black audiences have been excluded from much more than just a sing-a-long at a festival or a gig. It's okay if it's not written for you, and that doesn't mean you can't enjoy, respect and be in awe of its majesty and empowerment.
And that's what 'A Seat at the Table' is; it's lusciously written, produced, and arranged. Like Solange says, it's an invitation to a table that allows an important perspective on the complications and inequality of modern Western society. It also examines the intricacies and complexities of a creative mind, navigating through the emotionally and physically life-threatening situations of just existing. By giving the album a universality, Solange speaks of what it means for her to be a black woman, but also what it means to be a human being.
Take a seat at the table, open your mind and let Solange tell her truth. It's worth it.
Read More
Featuring James Blake, Romy, Marika Hackman, yeule and more.