Album Review
Swet Shop Boys - Cashmere
4 Stars
'Cashmere' is not just a declaration or a celebration, it's an affirmation.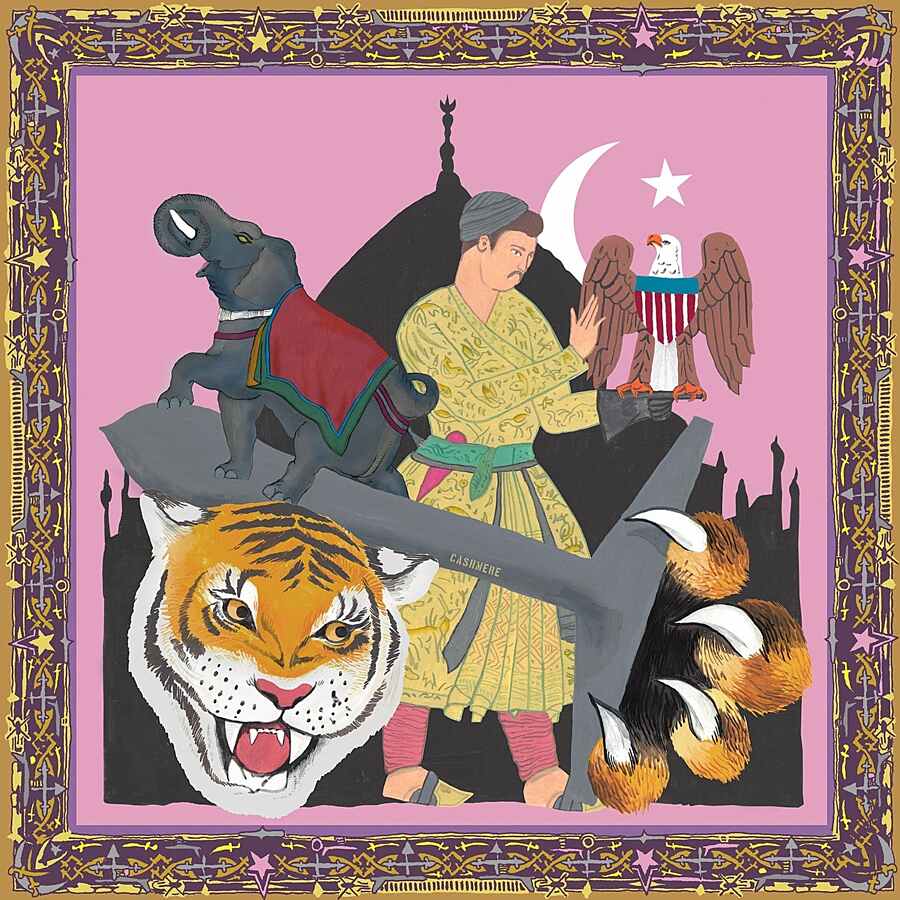 There's a bar on 'Zayn Malik' that Queens rapper Himanshu 'Heems' Suri drops, summing up what Swet Shop Boys' 'Cashmere' is all about. It's one that South Asians - those from the diaspora and who grew up in the late 90s and early 00s - will intuitively get: "Yo, I'm bumpin' André hey ya, hey ya / Now I'm bumpin' chal chaiyya chaiyya."
It's a knowing hat-tip to the concept of hybridity, of an identity that embraces both Shah Rukh Khan movies and Atlanta hip-hop, of pairing sari tops with jeans and trainers, of being a 1st/2nd/3rd gen. immigrant who's from here, there and somehow nowhere, but who knows who they are and who reps their mixed-up mongrel self all the same.
You don't need to be South Asian to enjoy the Swet Shop Boys debut, but it helps. It helps with parsing the double meanings and multiple identities that are scattered throughout the record, it helps with getting the cultural references to India and Pakistan via Brooklyn/Southall/Durban, and it helps because if you're Desi there's a sense of validation to hear someone like you speak on lived experiences that mirror yours with authenticity as if it's a Totally Normal Thing, which flips and subverts the accepted script of the universally relatable experience defaulting back to white.
'Cashmere' isn't an explicitly political album. Or to put it another way: it's only political inasmuch as the lives of people of colour are themselves deemed a political act. First single and album opener 'T5' is a perfect example. Opening with piercing shehnai, an instrument that's more normally heard in weddings, here it sounds more like a call to adhaan – or perhaps a more weaponized, call to arms – and roars out of the gates with a tense, visceral diatribe against airport security. Whilst Heems' verses amble along with wry humour and charmingly lazy wordplay ("Inshallah, mashallah, hopefully no martial law"), Riz MC's (actor Riz Ahmed) are typified by a razor-sharp flow, as fast as it is furious, and breathlessly references the refugee crisis, Aeneas from The Iliad, Trump and his film career in short order, before throwing down that he "run[s] the city like my name's Sadiq". On an institutional racism tip, 'Shottin' is gritty, commercialized hip-hop on the surface but reveals a darker tale of Islamophobic police harassment, with Riz highlighting the irony of a drug dealer turned religious getting more flak from the authorities for being a pious Muslim than he ever did for dealing: "Less heat on the road, more beef on the thobe / They think he's gonna blow."
It's hardly all doom, gloom and bitter invective however. Playful party jam 'Tiger Hologram' is SSB in the club and one of the many moments where producer Redinho's skills get the time to shine. As well as being an homage to Qawwali music, the digitised harmonium, rhythmic handclaps and 808s all loop into an intoxicatingly addictive hook, whilst Riz and Heems vie in turn for the attentions of an elusive woman. 'Aaja' too is concerned with matters of the heart, with a Bollywood love song-style chorus at the heart of it sung liltingly in Urdu by Pakistani singer Ali Sethi, that serves as an interesting contrast with Riz's sometimes raspy delivery, such as when he snarls "You're sweet like baklava" at the object of his affections. Again, Redinho's use of Indian instrumentation here is effective without overpowering, the mixture of twanging sitar and soft tabla beats elevates a structurally simple track into something sublime whilst remaining subtle about it. Although there's a moment of pause when it's realised that the vocal sample at the end belongs to Qandeel Baloch, the Pakistani model and social media star who was murdered by one of her brothers in a so-called 'honour' killing in July, which lends it a tinge of retrospective sadness. Sadness of a different kind is explored in 'Half Moghul Half Mowgli', an introspective Riz track which examines third culture kid blues, accompanied by mournful Indian flute and sees him take on the voices of his detractors and supporters in a kind of fanmail/hatemail faceoff. On the opposite end of the scale, Heems' solo effort 'Swish Swish' is a typical bombastic, swaggering rap song done in his laid-back, stoner-flow style, which mostly conforms to the braggy conventions of the genre, but still pulls no punches when it needs to: "I don't give a fuck, I stay reppin' Queens / And Long Island, we wildin', we stylin' / They're still racial profiling!".
In spite of the heavy material explored during its all too brief runtime, the album ends on a hopeful note. 'Din-E-ILahi' is an atmospheric meditation on mortality, which takes its name from a religion founded by the sixteenth-century Mughal emperor Akbar the Great that combined the best elements of Hinduism and Islam. It's an apt statement for a record that combines the various dichotomies of east and west, Hindu and Muslim, past and present, American and British. Even the pretty sleeve art is a combination of traditional Persian painting and an intricate Mughal miniature, save for the disconcerting presence of a drone and a bald eagle, symbols of modern warfare and American imperial aggression. Taken altogether, this is a piece of work that breathes new life into terms like multiculturalism and diversity, which are often empty buzzwords.
'Cashmere' is not just a declaration or a celebration, it's an affirmation. There's a quote by Dominican American writer Junot Diaz about how vampires have no reflection in mirrors: "… if you want to make a human being into a monster, deny them, at the cultural level, any reflection of themselves. And growing up, I felt like a monster in some ways. I didn't see myself reflected at all. I was like, "Yo, is something wrong with me? That the whole society seems to think that people like me don't exist?"'. What Swet Shop Boys have done is to affirm a collective identity: by making their own mirrors so people like them can see themselves reflected back – and the people who aren't can appreciate those identities too. It's funny, it's clever, it's cultural, it's historical, it's political, it's chaotic, it's crisp, it's irreverent, it's deep, it's a beautiful thing, but most of all – it's really, really fucking good. And it's the real deal.