Festivals
Angel Olsen, King Gizzard & The Lizard Wizard, Wet Leg & more are highlights at another charming edition of End of The Road
31st August - 3rd September 2023
Along with its eclectic line-up, the alchemy of the Dorset event makes it the perfect way to close out summer.
While walking through the terrain of End of the Road's magical gardens, peacocks roaming around, along with its glorious verdant forest of luminous enchantment, you wonder if you've stumbled into an actual wonderland.
With an almost-embarrassing amount of musical riches on this year's line up, Deerhoof's maniacal, mind-boggling art-rock is an absolute force through the growing mist on the festival's opening Thursday. They set the bar high early doors, before headliners Wilco bring a close to the evening, the modern day legends an apt choice for a festival that has made its name on Americana, folk and alt-rock.
Friday, meanwhile, really sees the party start, courtesy of the buzzy Fat Dog's stint on the Big Top. Frenetic, frenzied and deranged, the South Londoners' mix of punk, ska and rave whirls up a circle pit, a dance-off and ultimately just pulverising chaos, showing how they've garnered their live reputation.
Over at the Woods, Say She She serenade with their fun-filled soothing disco-pop, while caustic New York art-rock-punk outfit Bodega arrive at their brilliant best. A change of pace occurs at the bucolic woodland amphitheatre setting of the Talking Heads stage with Sessa's glorious sun-drenched blend of bossa nova, jazz and psychedelic folk that's truly beguiling to watch, and perfect for both its setting and time of day. Meanwhile over at The Boat, KOKOKO!'s hyper-charged experimental electronic future-space-rave is a thrilling high-powered fireball assault.
Closing out the Friday in fitting form is Angel Olsen. A delayed appearance - after she was previously booked to headline in 2020 - today finally sees her spellbinding otherworldly cinematic ballads and country folk provide a truly celestial experience over in the Garden. From the spectral soundscapes of 'Go Home' to playfully teasing new material, proclaiming "This is a song I wrote last night" before launching impassionately into the more grunge-tinted banger 'Shut Up And Kiss Me' from 2016 outing 'MY WOMAN', her set is both haunting yet joy-laden. Closing out the fittingly brisk evening with a stunning cover of "Without You", you can't help but hope she receives a re-billing in the headline slot in the not-too-distant future.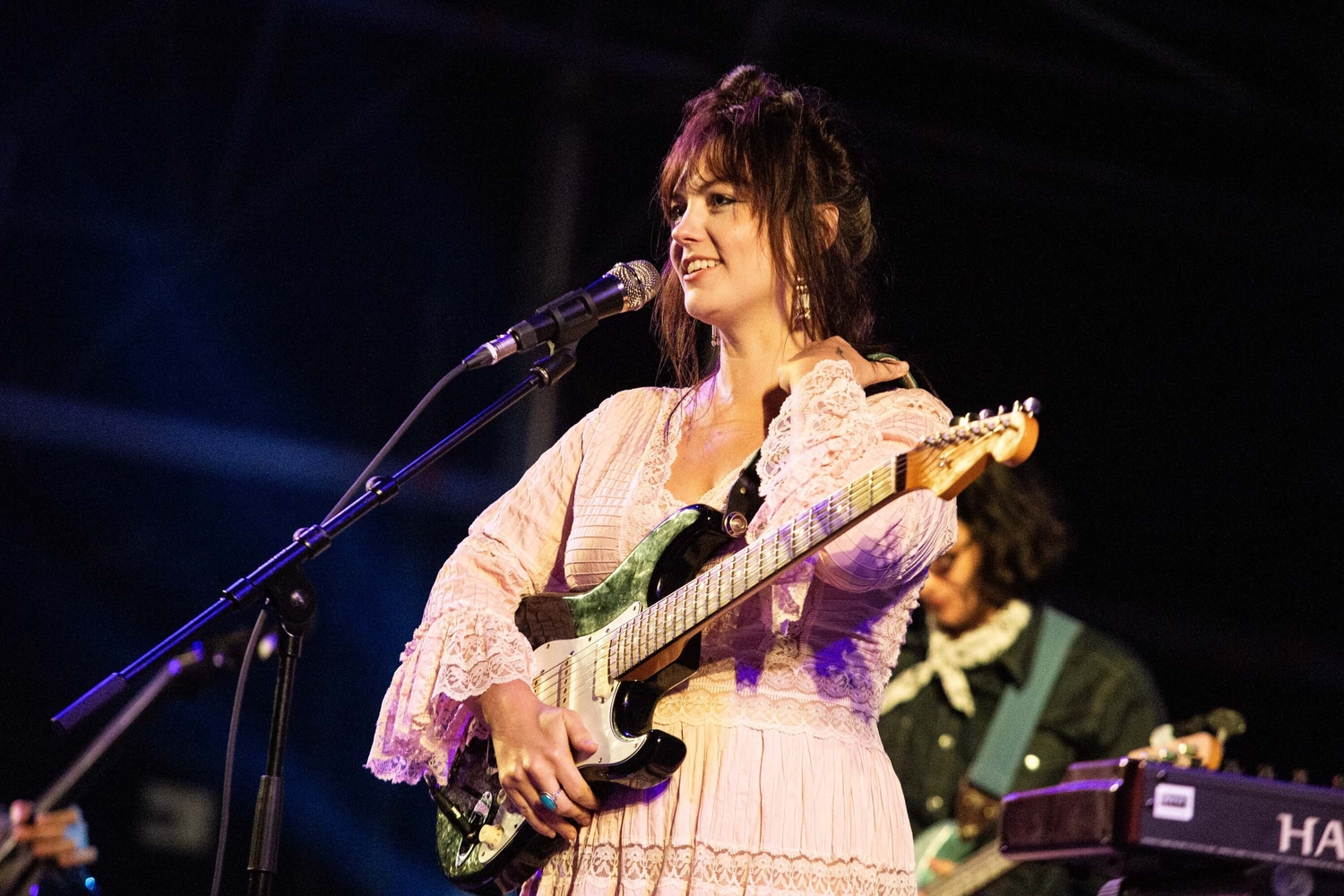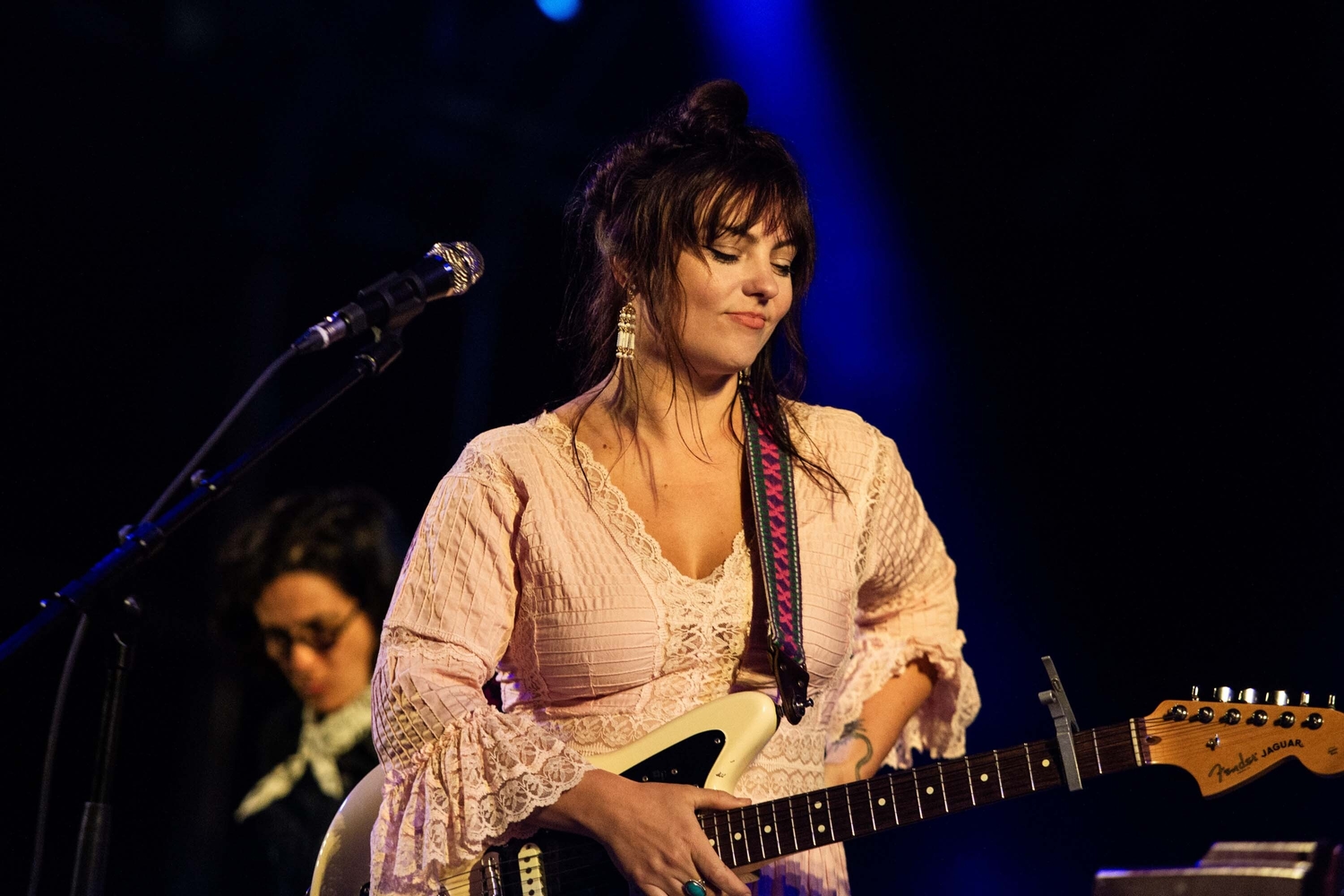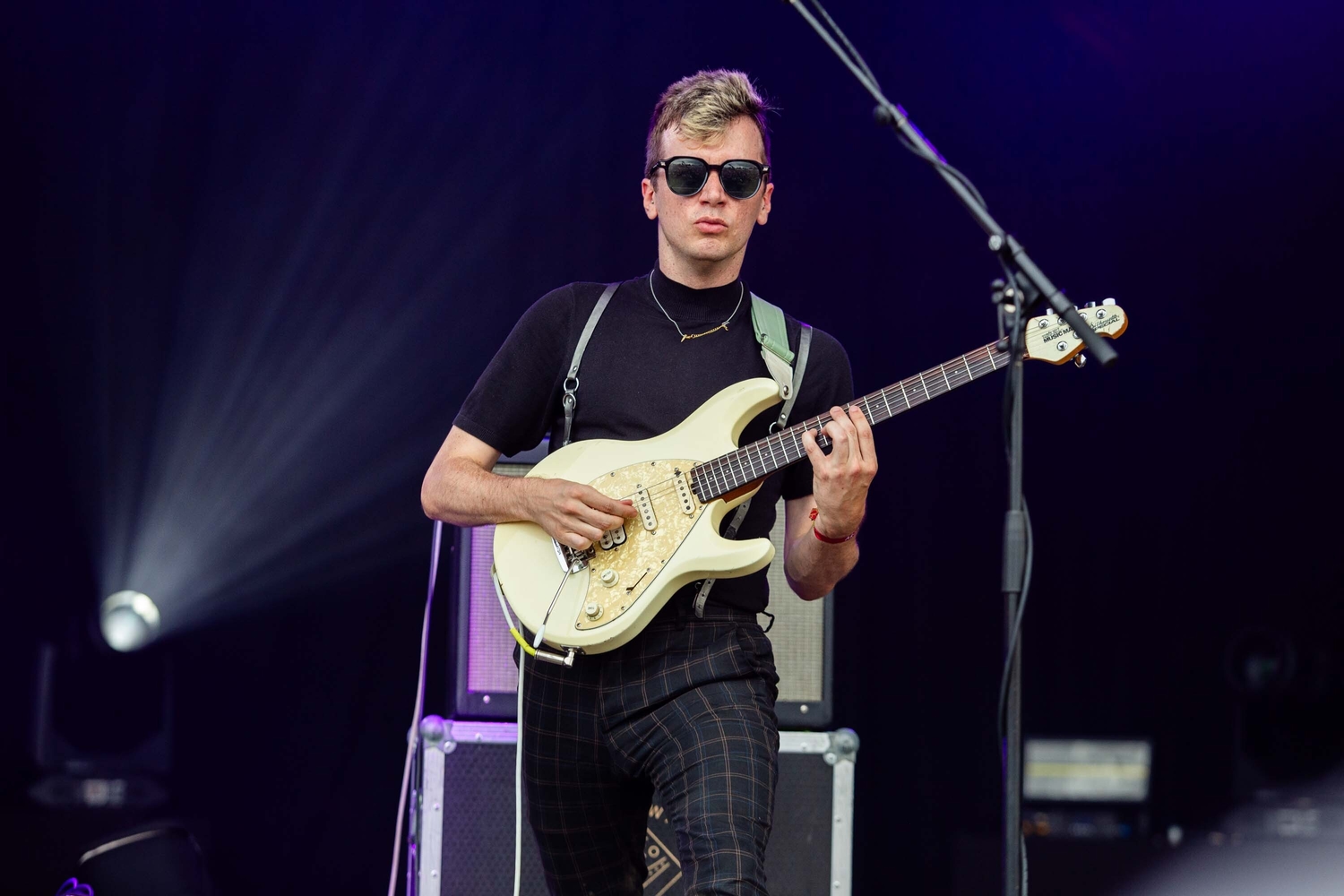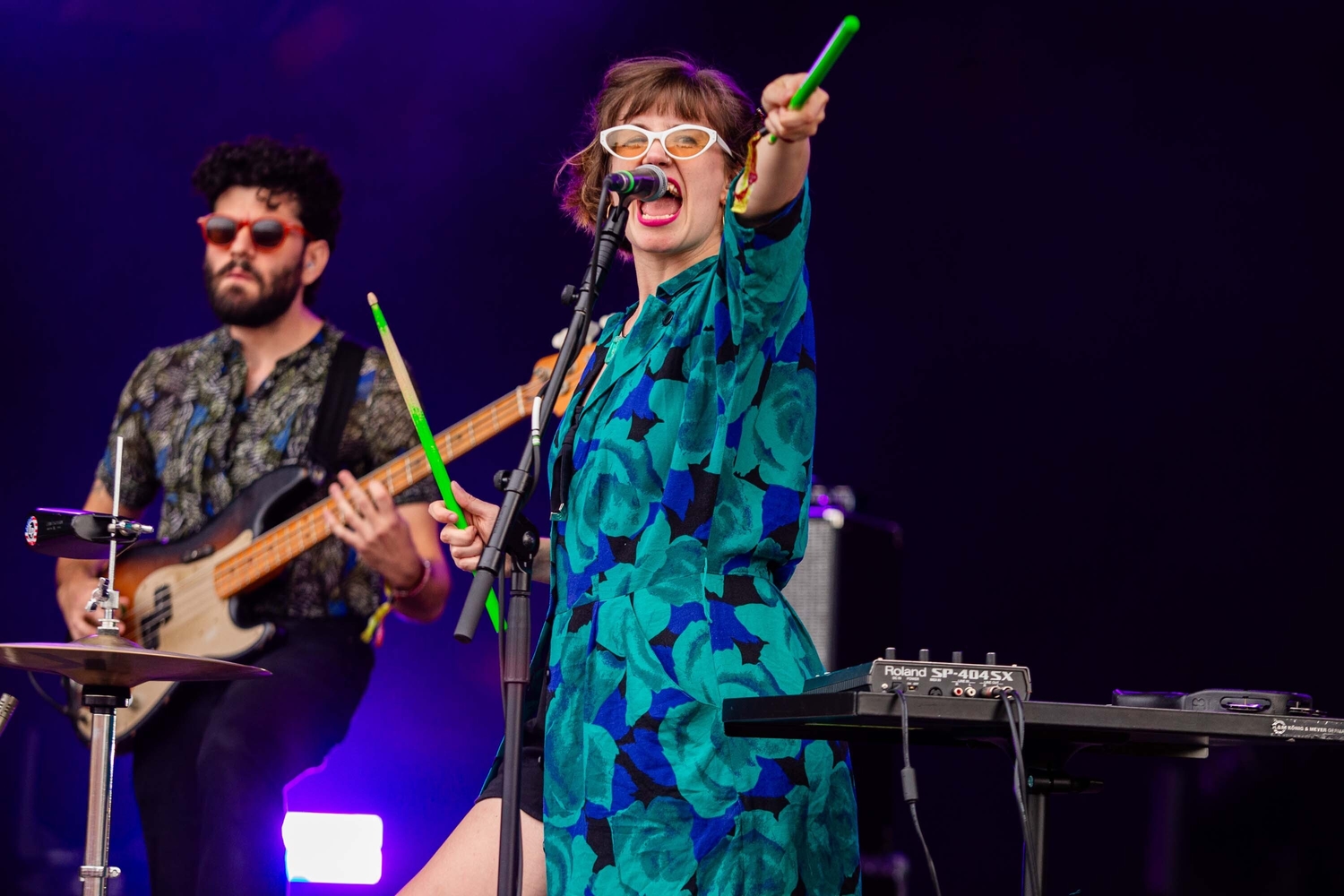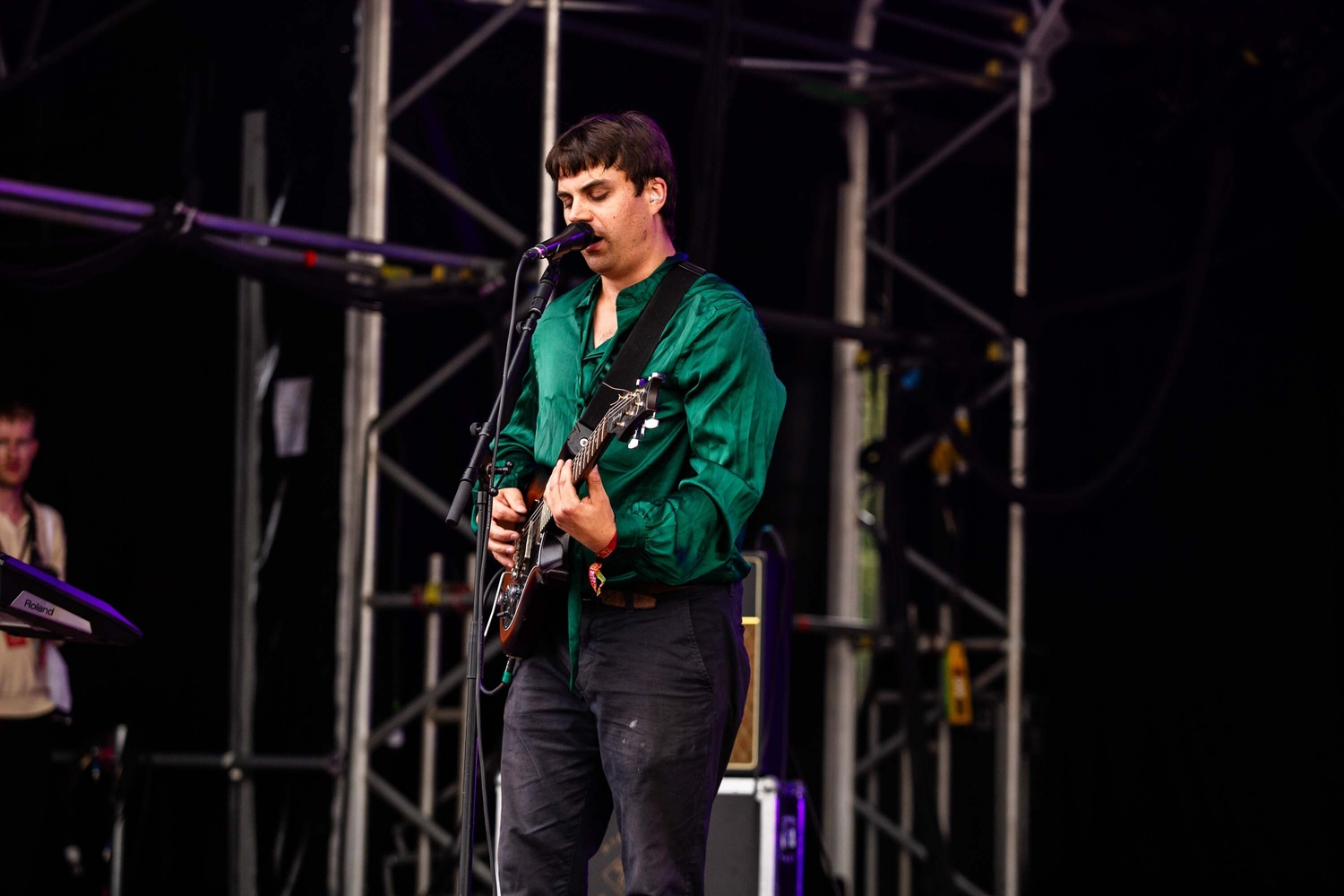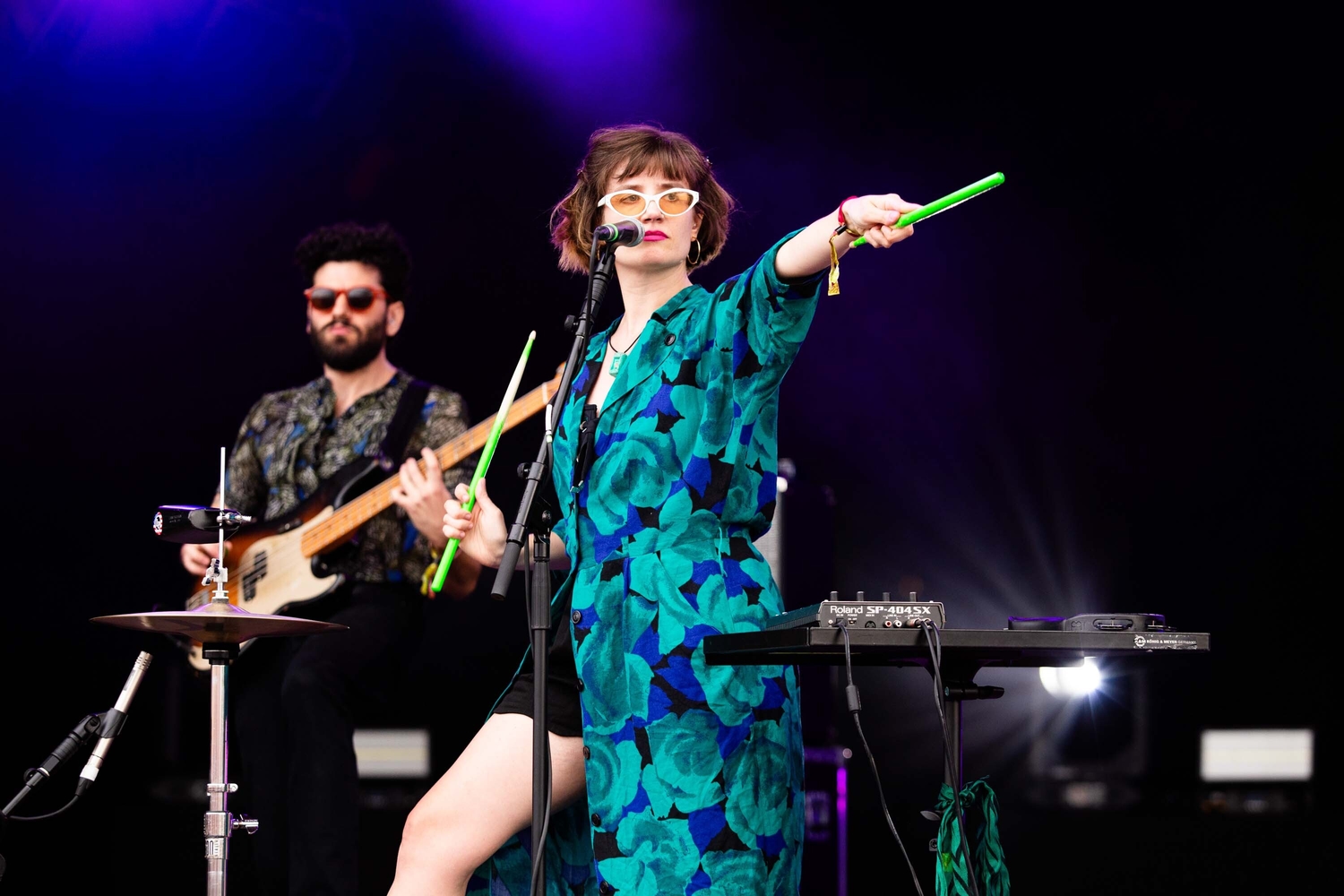 Saturday, and opening up proceedings at the Garden is experimental cellist Mabe Fratti, whose set morphs into a splendid cacophony of noise and shoegaze. At the Woods, Amsterdam's Personal Trainer offer up uplifting and danceable indie numbers while Donna Thompson's jazz-meets-experimental-pop is an utter delight at The Boat, before further contrast comes via the noise-laden mania of Brussels' Avalance Kaito and their futuristic experimental post-punk.
Rave-inspired synths are prevalent across the weekend, and PVA - with their brand of blending techno, acid-house and UK bass with post-punk rhythms - provide a fun, sweat-filled affair at the Big Top. Straight after, fellow London outfit Kokoroko take to the Woods stage; they're also a joy to witness, fusing jazz with Afrobeat.
Next comes a full-circle moment. Having originally formed in order to play End of the Road, Wet Leg's secret set comes this year sandwiched between main stage moments at much bigger events, such is their rocket ship ascendancy. "Hi we're Oasis", the band's Rhian Teasdale jokes, before hurling into a glorious torrent of indie-fuzz-pop, with the likes of 'Chaise Longue' and 'Wet Dream' given certified anthemic status . It almost feels surreal; a real 'you had to be there moment'.
Seminal psychedelic Swedes Dungen then open up the cosmos and provide a stand-out performance over at The Boat, while ending the night at the Garden - with bats flying overhead - come Arooj Aftab. Haunting, breathtaking and melancholic - all mixed with genuinely hilarious dry humour - the set provides an unconventional yet brilliant way to close the day.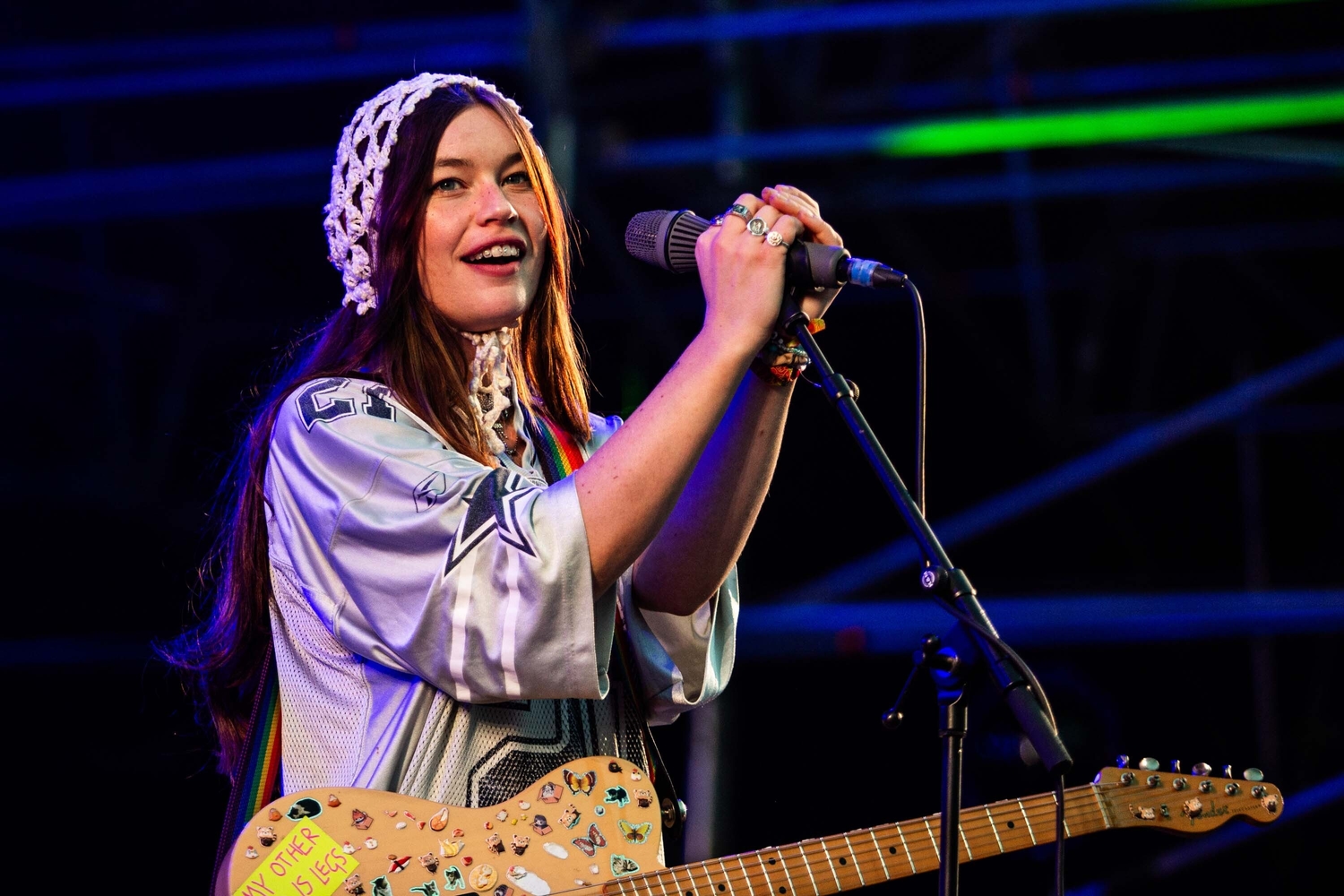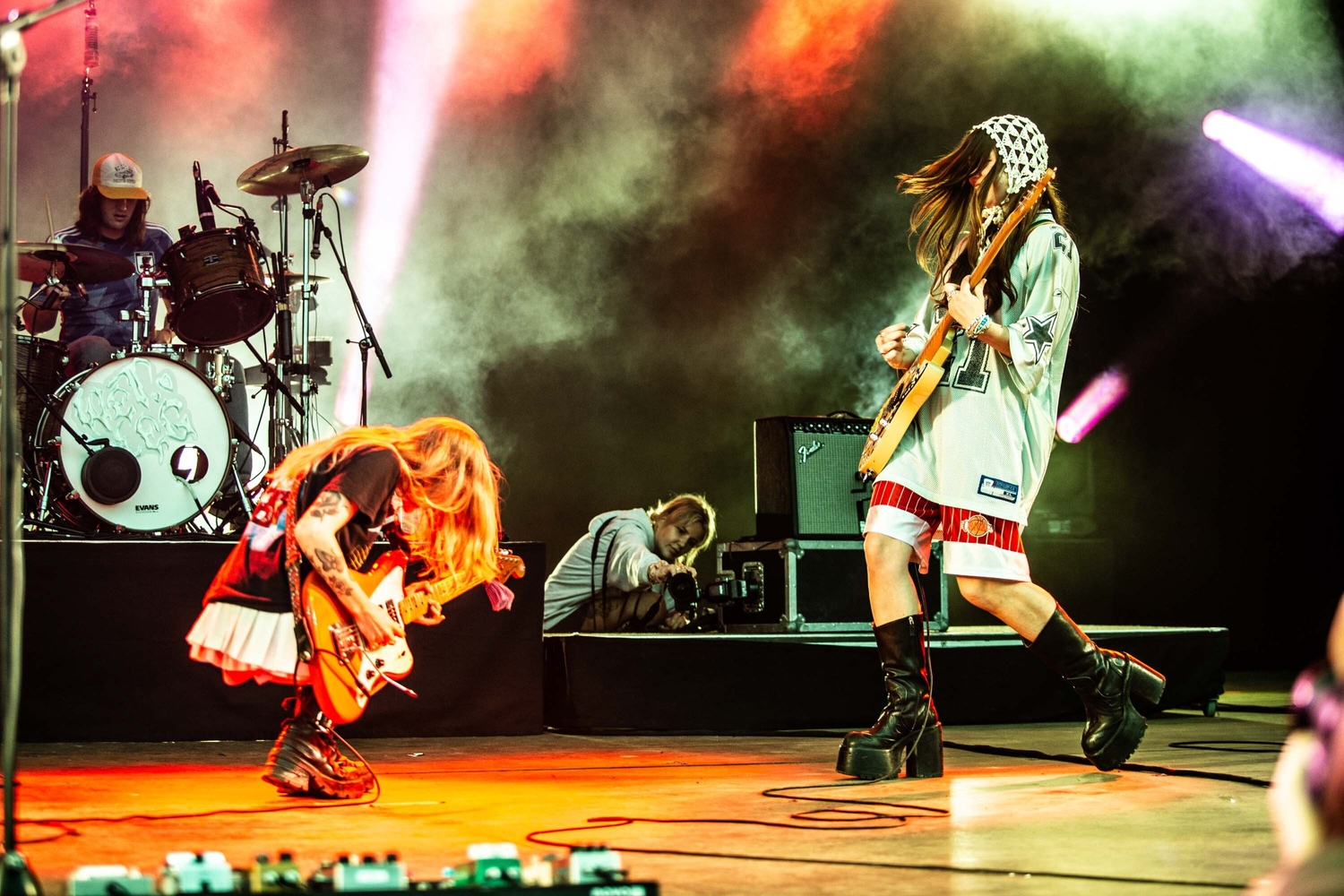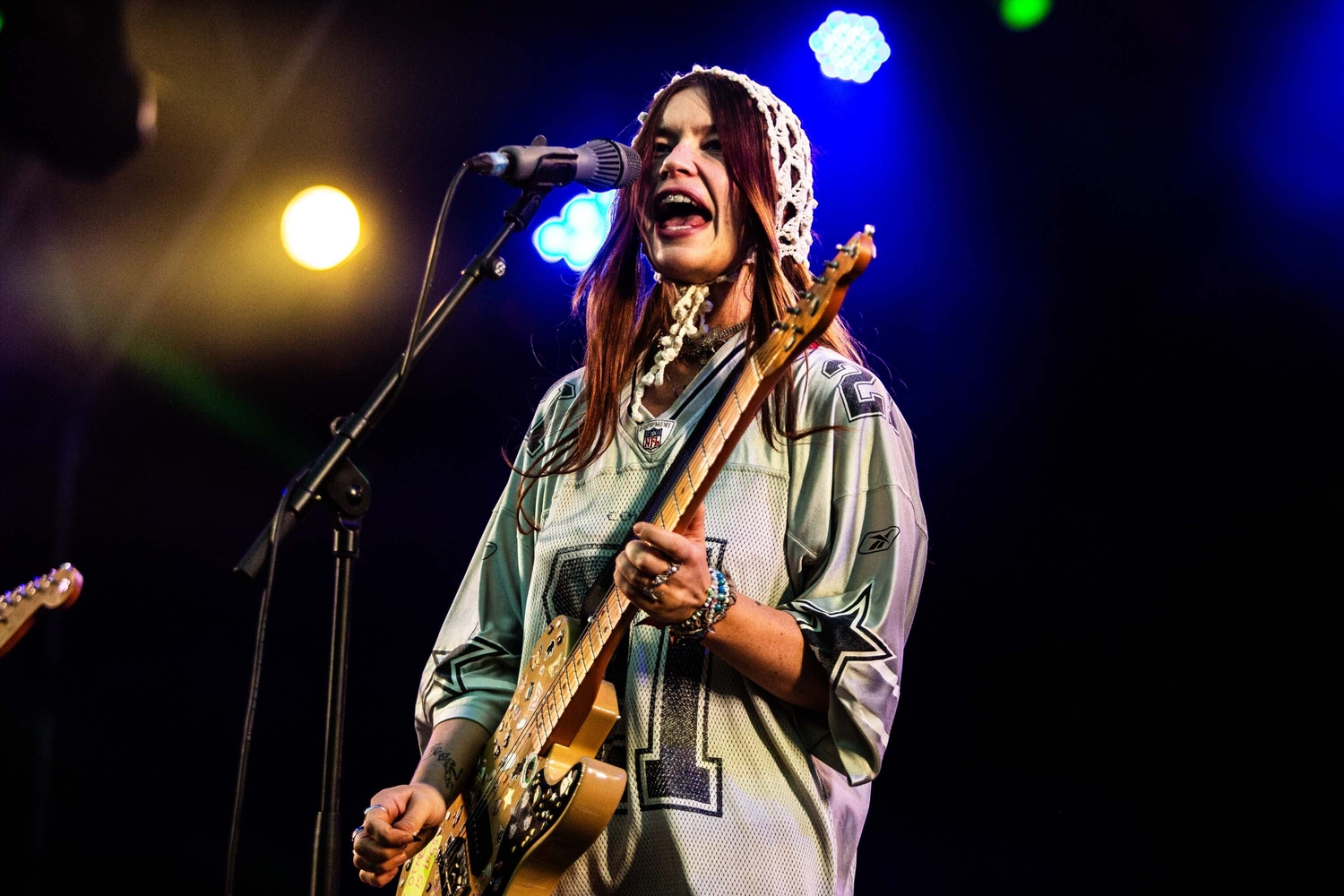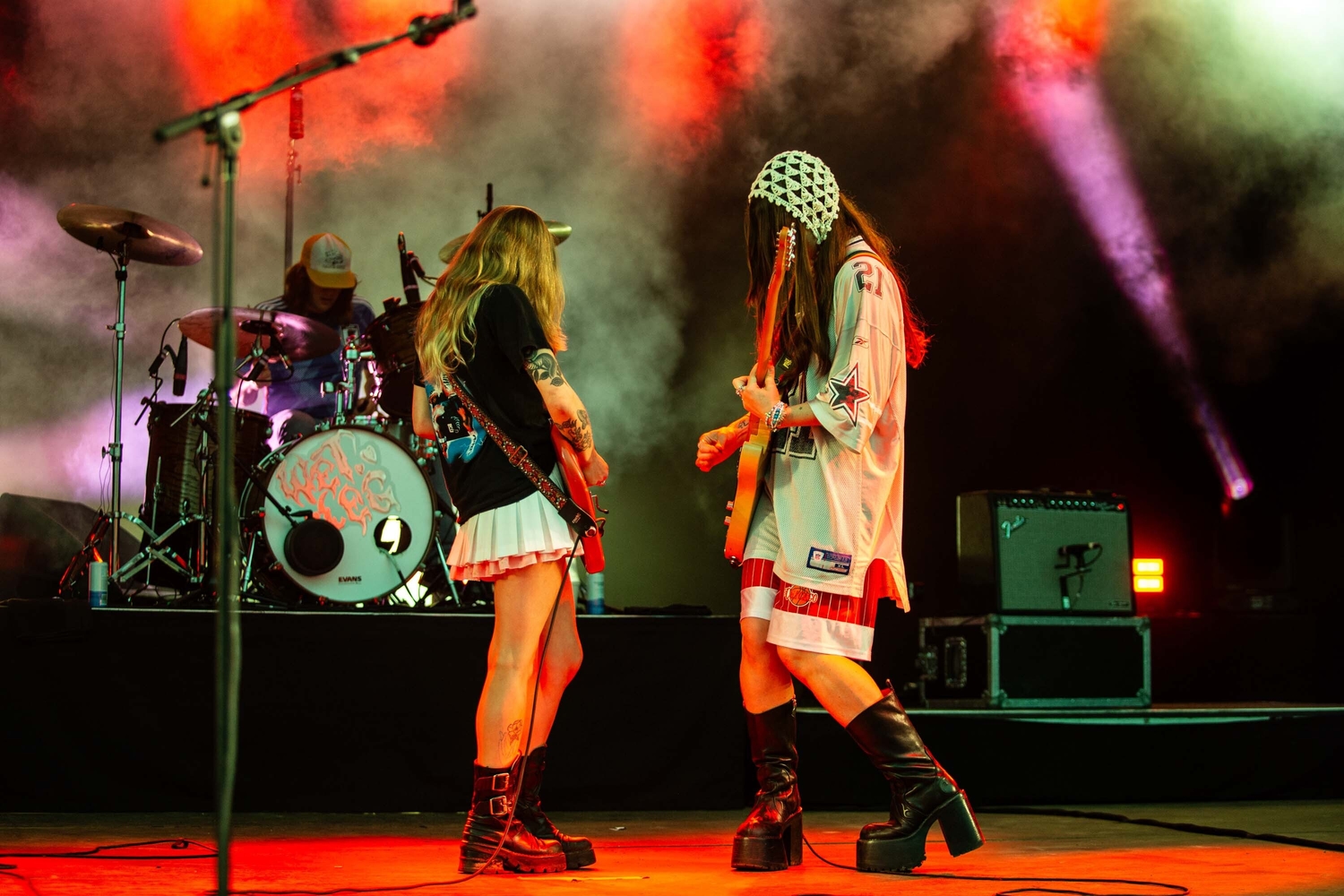 Beginning things on EOTR's final day, MADMADMAD intertwine wonky post-punk with intergalactic-disco, space-funk dance-filled and krautrock, with the three-person orchestra absolutely living up to their name. Meanwhile, the cosmic orchestra that is Teke::Teke - reminiscent of contemporaries such as Goat and Yin Yin - take to a sun-drenched Woods, while Ghanaian Alogte Oho & His Sounds Of Joy are indeed joyous at the Garden, with wonderfully winsome Afrobeat and funk.
As Sunday draws on, Fatoumata Diawara offers a beautifully powerful experience, but it's over at the Big Top that The Murlocs - fronted by Ambrose Kenny Smith, also of tonight's headliners - offer a blast of psychedelic-tinged garage-blues, as they delve into both tracks from last year's 'Rapscallion', and deeper discography cuts like 2014's 'Loopholes'.
Switching to his primary outfit, Sunday headliners - and the notoriously prolific - King Gizzard and the Lizard Wizard are using their closing slot to finish up a seemingly never-ending tour. Kicking the set off with 'Dripping Tap', the likely exhausted Ambrose Kenny Smith returns from his earlier set with a wonderful raspberry-like wail.
Admittedly, the outfit initially bring a more laid-back vibe this evening, but soon, the ever-eclectic multi-headed hydra showcase a monsoon of riffs. Packed in alongside more serene moments, the fuzz lords underline just how they've achieved their status as a cult live force, before closing their headline slot with the psychedelic-proggy behemoth 'Gilla Monster'. If this is the last time we see King Gizzard and the Lizard Wizard for a little while - a live Q&A earlier in the day hints that they're taking time-off to focus on family life - their set doubles as a fitting and wholesome goodbye, to both the Melbourne mind-melters themselves, and the festival as a whole. An eclectic event packed with charm, its alchemy makes it undeniably special, and a perfect way to close out the summer.

Read More
Popular right now
Featuring James Blake, Romy, Marika Hackman, yeule and more.