Album Review
Everything Everything - Get to Heaven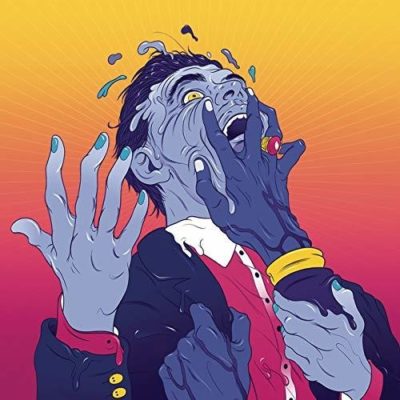 Pop explorers Everything Everything have finally discovered their utopia.
Label: RCA
Released: 22nd June 2015
Survival of the fittest - it's the metabolism of nature. You have to evolve if you want to survive. Where other 2009 hype competitors have flailed by the wayside, Everything Everything are on their third album, 'Get to Heaven'.
From the snarling rage of 'To the Blade' - to the ecstatic bliss of 'Warm Healer' – pop explorers Everything Everything have finally discovered their utopia. With music this innately hypnotic, EE could get away with singing in Simlish. Their lyrics have been famously misheard back since their very first single (is he really not singing "who's gonna sit on your face when I'm not there?"?), and you won't be short-changed here. Come their festival performances of 'No Reptile', the line "baby it's alright to feel like a fat child in a pushchair" will have the tattooed blokes chortling into their pints, then stunned and goey-eyed.
But look deeper. On 'The Wheel (Is Turning Now)', they continue to explore their fascination with the evolution of mankind, from the trees to computer screens ("do you wanna know how far you've come?"). It's a self-portrait, because EE make Darwinian swings from album to album. EE sound unique, and yet none of this is new. Much like British culture is made up of the best bits from the countries we've invaded, EE have plundered pop music. After the Radiohead-meets-Destiny's Child explosion of their debut 'Man Alive', an arena tour with Snow Patrol inspired the EE to drop the 'noodle-y bits' to inhabit the role of stadium-conquerors - resulting in the anthemic euphoria of 'Arc'.
So what's new? Well it seems, since their international tour with Foals, they've returned to their experimental roots - only this time, there's a new-found swagger. 'Spring/Sun/Winter/Dread's sassy semi-rap of "you did it to her, and you did it to him" isn't a world away from the barbershop Destiny's Child vocals that adorned their debut. And yet this is in a new gear to what their younger selves – or any other band today – could ever dream of.
Forget everything you've just read – Everything Everything have sculpted a masterpiece. 'Get to Heaven' may well have slipped from the clouds.

Get your copy of the latest issue
More like this