Album Review
Ezra Furman - Perpetual Motion People
4 Stars
There aren't many musicians like Ezra Furman.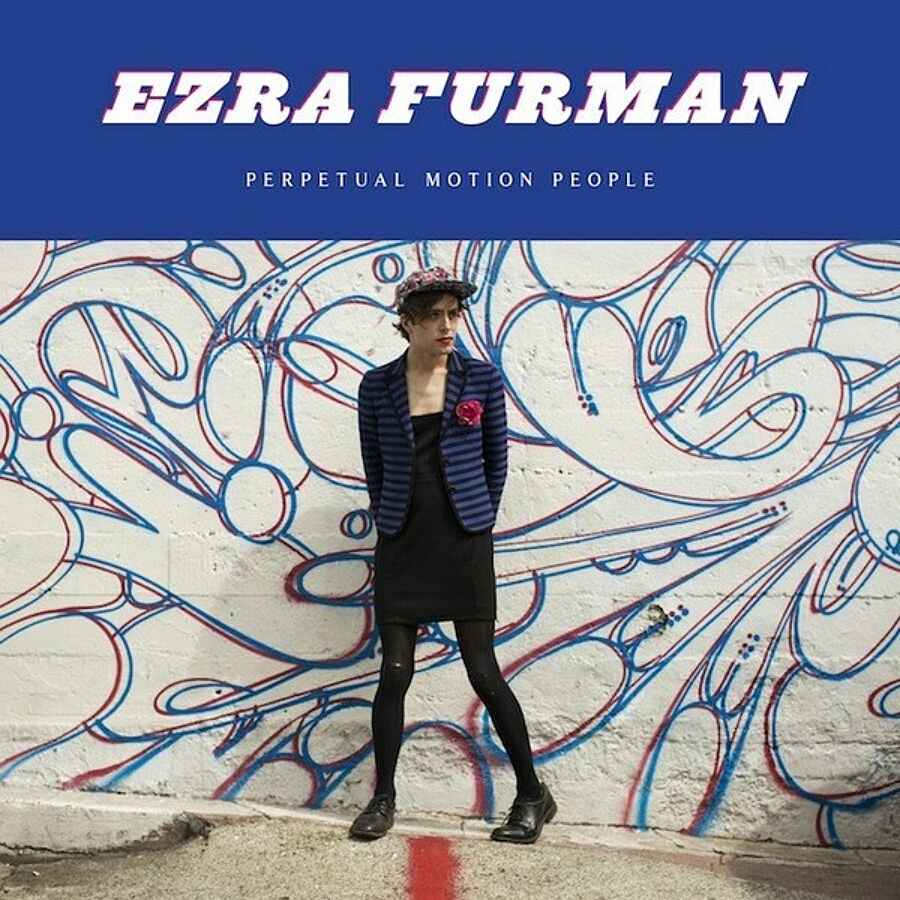 There's a feeling throughout 'Perpetual Motion People' that Ezra Furman is 'in the moment' – and that he knows it. This is his hot streak and he's going to grab it. There's a ramshackle magical confidence that tumbles throughout all the songs, a sense that Furman has created his own unique, captivating world. And if there's any justice, this could be the moment Furman becomes a star.
The best thing about it is that he's done it just by being completely himself, without compromise: so the fact that he's a man in a dress covered in make-up spilling out his thoughts about depression, love and his faith, are precisely what give him his star quality. It's this glorious cocktail of his intriguing and compelling qualities that makes him such a rare, unusual and alluring talent; one you can't take your eyes off.
'Day of The Dog' was the start of this – introducing the joyful playfulness, ecstatic sax, and frantic rock that has been honed here. It's a mélange of 50s rock'n'roll, 60s doo-wop, punk as well as a smidgen of Jonathan Richman and Kevin Barnes from of Montreal. And if that sounds like a lot's going on, with Furman holding it together it feels completely natural.
"I feel desperate a lot – desperate to try to explain something… I'm trying to shake people by the shoulders and explain something," he's said and his thoughts seem uncontained right from the energy and bounce of single and album opener 'Restless Year' and its 'Ooh la la las'. It's glee and bounce is tempered by lyrics about Dostoevsky and 'Death is my former employer'. 'Lousy Connection' parps along with a skyscraping chorus about wanting to see himself from the outside.
'Ordinary Life' is more stripped backed, dealing with depression in heartbreaking detail. There's an aching beauty to him singing "The human mind gets sick real easy… and I know it's happened to me again and again." And titles like 'Hour of Deepest Need' and 'Wobbly' show it's not the only one focused on that theme (though the latter does it with a magnificent swagger).
But the album still feels like a joyous ode to dealing with it all and living your life. He's said he wanted to make an album "a lot of people would listen to" so 'Tip of a Match' is a fuzzy, heavy joy and 'Body Was Made' has an 80s pop-sheen.
It gives the album that balance of light and shade that all the best albums have. Even though a lot of it takes it lead from standard rock'n'roll you feel like you haven't heard anything like this before, probably because there aren't many musicians out there like Ezra Furman. This is a messy, disorderly but beautifully blissful and idiosyncratic record – and that seems like the statement he'd like to make.
More like this