Get Excited About…
10 albums we can't wait for in 2019
As January draws to a close, things are shaping up very nicely for a host of world-beaters to make their return with huge new albums this year. Here's all the goss.
We're less than a month into 2019, but the year is already shaping up to be one for the ages in terms of simply huge new albums. Already this year, we've had concrete information on new records from Foals, Vampire Weekend and Lana Del Rey, while a whole bunch of other albums from some of the world's biggest artists are touted for release before the year is out.
Foals are set to give us the second part of their 'Everything Not Saved Will Be Lost' album in Autumn (with the first part arriving on 8th March), while The 1975 are set to complete their 'Music For Cars' era with 'Notes On A Conditional Form'.
With new records also expected from Sky Ferreira, The Raconteurs, Tame Impala, Grimes and - if she sticks to her New Year's Resolution - Charli XCX, 2019 could be a simply massive year for new records.
To help you get sufficiently excited for what's ahead in the next 11-and-a-bit months, we've done some digging and unearthed all you need to know about when, where and in what form your faves are set to return this year.
Now that Ezra Koenig is married to actress Rashida, does that mean the singer's named Vampire Weekend's long-awaited fourth LP 'Father Of The Bride' after… Quincy Jones?! Seemingly so, but the legendary funk producer doesn't seem to have had much influence on 'Father of the Bride"s sound if warm, enveloping first tracks '2021' and 'Harmony Hall' are to go by. The band have stated that they'll be dropping two songs – loosely grouped as companion pieces - each month until March, then the full, 18-track record is set to land later in spring.
Ezra spoke to Rolling Stone about the collaborative nature of the new record, saying: "I had this experience where I was in the studio with Kanye in Mexico. It was so different than anything I'd done. One day [Dirty Projectors frontman] Dave Longstreth is there; the next day Big Sean shows up. Sometimes it wasn't people working, just talking about music."
"I was, like, 'I like this atmosphere. I need to loosen up.'" he continued. "So I've been working with this 68-year-old guitarist, Greg Leisz, and this 18-year-old guitarist, Steve Lacy. A bunch of other people have been coming in and out."
What a tease. 'Father Of The Bride' is out later this year.

Read the DIY review of 'Harmony Hall' here and listen to it below.
'Everything Not Saved Will Be Lost'
We at DIY HQ - along with the rest of the indie world - had to catch our breath for a few hours after we found out that Foals were returning with not one but two(!) new albums this year.
'Everything Not Saved Will Be Lost' is being released in two parts, with the first dropping on 8th March and a second to follow in the autumn.
"I wanted to make something more ambitious and more creative, less predictable," Yannis Philippakis told Q Magazine recently. "The result is two albums which have all different types of spaces and dynamics on them."
"We just went in like, 'Let's do everything we want to do'. We had trust there was gonna be a way of fashioning it into something that makes sense at the end. We wanted to have our cake and eat it."
This attitude seeps firmly into 'Exits', the first preview of the band's new era: in our review of the track, we called it Foals' "definitive statement".
"You read about these tech billionaires who are buying bunkers in New Zealand," Yannis told Q of the song's lyrical motives. "The song is an MC Escher-like dystopian fantasy, except it's quite close to being reality… All the post-millennial dread that everybody's swimming in at the moment is very much present."

From everything we've heard, then, Foals' fifth and sixth albums are set to bring together everything that's made them the band of a generation for so many British indie fans, and we don't have long to wait for that sweet first slice.
Read the DIY review of 'Exits' here and watch the track's video below.
'Norman Fucking Rockwell'
Set for release on 29th March, Lana Del Rey's forthcoming fifth album 'Norman Fucking Rockwell' has been slowly teased in typically elusive style. No big interviews, no dramatic returns, just a series of casually-unveiled tracks with nostalgic, Super8-style videos to match.
The songs themselves, however, aren't quite so easily pegged. While recent offering 'hope is a dangerous thing for a woman like me to have - but i have it' is classic Lana – all wisty-eyed melancholia and sad self-reflection – 'Venice Bitch' is a hazy, nine-minute epic, while 'Mariner's Apartment Complex' positions her as a kind of Mother John Misty. Intriguing.
The record is produced by Bleachers main man Jack Antonoff, and Lana spoke to Zane Lowe last year about the link-up and the album's truly brilliant title.
"Working with Jack, I was in a little bit of a lighter mood because he was so funny. So the title track is called 'Norman Fucking Rockwell' and it's kind of about this guy who is such a genius artist but he thinks he's the shit and he knows it and he, like, won't shut up talking about it.
"So often I ended up with these creative types or whatever, and you know, they just go on and on about themselves, and I'm like, 'Yeah, yeah.' But there's a little bit of merit to it also. They are so good. I just like the title track so much that I was like, 'OK, I definitely want the record to also be called that.'"
Norman, we can't wait to meet you.
Read DIY's Comprehensive Guide to Lana Del Rey here, and listen to 'Venice Bitch' below.
'Notes On A Conditional Form'
The second record of The 1975's double album 'Music For Cars' era, 'Notes On A Conditional Form' (due for release in May) follows a mere six months after the cultural colossus that was 'A Brief Inquiry Into Online Relationships' and is birthed from a whole new set of sessions and recordings. Prolific? Scarily so. A bit insane? Of course. But that's Matty Healy for you.
Judging by the creative sweet spot the frontman seems to be in at the moment, we wouldn't bet against it being even better than their game-changing current LP. That clever bastard.
In an interview with Annie Mac on BBC Radio 1, Matty seemed to reveal that the record would be exceedingly British, channelling "the beauty of the M25 and all those lights and going to McDonald's and listening to garage records in a haze in a Peugeot 206."
In an interview with Q, he also revealed that influences for the record spanned from The Streets To Burial, also revealing that the album includes "one of my best lyrics ever".
Well, not much to live up to then, mate.
Read the June 2018 DIY cover feature with The 1975 here, and watch their 'Love It If We Made It' video below.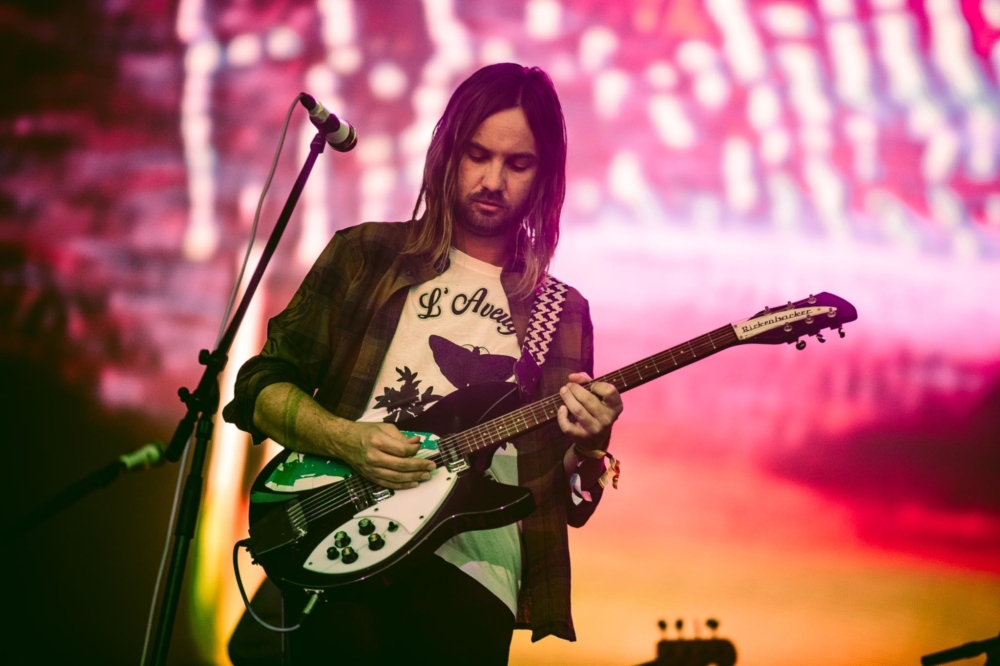 It feels like forever since Tame Impala became true, bonafide world-beaters on third album 'Currents'. It seems Kevin Parker feels that way too. In an interview with Pitchfork last year, the frontman said he'd be "very disappointed" if a new record didn't arrive by summer of 2019. And, to be honest Kev, we're with you here.
The sparkling tour for 'Currents' saw the band as one that could take over the world, and we got a nice refresher on said ambitions when they returned to the UK last year to headline London one-dayer Citadel. There were no new songs though, and it's an itch that's still yet to be scratched.
It's not that Kevin has been quiet, though: he and Theophilus London formed a new duo called Theo Impala at the end of last year, and shared new music at a sold-out LA show.
The pair then shared two new songs on Virgil Abloh's Beats 1 radio show. The first of which was 'Whiplash', a track that first surfaced in 2016, and a cover of Steve Monite's classic 'Only You'.
With Tame Impala now announced to headline Coachella, Primavera Sound and plenty more across summer, you wouldn't bet on new music being far away.
Read the November 2016 DIY cover feature with Tame Impala here, and bask in the glow that is 'Let It Happen' below.
She's not quite up to Charli XCX levels of delay, but safe to say the route to Grimes' fourth LP hasn't exactly been smooth. Originally expected to follow 2015's 'Art Angels' in 2017, she then took to social media to declare "music industry is trash" before disclosing a clash with her label that would go on to repeatedly set back the record.
As if sensing our twitchiness about the whereabouts of the new record, she recently tweeted: "Thank god I have new music imminent this is embarrassingly long time to not release an album haha."
It's not like Claire Boucher has been twiddling her thumbs over the last year, though. Recently she's shared a potential tracklist for a new album and some clips of new music, as well as announcing that she's written the theme tune to new Netflix series Hilda, before teaming up with former Mindless Self Indulgence frontman Jimmy Urine on a track for his new project EURINGER(!), guesting on the new Bring Me The Horizon album(!) and releasing 'Play Destroy', a collaboration with Poppy.
Now, however, she's supposedly on course to release two new albums and – hallelujah! - we've even had a taste of one in the form of throbbing, industrial bop 'We Appreciate Power' (featuring best pal Hana). Fingers crossed the progress continues.
Read the DIY verdict on 'We Appreciate Power' here and blast the new song below.
As if Jack White hasn't been busy enough recently, touring his 'Boarding House Reach' LP from last year, announcing a new live concert film and, uh, selling his own themed version of Cards Against Humanity, he's dusted off his old band The Raconteurs for another record this year!
Last releasing an album with 2008's 'Consolers Of The Lonely', the new record was announced when Jack's label Third Man Records revealed a re-release of the supergroup's second album as part of a Third Man Vault package, to celebrate 10 years since its release back in March 2008.
The set - obviously including a new vinyl pressing of the record (on bronze vinyl, natch) was revealed to include two new songs, the band's first in ten years.
These songs are now out in the world in the form of 'Sunday Driver' and 'Now That You're Gone'. The songs are, Third Man confirmed, "from recent sessions that will ultimately result in a new Raconteurs album in 2019".
With the band set to tour this summer, including a slot alongside The Strokes at London's Victoria Park for All Points East Festival, all we have to do now is wait for that little ol' album…
Listen to new track 'Sunday Driver' below.
Look, we know we've all been here before. Since 2014's 'Sucker', we've basically been hanging on the phone waiting for news of Charli XCX's long-awaited new album. We've had plenty of sweeteners, not least the fantastic 'Number 1 Angel' and 'POP 2' mixtapes, but that record has still managed to elude us (and her).
But this year, it's happening for real. LOOK: she made it her New Year's Resolution! Taking to Twitter on 2nd January, she simply wrote:
"New Years Resolutions
1. Make an album
2. Release it"
Well then, there you have it. No-one likes to break a promise after all.
Read DIY's Comprehensive Guide to Charli XCX here, and watch her video for Troye Sivan collaboration '1999' below.
Sky Ferreira started teasing the follow-up to her debut album, 'Night Time, My Time' back in 2015, but it's still not arrived.
She's not quite been out of the public eye - last year she sang with Iceage on single 'Pain Killer' as well as appearing as an actor in Baby Driver and the remake of Twin Peaks.
In a 2016 interview with Dazed, she explained the album's working title of 'Masochist'. "The way I look at it, it's about going from one thing to another. I've learned a lot about myself and my own self-value. Before, in order to feel good about anything, there had to be some kind of struggle, a painful way to get to it. Otherwise, I felt I didn't really deserve it. Which is a really fucked up way of thinking. I became a masochist in every single way."

Regarding the release of new music, Sky previously said that she was "waiting for the official official official beyond the point of no return release date" before announcing anything new, adding: "My silence should not be confused for negligence. I deeply care and put everything I have into my music. Including all of my earnings. Don't let the suckers drag you down."
It's not been plain sailing on the new music front, then. After saying she was going to release new music "very soon" back at the end of 2017, she then revealed midway through last year that she'd been locked out of her SoundCloud account by her record label.
Posting to Instagram, the musician said: "I was bamboozled. I was forced/told I had no choice to hand over my account information to my label after my album came out. They gave me the wrong information & changed it so I can no longer access it. The person who changed the login is unreachable & the contact no longer exist. I need it back ASAP."
It seems she got the keys to the account back though, posting a cover of 'Til Tuesday's 'Voices Carry'."I promise I will be posting a lot more stuff on here & will let you know more about my album," she wrote in the description for the cover.
Returning to Instagram last November, she revealed that new music would be coming "this winter" (which seems pretty imminent now, dont'cha think?).
"it is official (!)" she added. Let's bloody hope so.
Revisit DIY's 2014 cover feature with Sky Ferreira here, and blast 'Everything Is Embarrassing' below.
Run The Jewels have been laying low for a while since the touring for 'RTJ3' finished up, but the end of last year saw a flurry of activity from camps Mike and El.
Firstly, Killer Mike now has his own Netflix show, Trigger Warning, which is, in his words, "about examining cultural taboos and giving viewers the space to examine the 'what ifs' and 'why nots' that limit how some people move and operate in the world."
The band also quietly dropped new song 'Let's Go (The Royal We)', which appears on the Venom soundtrack, but most interestingly, El-P took time to clear up rumours on the progress of the hotly anticipated 'RTJ4'.
"I know a lot of you are hoping we drop rtj4 this year," he wrote on Twitter," so it's only right I let you know clearly: we are not."
Sad news, of course, but the rapper then went on to reveal that the famed 'RTJ4' "will probably hit around summer time".
With the band announced for a London festival and kicking back into gear, it's time to get very excited for 'RTJ4'.
Read the 2017 DIY cover feature with Run The Jewels here, and listen to new song 'Let's Go (The Royal We)' below.

Get your copy of the latest issue