Album Review
Harry Styles - Harry's House
4 Stars
While with one hand he's exploring vivid lyrical micro-vignettes, he's still obfuscating with the other.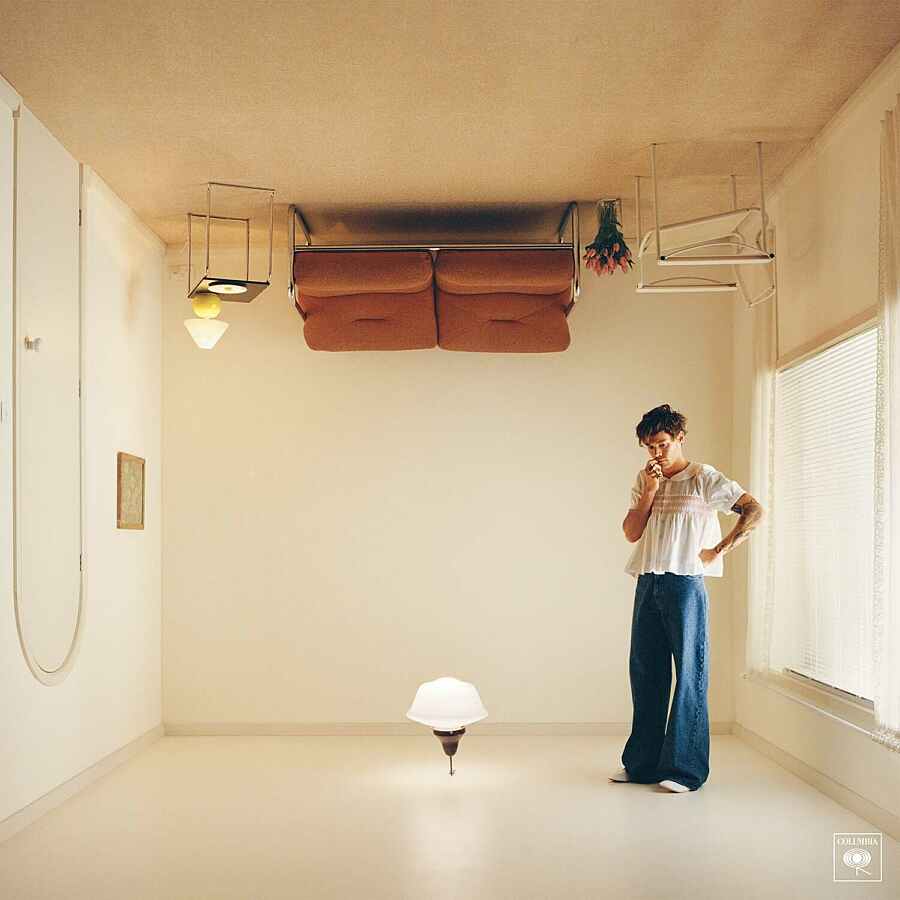 "Please come inside my most intimate space," invited an early teaser for 'Harry's House', as if to hint that Harry Styles' third solo album might be the one in which the global superstar gives a little more of his day-to-day existence into song. For while we know a lot of facts about Harry the human - he's grown from boy to man in the public eye, after all - we don't actually really know very much about him either. Even the most cursory questions are often answered with a shrug; his much-referenced 2014 "not that important" response [brushed off in answer to whether he'd like a potential partner to be female] applied to just about everything. Harry Styles is Mr. Ambiguity.
And, at first glance, maybe on 'Harry's House' we are learning something. We're surely not supposed to take giant leaps with 'Cinema' and its refrain "I bring the pop / You got, you got the cinema". Similarly, all at HSHQ knew precisely whose Wikipedia entry was about to be checked on once the couplet "Leave America / Two kids follow her" was deciphered in single 'As It Was'. Moreover, we also hear of sneaking away in hotel rooms with "the one that got away" ('Love Of My Life'), a regrettable hookup ('Little Freak') and, in 'Keep Driving', a long list of oddly-specific scenarios, from an amorous breakfast ("Maple syrup / Coffee / Pancakes for two / Hash brown / Egg yolk / I will always love you") to whatever "Cocaine / Side boob / Choke her with a sea view" happens to be.
Yet, as ever, while with one hand he's exploring vivid lyrical micro-vignettes ('Matilda' is a gorgeous, bittersweet third-person tale and, perhaps, where the theme of 'Harry's House' could have begun), he's still obfuscating with the other. From the off, Harry switches the narrative enough to question all that follows: "I don't want you to get lost / I don't want you to go broke", for example, becomes "I'm not going to get lost / I'm not going to go broke" on opener 'Music For A Sushi Restaurant'. 'Grapejuice' could just as easily be a tale of falling in love with a person as with a bottle of vino ("There's just no getting through / Without you / A bottle of rouge / Just me and you"), and in context, 'Boyfriends' - of which much was made following its Coachella debut - could merely be Harry throwing mud at himself. In essence, he's probably begging never to be a lyricist who's deciphered forensically.
Where his 2017 self-titled debut saw Harry begin to carve out his solo voice, and 'Fine Line' two years later showcased him flexing his big studio wings, in 'Harry's House' lives a songwriter confident enough in both to start playing with convention. Hooks are frequently courtesy of instrumentals (see 'Daylight', or the clanging, near-industrial guitar loop of 'Grapejuice') or barely-there vocals ('Daydreaming'). Samples are used as percussion ('Satellite', which also echoes its thematic 'spiralling out' with a cacophonous mid-point climax) or, in the case of closer 'Love Of My Life', looped to smartly echo the pulse of a dancefloor and contradict the song's otherwise soft acoustic guitar and piano. And it's only when 'As It Was' - itself one of the most straightforward numbers on the record - kicks in that he gets close to belting anything out. He might be a natural born pop performer of the highest order, but Harry Styles is also not scared of being secondary to the song; a lesson it's taken many others far longer to learn.