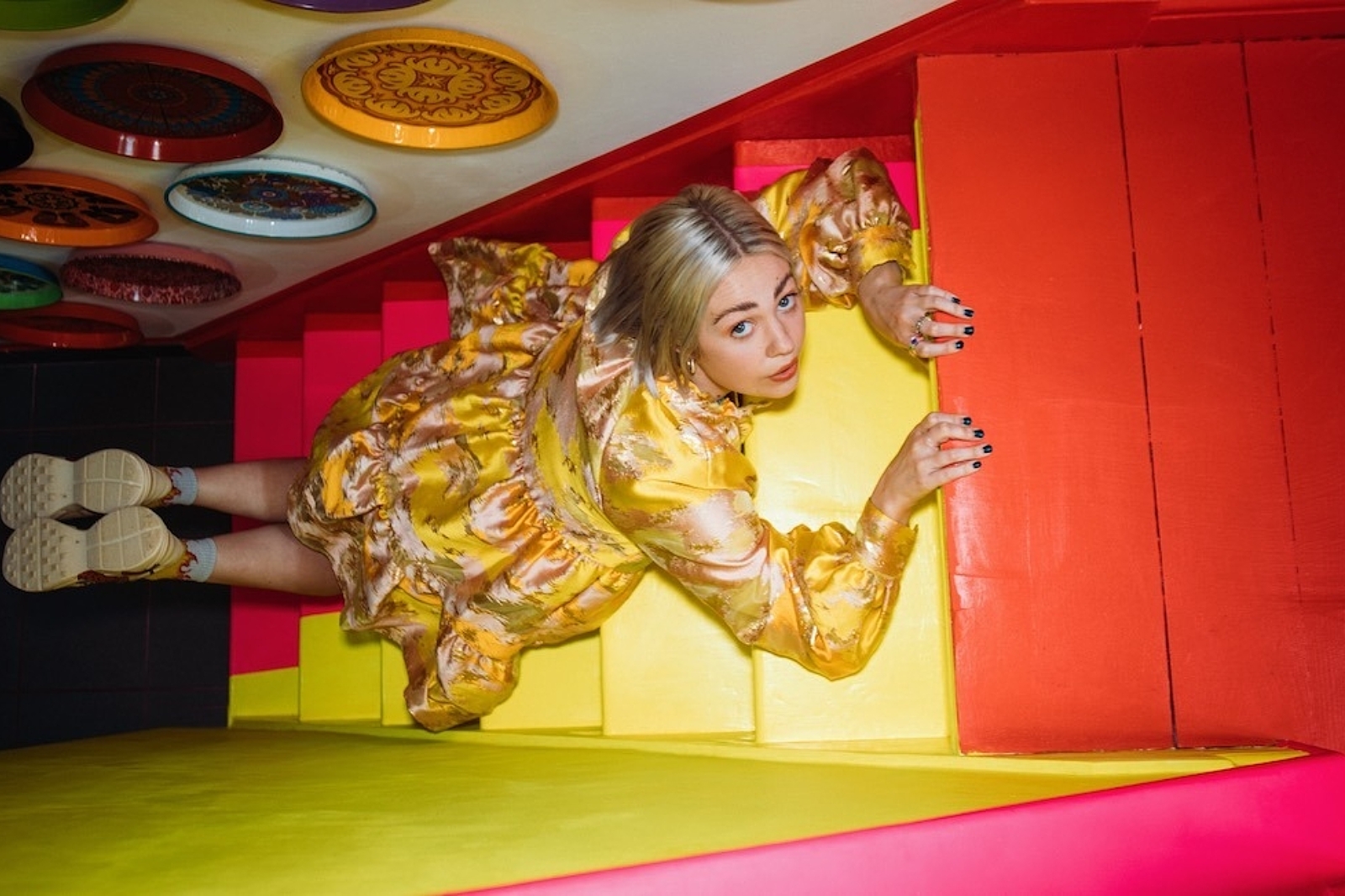 Photo: Rebecca Need-Menear
Neu Get To Know… Lauran Hibberd
Her new EP 'Goober' dropped today!
Hello and welcome to DIY's introducing feature, Get To Know… getting you a little bit closer to the buzziest new acts that have been catching our eye as of late, and working out what makes them tick.
Recently we've met alt-rock star Aziya, dynamic duo Wooze, South London-based multi-instrumentalist Hussy, Wunderhorse, and now we're introducing you to Isle of Wight's finest new indie export Lauran Hibberd!
Sharing her new EP 'Goober' today, she says, "'Goober' has been a long time in the making. It's survived a global pandemic and many mood swings from me. These tracks all summarise what I've been thinking over the last twelve months. I hope for your sake, you can't relate haha!"
We sent her over some qs to find out more…
Describe your music to us in the form of a Tinder bio.
I'm 24 but stuck in the 90's, and in need of a Rivers Cuomo stan hook up. You'll like me but you won't know why, I'm pretty funny and your dad will probably say I sound like *insert any guitar band here*. Our first date will be on the main stage at some festival you have never heard of, but the chat will be strong. Swipe for good vibes only. *fire emoji x100*
What's your earliest musical memory?
I remember having a few singing lessons when I was super young, I used to sing Charlotte Church in front of my mum and my singing teacher and they would both clap at the end in her garden and I would feel like a celeb. I still sometimes go through all the little vocal warm ups we'd do and all the songs I made up to help me remember them. My teacher was really old fashioned and I used to sing her Katy Perry songs and tell her I wrote them, she thought I was a genius.
Who were some artists that inspired you when you were just starting out (and why)?
WEEEZER!!!! In capitals because they have rocked my world for too long now. I remember getting the blue album stuck in my CD player and that was all I could listen to for ages. Bands like Smashing Pumpkins and Greenday as I got into mid -late teens and got me the edgy girl at school title and my life long influence Avril Lavigne who I repeatedly got my hair cut like for 8 years in a row was always a huge deal to me growing up and still is. For my generation she was probably the first female playing a guitar on the radio that I heard so that probably had a big part to play in me picking up an instrument.
You're from Isle of Wight! What do you think of the music scene there at the moment?
Do you know what? It's awesome right now! With bands like Coach Party and Wet Leg by my side, I feel like its time for the Isle of Wight riot girls to take over!! It's funny because everyone knows everyone here, and we've all played in each other's bands over the years so it's great to see everyone going for it from here at the moment! We love to see it!
Are there any other artists breaking through at the same time that you take inspiration from?
Zuzu is awesome, she took me under her wing a long while ago and she's been smashing it ever since. Her debut album is about to come out and I am so ready for it!! I also love Bloxx, I caught their set at tramlines and it sounded huge so there was a lot to take from that, just so much energy and they know how to write a good chorus that's for sure. I'm also loving a new band called Baxtr, a track called 'In Pop We Trust' is the ultimate breakout single.
Who would be your dream collaborator?
I'd love to write a song with Phoebe Bridgers right now, honestly I just need her to be my best friend haha. I think we'd get something super interesting and her lyrics have knocked me over since her first album 'Stranger in the Alps' so I'd love to see how it unfolds in person. She has such a cool way of getting things accross lyrically, you can never guess what's coming out of her mouth next. So Phoebe, if you're reading this I'm here and I want to be your best mate.
Musically or otherwise, what are you most looking forward to this year?
Touring has to be up there for me, I have missed it so much and I have a busy few months of it now so I think that's going to make me very happy! I'm also planning on recording my debut album in LA this year so that is beyond crazy to me and I honestly cannot wait, it will be a real life dream come true! Music aside, just hanging with my dog and stalking Harry Styles online.
If people could take away one thing from your music, what would it be?
I want people to hear my music and not know why they like it! I want them to laugh at my mid song jokes, cry at my mid song sad jokes, and relate to my self deprecating humour. There's so many influences genre wise and I'm aiming for the dad and daughter market personally, girls at the front, dads at the back. I'd hope it could be refreshing for some listeners, with brand new takes on things, weird lyrics and a unique merge of genres.

Get your copy of the latest issue