A queer icon in the making, a forward-thinking eco champion and possessor of a 400k-strong army of online fans, Marie Ulven is the modern pop star 2020 is calling out for.
It's the afternoon before the second date of her European tour, and Marie Ulven is feeling pretty knackered. Having woken up at 5am to catch a plane from Dublin, the 20-year-old Norwegian singer - better known as the capital letter-shunning girl in red - is only part-way through today's frenzied schedule of interviews, photoshoots and soundchecks, while later she'll headline a sold-out Electric Ballroom in Camden, with hundreds of fans queueing down the road hours ahead of doors to try and get to the front. This month-long tour, meanwhile, follows six weeks in the USA, the release of her second EP 'chapter two' in September and a busy festival season in which she's performed all over the world, including to huge crowds in her native Scandinavia at Iceland Airwaves and Oslo's Øya Festival.
Suffice to say it's been a whirlwind for the singer, who only started recording as girl in red in her bedroom just two years ago, and is yet to release her debut LP. "I would not be sitting here if it wasn't for YouTube," she theorises of her rapid success. "Somebody posted my song there and the algorithm picked up on it. If it wasn't for social media, I'm pretty sure I'd still be working in the jeans store I worked in last year."
But while fortuitous algorithms might have helped to launch her career, Marie's brand of dreamy, candid bedroom pop is keeping things ticking along on its own merit. She's been garnering attention particularly from her many queer fans, who appreciate the readiness with which she writes about her crushes and relationships with women on the likes of 'we fell in love in october', 'forget her' and breakout hit 'girls'. In doing so, the singer follows in the footsteps of a host of successful queer girls like Christine and the Queens, St Vincent and Janelle Monae - one of the many things she animatedly professes her excitement about today.
"It's really inspiring and powerful to see strong female artists fronting their act and taking up a lot of space."
"There are so many [queer singers]around at the moment, and that's really cool. The new King Princess album is great, I especially like the song 'Ain't Together' because I really relate to the lyrics, and Shura's new album is so cool," she enthuses. "And I've followed Marika Hackman and The Japanese House for a long time. It's really inspiring and powerful to see strong female artists fronting their act and taking up a lot of space. Now that I'm making my music, people are grouping me with them, and I think that's super cool. I like being a part of that."
Yet, despite this solid peer group, there's still something innately confident in being so candid as an emerging artist. girl in red, however, is taking it in her stride. "My grandpa said maybe I should use different pronouns so more people could relate to my music, but honestly it's been the opposite for me," she explains. "When I've been honest and true, that's when people connect to my music; regardless of whether they like girls or boys, it doesn't matter. I wouldn't be true to myself if I was thinking about the practicalities before the art itself, so it's definitely been a conscious decision to be real and to write about how I experience life, which includes writing about girls."
It's fitting then, that Marie's chosen stage name is a reference to a girl she fell in love with who was wearing red when they first met - which also explains why she herself isn't today, as we half expected her to be. Instead, most of what the singer is sporting is thrifted from Oslo's many fantastic vintage shops - a decision made partly down to aesthetics and partly because of her commitment to environmentalism.
In this vein, she's also keen to minimise the environmental impact that a busy touring schedule can have. "I've been feeling very guilty about travelling so much," she explains. "With touring there's a lot of plane rides, buses, cars and Ubers and that doesn't feel good. I don't like that." For this reason, girl in red is working with Norwegian carbon-offsetting organisation CHOOOSE, which fundraises for renewable energy projects in developing countries. "My drummer told me about it, so I got in touch with them. My donation goes towards a solar power project in India which provides renewable energy for thousands of people and reduces their carbon emissions."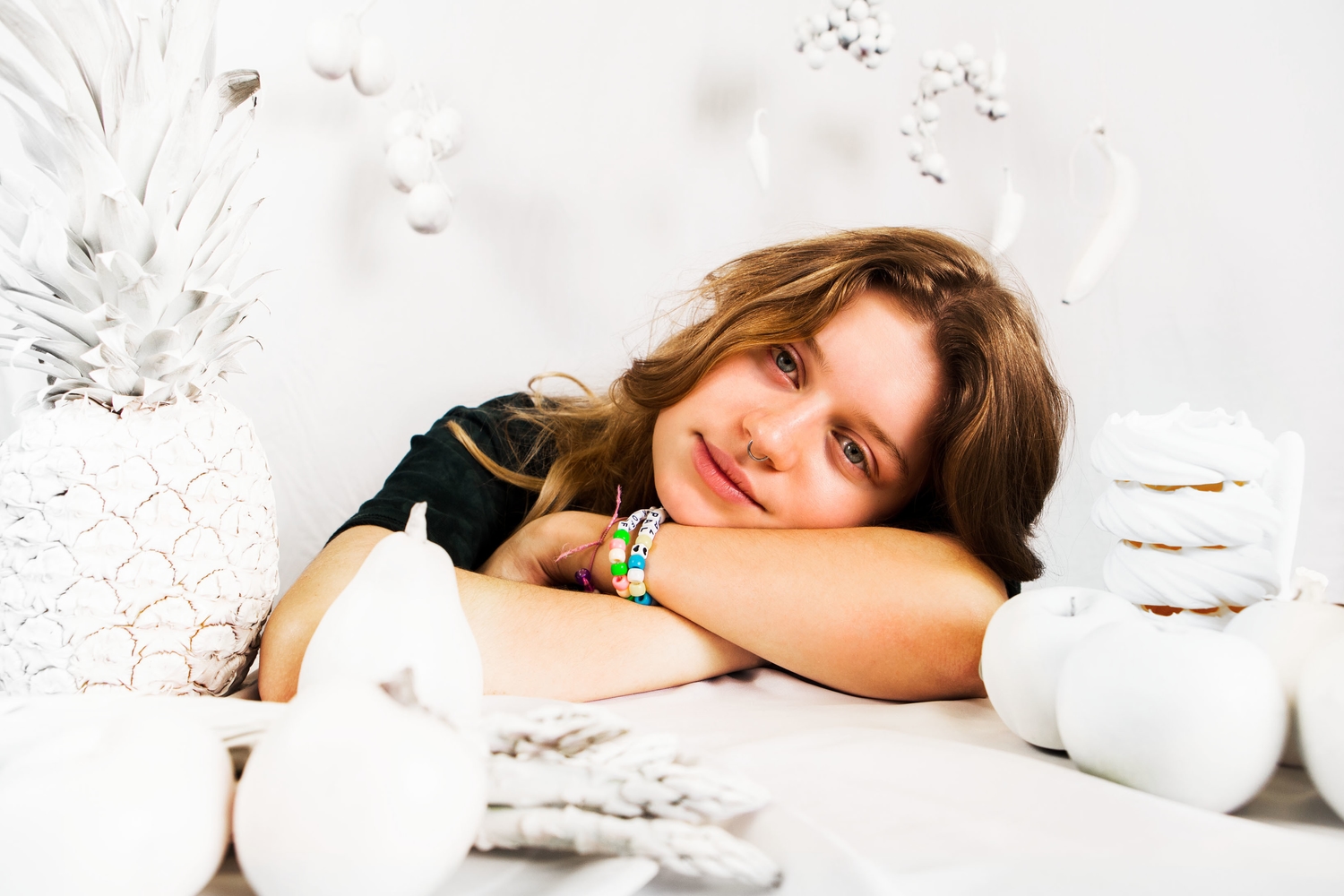 "When I've been honest and true, that's when people connect to my music."
Marie admires the growing number of major artists speaking out about the climate crisis, and in particular The 1975, who released a single with Greta Thunberg this summer and offered fans the opportunity to get new designs printed on their old tour t-shirts, in an effort to be more sustainable. "I feel like a lot of musicians talk about it," she says, "but not everyone necessarily tries to make a difference. So I think what they did with the old merch was such a good idea."
She's also keen to get involved with the Extinction Rebellion protests when she has the time, having been in touch with them while she was touring in America about the possibility of performing at one of their rallies. "I feel like artists or people who have recognition don't necessarily have more responsibility than anyone else, but people who have a bigger platform should definitely take advantage of that," she nods. "It's a great opportunity to spread an important message, so that's why I've chosen to speak up, because everyone needs to do everything they can."
But with all the touring and saving the world, has she had time to think about her own next album-shaped steps? "My album is pretty much non-existent right now, but I have a lot of ideas and I really want to realise them," she concedes. "Right now I don't have any full songs, but I do have a folder on my computer called 'Album 2020' which is full of random choruses and verses that I haven't finished yet." She does, however, have time blocked out to make it once her tour is over. "From January until April, no matter what cool offers I get, I'm going to be like 'Nope, I'm gonna make my album'. I just got a piano so I'm gonna maybe try playing that on the album. I'm excited to expand my sound and start playing around, I think that's gonna be cool. I like touring, but I do prefer making new music."
You get the feeling that, in 2020, Marie won't have to choose between making relatable tracks to galvanise the youth and sending them into a frenzy on tour. Get yourself a girl in red that can do both.
Read More
Featuring James Blake, Romy, Marika Hackman, yeule and more.