During the making of new album 'Little Rope', a personal tragedy would floor Sleater-Kinney's Carrie Brownstein and Corin Tucker. Through the bonds of friendship and creativity, however, they channelled it into a record of ultimate catharsis.
By the summer of 2022, there was a sense that Sleater-Kinney had successfully navigated their way out of the fire. A tumultuous few years for the band had begun in 2019 when, perhaps for the first time in their decades-long history, one of their records had met with a lukewarm critical response. 'The Center Won't Hold' made bold strides into pop territory under the guidance of producer St Vincent, but led to a backlash from those who felt the then-trio should've stayed in their lane. It was a position that then intensified when powerhouse drummer Janet Weiss departed, awkwardly, at the beginning of the record's promotional cycle, citing a diminished creative position within the group.
That stance is something that remaining members Carrie Brownstein and Corin Tucker dispute, but nevertheless, when they reconvened to work on its follow-up - 2021's 'Path of Wellness' - they found themselves writing as a two-piece for the first time since 1996. In the middle of a real world that had shut down as a whole, and a creative one that was asking questions of their place in it as a band, if Sleater-Kinney were no longer the spiky art punks we'd grown to love, then who were they?

On the evidence of that album, the answer was that they were very much their own people. 'Path of Wellness' grasped the opportunity to reinvent themselves again with both hands, as they crafted a handsome, thoughtful set of songs that tastefully worked some of their lesser-spotted influences into the mix. Never before would Sleater-Kinney have been readily associated with classic rock or stylistic nods to the '70s, but breaking their own mould previously had allowed for continued, genuine evolution.
By last summer, as they toured North America with a now-embedded new live line-up, Carrie and Corin appeared, finally, to be back on firm ground, but it wouldn't last long. Mere months later, their lives were again upended when Corin - Carrie's long-standing emergency contact - received a call from the American embassy in Italy. They had unthinkable news: Carrie's mother and stepfather, in Italy on holiday, had been killed in a car accident.
"It created a new reality for me," says Carrie. "And I was met with such uncertainty, and confoundment, and disorientation. Corin, as one of my oldest, closest friends, and also my creative collaborator, she was pulled into that trauma along with me by proximity."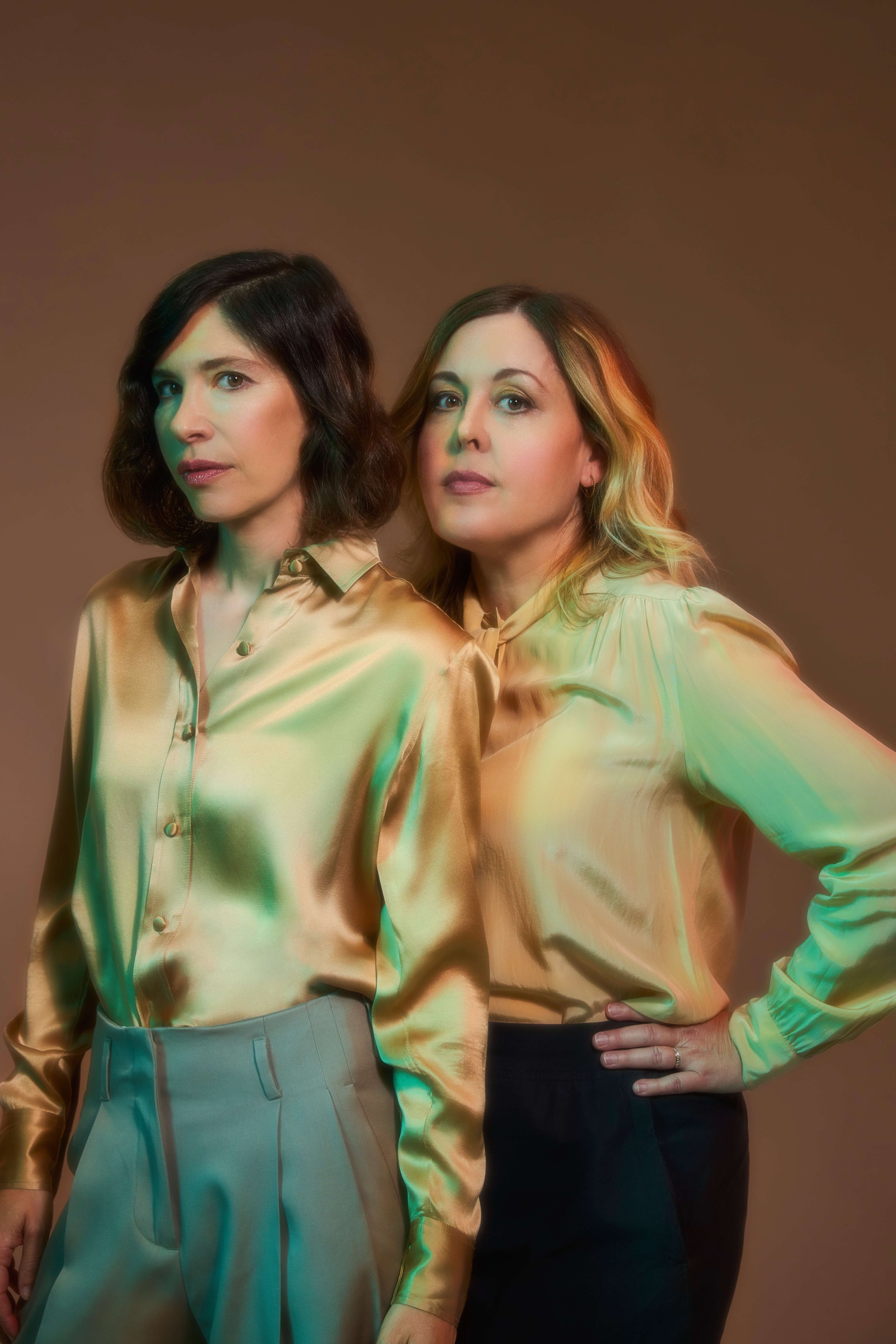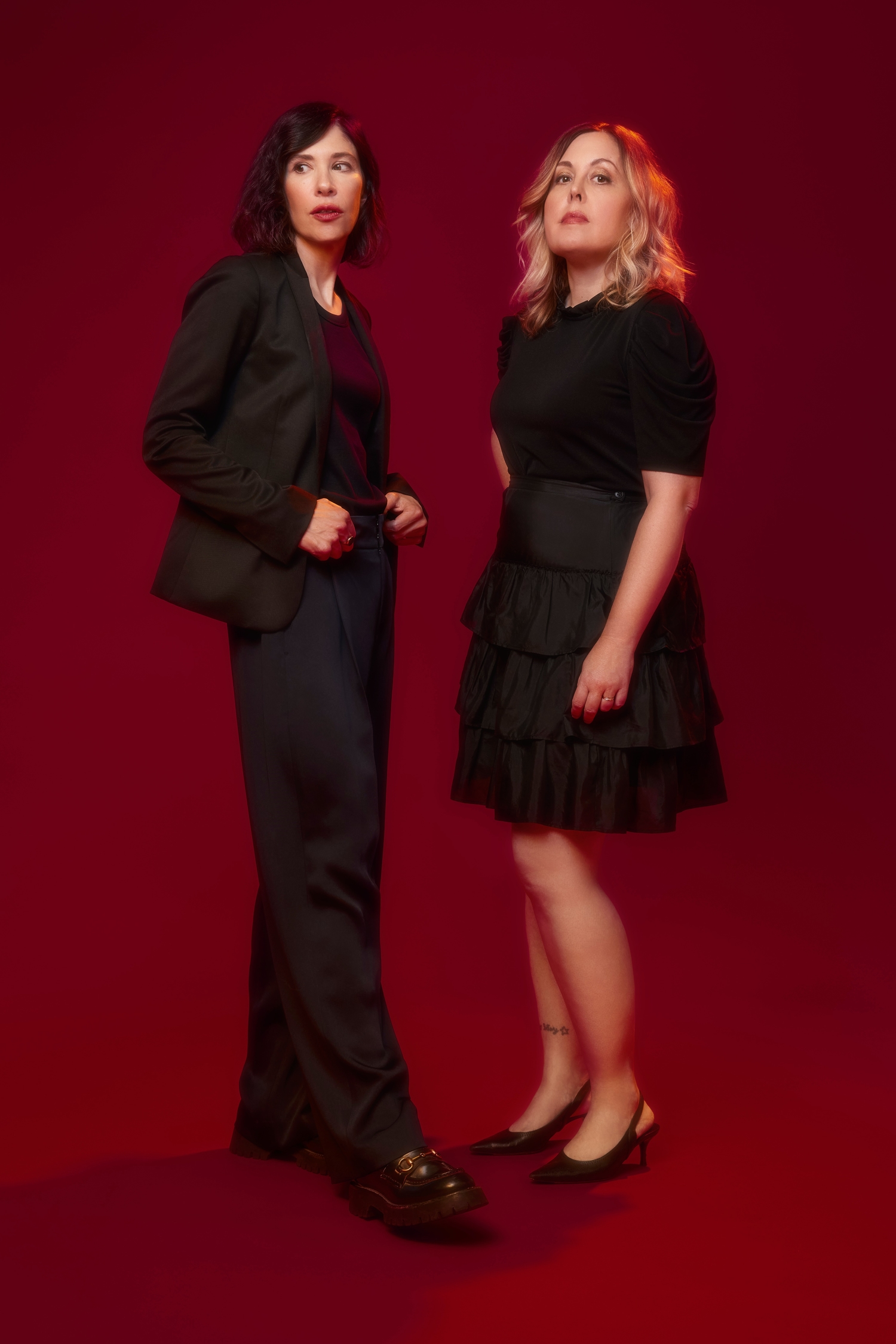 "We're more protective than ever of our relationship, and of the band." - Corin Tucker
Most of the songs for Sleater-Kinney's forthcoming 11th album 'Little Rope' were written, Carrie confirms, before the accident happened in the autumn of 2022. But she is in no doubt as to the seismic effect it had on the sound of the record; an album scored through with grief, pain, and no little catharsis.

A year on, she speaks about her experience with startling eloquence, choosing her words deliberately and with great care. "The songs were dragged, kicking and screaming, into that nascent landscape that I just described," she says. "It felt very liminal; we were in between states. There was a sense of precocity and fragility, on the one hand, and then there were moments of catharsis in the writing, scrawling and scratching, and there were moments of grace, and beauty, and joy, too.
"It's all in there," she goes on. "The songs feel despondent and treacherous at times, but at others, they're hopeful and gleaming." She isn't wrong. 'Little Rope' is an emotional maelstrom, one that moves through a number of stylistic gears over the course of its ten tracks, but that maintains, throughout, a sort of exposed-nerve quality. In some ways, it harks back to the kind of thrumming tension that 1999's 'The Hot Rock' is scored through with, albeit in a different musical manner entirely. There's soft yearning ('Say It Like You Mean It'), taut, nervy groove ('Hunt You Down') and glam-pop stomp ('Crusader').
All of that represents either new territory entirely or a progression of their output from 2019 onwards, but perhaps the biggest clues as to the cathartic nature of 'Little Rope' come in its flirtations with the past. At intervals, S-K's newest comes shot through with the kind of soaring vocals ('Hell') from Tucker that we haven't heard since 2005's 'The Woods', coupled with Brownstein's return to the freewheeling riffery that saw her trouble the business end of Rolling Stone's recent rundown of the greatest guitarists of all time.
"I think that happened organically," Corin explains. "With what we were both going through personally, there was a level of heightened emotion that definitely charged all of the vocals. A song like 'Untidy Creature', for example, just lends itself to being a place of release. The band, for me, has always been a place of emotional catharsis, where I can have all of these feelings and have a space where I don't feel the need to censor myself. I think the sound of 'Little Rope' logically follows."
"The songs feel despondent and treacherous at times, but at others, they're hopeful and gleaming." - Carrie Brownstein
With every new Sleater-Kinney record, we learn a little more about the relationship between Carrie and Corin; one that dates back more than 30 years and constitutes the creative axis around which the band revolves. On 'Little Rope', this may be truer than ever. Corin has spoken about early reservations around some of the album's songs feeling too open, too nakedly emotional, yet as work on the release progressed, it was Brownstein who helped bring her bandmate to a place where she was comfortable with the album's rawness.
"'Say It Like You Mean It' is not a typical Sleater-Kinney song. It's almost like a ballad, and there was an ongoing conversation where I was asking, 'Is this too vulnerable?'" Corin explains. "'Am I comfortable with what we're saying here?' And it took Carrie's encouragement to coax the specific kind of performance out of me that I was happy with. I don't take for granted having the ability to make music with such a talented person, and as we've gotten older, we're more aware of how special that is and how fragile it can be, too. We're more protective than ever of that relationship, and of the band."
As much as the intensity of the pair's relationship has informed their records over the years, their ability to refract the world around them through their own lyrical prism has been a key part of their identity, too. From the band's riot grrrl-adjacent debut in 1994 through to the post-9/11 tension that hung over 'One Beat' and the rejection of the political status quo encapsulated in both the songs and the title of 'The Center Won't Hold', Sleater-Kinney have always been adept at staring society head-on. There are flickers of it, too, on 'Little Rope', especially in the subtle chaos of lead single 'Hell'.
"Being a writer, having an emotional response to the world around you just becomes a part of your work," Corin reasons. "Just being human in the world, and especially in our country, there's a process of reflection that happens that connects to the social and political climate you're in, whatever it might be at the time. Part of being a writer, to me, has always been holding up a mirror to some of that."
As the band gear up to take 'Little Rope' around the world in 2024, Carrie, too, understands more keenly than ever the importance of having Sleater-Kinney available to her as an expressive outlet. "What we've been through over the past year, it raised the stakes, which is something you can't do on purpose," she says. "You can't manufacture that. And music, and art, they do take on a different form when the stakes are high. All of these songs ended up thrust into a new environment and kind of stuffed into a cannon. And you can look at that cannon as weaponry, or you can look at it as something that's ready to burst into a really lovely form."

On 'Little Rope', Sleater-Kinney are taking all manner of left turns. Here are some of the record's finest.
'Say It Like You Mean It'
Sleater-Kinney have done balladry before ('The Size of Our Love'), and they've done gentle ('Modern Girl'). This is something else entirely, however; a softly delivered but emotionally fraught affair, with a quietly desperate vocal from Tucker over guitars that pulse with anxiety.
'Crusader'
As open to pop territory as the band have been since they took a left turn with St. Vincent behind the desk for 'The Center Won't Hold', this track might be as out-and-out danceable as they've ever sounded, especially on a chorus that explodes with real groove in the guitars.
'Untidy Creature'
They've brought the curtain down on albums in dramatic fashion before - see 'No Cities to Love''s stormy 'Fade', or 'One Beat''s swaggering 'Sympathy' - but they save the biggest moment of catharsis on 'Little Rope' for its closing minute, with one of the most soaring vocals that Tucker has ever committed to record. 

'Little Rope' is out 19th January via Loma Vista.
Read More
Featuring King Gizzard & The Lizard Wizard, IDLES, Tkay Maidza, Sleater-Kinney and more.