Watch
Girl Ray go to prom in new 'Friend Like That' video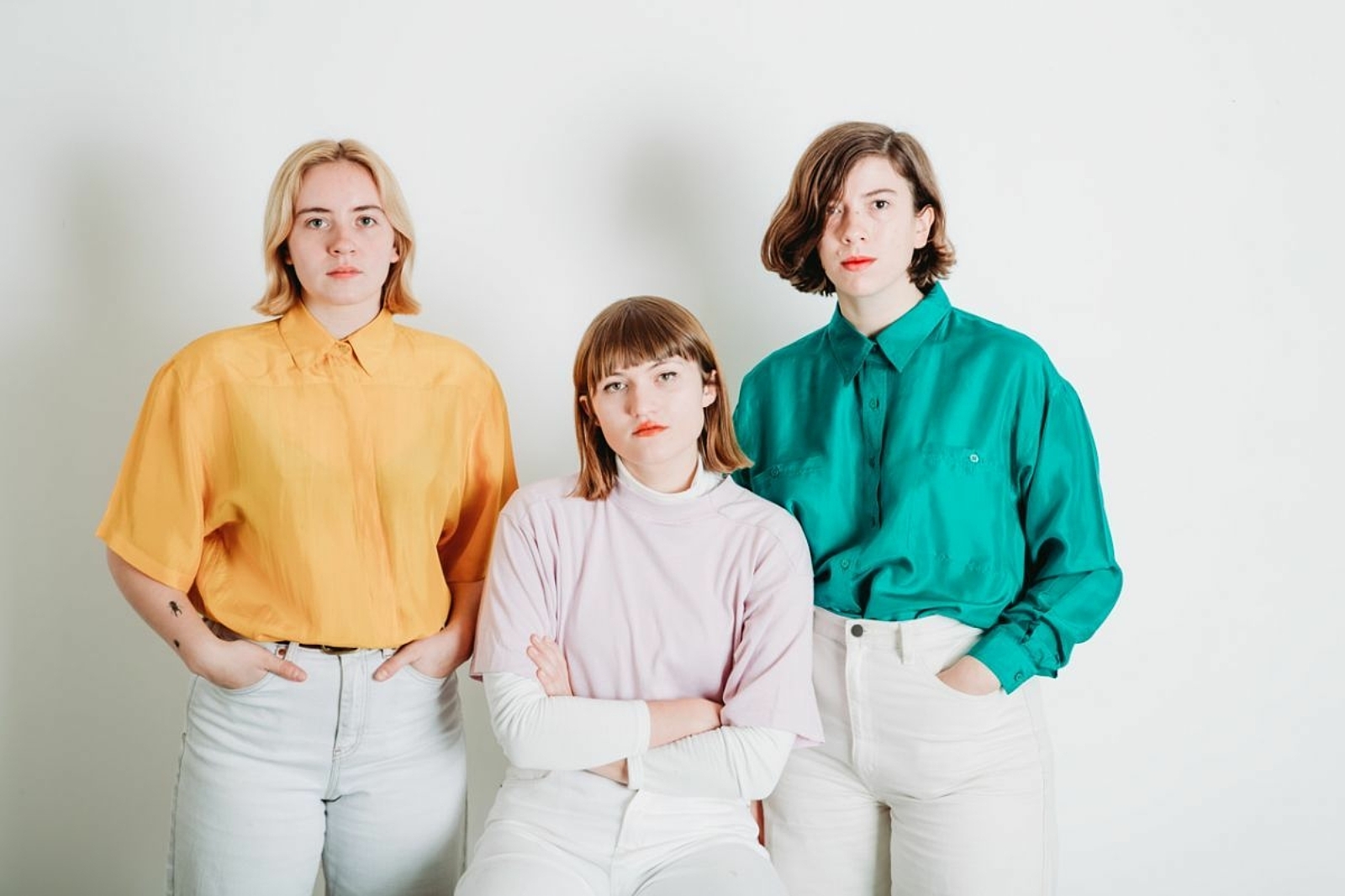 The trio drop some hilarious John Hughes inspired visuals.
Just in time for Galentine's Day (a celebration of friendship the day before Valentine's Day, as popularised by Parks & Recreation, duh?), Girl Ray have shared self-described "friendship anthem" 'Friend Like That'.
Speaking on the song they say, "Reminds us of a really smashing high five with great contact. In music, friend love is often overshadowed by romantic love and IT'S JUST WRONG. This one goes out to the mates of the world."
Accompanied by an 80s-inspired video directed by collaborator Alex Cantorius, Alex explains, "This is the 6th video I've made with Girl Ray and their attitude towards this particular one was to opt for the most "cringe option", which I loved. Everyone's hard work and the band's brilliant attitude has produced a really fun video that hopefully all the fans will enjoy."
"For this video we felt it was necessary to return to our past formula of recreating big-budget films with 0.1% of the money and 3 people whose experience of acting stops at narrating the year 1 nativity," the band add. "We have always loved all the classic 80s high school rom-coms, and this particular song seemed to lend itself well to a John Hughes plot. With an extremely questionable storyline we approached Alex Cantouris to help fill in the gaps. After an incredibly stressful week of pulling favours everything was finally ready and we began filming. We actually filmed the prom scene in our old school in Muswell Hill which was a surreal and hilarious experience. It was definitely the funnest video we've ever shot, and is now our favourite too."
Check it out below.
See Girl Ray live at the following dates:
FEBRUARY
18 - Birmingham, Hare & Hounds
19 - Leeds, Belgrave Music Hall
20 - Glasgow, Stereo
21 - Manchester, YES – SOLD OUT
22 - Nottingham, Bodega
23 - Cardiff, Clwb Ifor Bach
25 - Bristol, The Fleece – SOLD OUT
26 - London, Electric Ballroom
27 - Brighton, The Haunt
29 - Brussels, Belgium, Botanique, Witloof Bar
MARCH
01 - Amsterdam, Netherlands, Cinetol
02 – Hamburg, Germany, Aalhaus
03 – Berlin, Germany, Berghain Kantine
04 - Copenhagen, Denmark, Ideal Bar, Vega - Musikkens Hus
06 – Munich, Germany – Milla
07 – Nyon, Switzerland – La Parenthese
09 - Winterthur, Switzerland, Albani Music Club
10 - Paris, France, La Boule Noire
14 – Madrid, Spain, Madrid Popfest
JUNE
12 – 14 – Hilvanrenbeek, Netherlands, Best Kept Secret
JULY
16 - 19 – Dorset, Larmer Tree Festival
16 - 19 - Southwold, Latitude Festival
17 - 19 - Stirlingshire – Doune The Rabbit Hole
AUGUST
06 – 09 – Palermo, Italy, Ypsigrock Festival
SEPTEMBER
03 – 06 – Dorset, End Of The Road Festival
Read More