Album Review
Damon Albarn - The Nearer The Fountain, More Pure The Stream Flows
4 Stars
At once warm and familiar but simultaneously a little odd.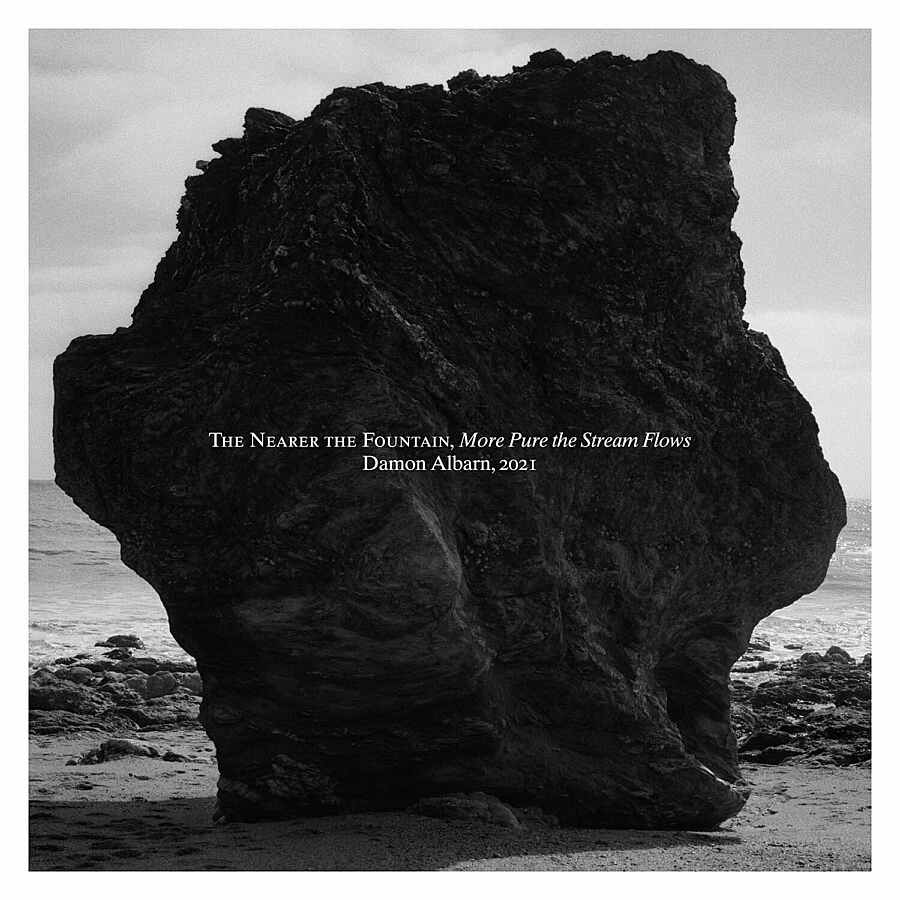 By this point, 30 years and more than 20 albums across multiple projects into his storied career, it's largely fruitless to judge Damon Albarn's next work on his last. In the past twelve months alone, the musical magpie has toured Gorillaz' most recent album 'Song Machine' - a gleeful carnival featuring a who's who of superstars past and future - and his newest solo project, dedicated to the cerebral landscapes of Iceland, in tandem. The former involved a riotous post-lockdown stop off at The O2, replete with festival flags and chaotic mosh pits; the latter saw him take to Shakespeare's Globe Theatre, bringing with him strings and ceremony. Neither option felt quintessentially more or less 'Damon' than the other.
'The Nearer The Fountain, More Pure The Stream Flows' - technically his second solo album proper, but a record that feels more conceptual and insular than the more straightforward wares of 2014's 'Everyday Robots' - finds a space in the 53-year-old's canon that's on the more avant garde end of accessible. Though he's not reaching for full on 'Dr. Dee'-style olde worlde operatics, you can understand why he opted for a space like The Globe to showcase these tracks; there's a spaciousness and theatricality to the likes of the elegiac 'Daft Wader' or 'The Cormorant''s subtle textures that you can imagine not sitting quite right in the sweaty confines of Brixton Academy.

Iceland has been a running fixation for Damon for many years now, since an inaugural visit first provoked a swerve from the Britpop of Blur's early years to the darker bent of their self-titled 1997 opus. At the start of 2021, he was granted Icelandic citizenship, and his latest was intended as an orchestral piece inspired by his new second home. Since making that initial plan, the singer clearly couldn't resist adding a few earworms in for good measure: not only are many of the tracks here vocal driven, there are some single-worthy hooks too. Lead track 'Polaris' swells with organ chimes and the sort of uplifting melody that's already proven itself a festival sing-along (bonus points for the moments when a flash of gold-toothed 'alright guvnor' accent comes through); 'Royal Morning Blue''s rhythm section gives it the aura of a softer The Good, The Bad & The Queen offering, while 'Darkness to Light' is a gentle, romantic waltz of a thing.

Elsewhere, such as on the flickering, tense instrumental of 'Esja', or 'Combustion' - which begins in twitchy, antsy fashion before turning on its heel into an oompah fairground lollop - you can see more of what you suspect Damon had originally planned. The merging of the two, where classic top lines are underpinned by unexpected arrangements, might take a little longer to get your head around than 'Parklife' but rather than sounding confused it's just… not obvious, which is no bad thing.

Perhaps closer 'Particles' exemplifies 'The Nearer The Fountain…' best: hung around a gorgeous lullaby of a vocal, it buzzes with a sort of unexpected electrical frisson beneath the twinkles, at once warm and familiar but simultaneously a little odd. Remind you of anyone?