Album Review
Father John Misty – Pure Comedy
4 Stars
Give it time and it's not far short of exceptional.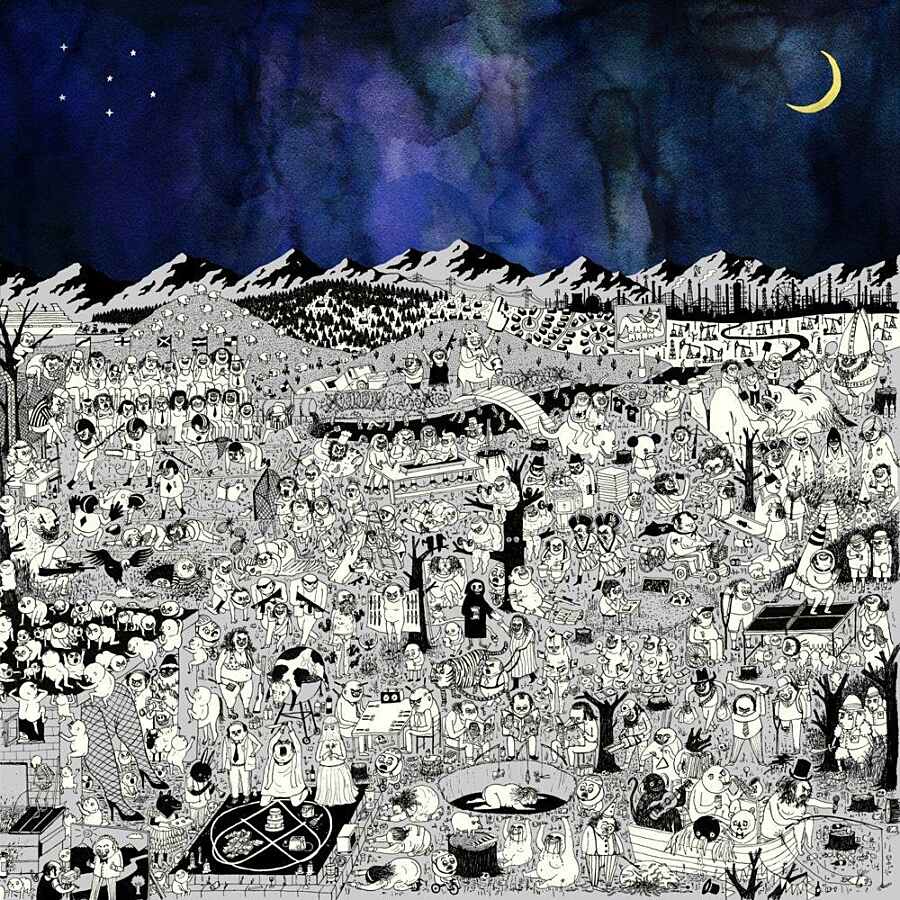 Often, the best things take time. Strong cheese. Fine wine. Records that demand more than a cursory run through on a Spotify playlist to hit home. Such is the way with 'Pure Comedy' – the third album from Josh Tillman's musical alter ego Father John Misty.
Where 2015's superlative breakthrough LP 'I Love You, Honeybear' was a grand, theatrical ode to love itself, cushioning its wry observations and sly digs with the kind of melodious spine-tingles capable of turning the hardest of hearts to mush, 'Pure Comedy' is a different beast. Now, Josh has turned his gaze outwards, to the modern world at large in all its apocalyptic panic, and it's fair to say he's not going to sugarcoat what he sees. It also means that 'Pure Comedy', in part, could be seen as a more 'difficult' record – one less digestible and easy to immediately love, for sure. But give it time and it's not far short of exceptional.
It begins in direct fashion with the record's eponymous lead single – easily the best thing he's put to tape so far. Casting a baffled eye over a modern society that blindly throws its hopes at religion, politics, money or just something until "some all-powerful being endow[s] this horror show with meaning", it's the kind of opulently dramatic track that takes the decadence of '…Honeybear' and kicks it up the ass with some home truths. Front-loading the record with its most accessible offerings, 'Total Entertainment Forever' continues in tongue-in-cheek fashion, backed by deceptively rousing guitars. Much will be said about its opening line - "Bedding Taylor Swift every night inside the Oculus Rift" - but its final phrase, when all the track's protagonists have been found dead, plugged into their hubs with a glazed smile on their faces, is probably the more telling as to where Josh Tillman's mind's at right now.
From here, however, things become more surprising. While 'The Ballad Of The Dying Man' is a typically gorgeous, melancholy piano affair (albeit one about a man still "checking his news feed" on his final breath), following track 'Birdie' is a bleak, sparse electronic thing that brings the record into full on end-times mode. 'Leaving LA' is the record's sprawling, 13-minute centrepiece. Discussing the singer's fears of his own increasing celebrity, near death childhood experiences and ending on a meta observation as to how most people will hate the very track he's singing, it's more monologue than song – one that demands you pay attention in an age where that's a dying ask.
Even when he's detailing the confused state of the modern man on 'A Bigger Paper Bag' or the cultural spoonfeeding of 'The Memo' ("I'm gonna take five young dudes from white families / I'm gonna mount them on a billboard in the middle of the country"), Tillman's observations are so astute, so amusing that they turn an album that could so easily wind up draining and preachy into a strange black comedy. Like the Charlie Brooker of eloquent indie, Tillman has crafted probably his genre's most darkly funny, unflinching depiction of modern life since we found ourselves in this whole mess.
So yes, 'Pure Comedy' needs investment. It's verbose and it aims high and it's not a record you can stick on in the background while you play Candy Crush. But unplug from this modern game of life just for a little while and it's a very, very special reward indeed.