Album Review
Miley Cyrus - Plastic Hearts
4 Stars
Miley is stepping into her most fitting musical form yet.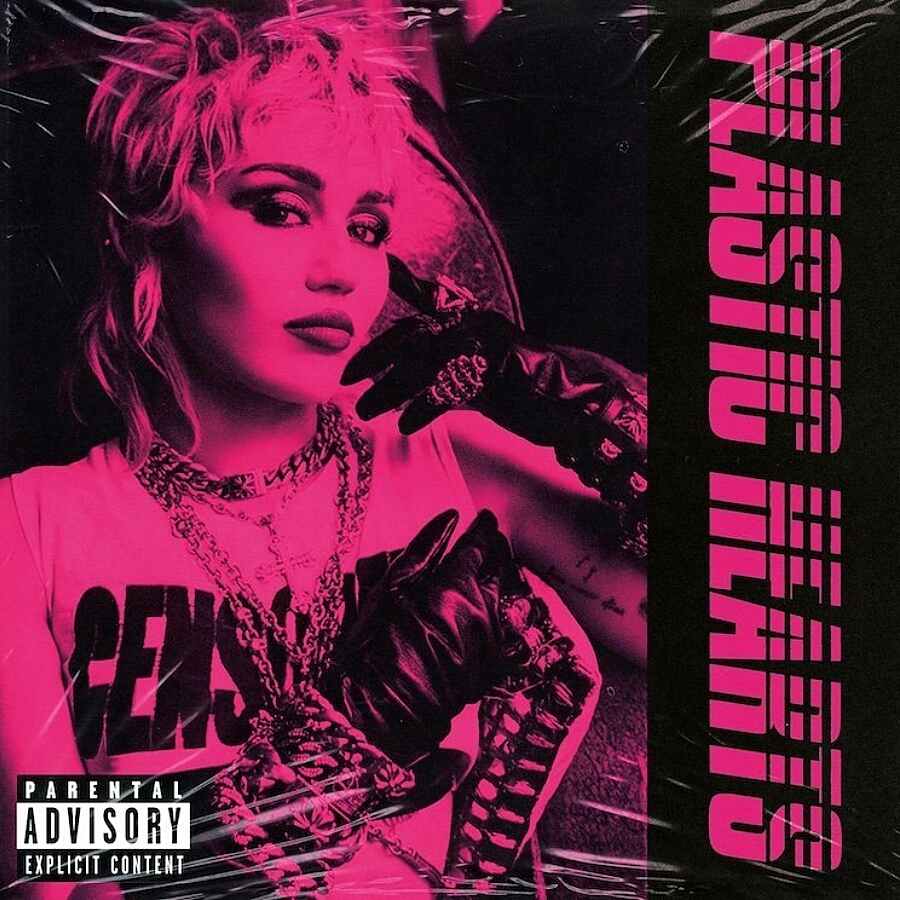 It's a well-known fact that Miley Cyrus loves an era. Back in the mid-'00s she was the blonde wig-sporting pop phenomenon alter-ego Hannah Montana, before 'Can't Be Tamed' saw her shaking the confines of her pristine Disney image and moving towards more dance-orientated sounds, picking up some haters for her lyrical content along the way. Holding two-fingers up, and her tongue out, to the naysayers, 'Bangerz' arrived in 2013 in its full R&B-tinged twerking glory, before her collaboration with The Flaming Lips' Wayne Coyne ushered in her most experimental time to date with Miley Cyrus & Her Dead Petz. After that, she returned to her country roots, offering up sixth album 'Younger Now', before teasing yet another new direction with underrated EP 'She Is Coming'. Now, she's here with seventh studio album, 'Plastic Hearts', and it finds Miley stepping into her most fitting musical form yet.

Inspired by both Britney and Metallica, 'Plastic Hearts' finds Miley drawing influence from the golden ages of glam-rock and rock and roll. Ever since she jumped on Glastonbury's stage with a cover of the heavy rockers' 'Nothing Else Matters' and gave us a reinvention of Nine Inch Nails' 'Head Like A Hole' via her starring role in Black Mirror, Miley's penchant for reinvigorating rock classics with her pop-tinged country-indebted style has had people crying out for her to explore this sound more. And 'Plastic Hearts' delivers.

Teased with groove-laden lead single 'Midnight Sky', alongside huge covers of Blondie's 'Heart Of Glass' and 'Zombie' by The Cranberries that subsequently, and unsurprisingly, went viral and feature on the record's bonus version, Miley's seventh output finds her leaning into what the people want, delivering '80s-indebted rock bangers with her distinctive pop flair.

From thrashing opener 'WTF Do I Know' to the soothing and anthemic 'Angels Like You' and back to the stomping sounds of 'Gimme What I Want' and bop-a-long title track, Miley knows how to write a rock song made for epic stadium sing-a-longs. Elsewhere, she revisits her country roots, with 'High' and 'Never Be Me' both acting as more reserved moments where her heartstring-pulling lyrics shine through as she battles emotional turmoil.

Some shining moments in the record come from collaborations, teaming up with Dua Lipa on the glam-rock leaning 'Prisoner' and getting a verse from Billy Idol in the twinkling disco-tinged 'Night Crawling'. The standout collab however comes in the form of her gloriously glam link up with Joan Jett, as the duo exchange "uh uh uhh"s on the stomping 'Bad Karma'.

Overall, Miley's seventh era seems to be the one that suits her best, her huge vocals and penchant for penning irresistible melodies lending themselves with ease to big growling rock-leaning anthems. Still with a pop gloss sheen to finish it off, her pop star to rock star journey will have a little something for every listener. Best of both worlds, eh?