Festivals
The best things we saw at Primavera 2017, Day Two
From blown sound systems to headliners stepping up - here's a round up of the best and most bizarre things we saw.
With the sun still blaring down on Parc del Fórum, sending bright flares between the chunks of angular concrete, Mitski kicks off proceedings, playing for the modest crowd of punters that were organised enough to get down here early. A roughly even mix of songs from Mitski Miyawaki's big breakthrough moment 'Puberty 2,' and stand-outs from her equally brilliant - but less shouted about - previous album 'Bury Me At Make-Out Creek,' it's a restrained set for the most part, which only serves to super-charge Mitski when she fully lets go on the likes of 'Happy' and 'Your Best American Girl'. Closer 'My Body's Made of Crushed Little Stars' - which Mitski performs without her band - is the biggest goosebump moment of all, though; a yowling, breakneck tirade about the everyday mundanity of paying rent, and epic martyrdom at the same time.
Anyone could be forgiven for expecting the next set of the day, from Sampha, to be a little introverted. He's what you could call low-key, really, having collaborated with Kanye West, to Solange and Drake from behind a mystery smoke-screen. Only now, six years on from providing the pipes for SBTRKT's best tracks, is he striking out alone with debut 'Process'. Far more committed to his music than superstardom, on paper, Sampha's as shy as they come. It's a surprise then - albeit a very pleasant one - to see him throwing shapes around the entire stage instead, and leaving the piano behind to get closer to his gigantic audience. There's even a Stomp-esque drum-off, for crying out loud! Showing off the careful restraint and soul-charged vocal of 'Too Much' and '(No One Knows Me) Like The Piano), and the dance-inflected 'Blood On Me' alike, Sampha is clearly stepping up and into the spotlight. It's about time.
Meanwhile, across site, a near-starkers Mac DeMarco - who could hardly be called shy and retiring at the best of times - wiggles atop a speaker stack, his boxers twisted into a thong-type creation. For whatever reason, he is attempting to burn off his own armpit hair with a lighter, and smoking a fag, while Julien Erlich and Max Kakacek of Whitney crowdsurf on his behalf. Gimmicks and whiskey swigging antics aside, though, it's still a set with its occasional glimmers of frills-free brilliance when he's not mooning, 'Cooking Up Something Good,' and a swaying, slurping 'Viceroy' prompting the biggest sing-a-longs. Mind you, long after the set finishes, our retinas are still burned by lasting shock of unexpectedly seeing Mac DeMarco's bottom; Thanks, Mac.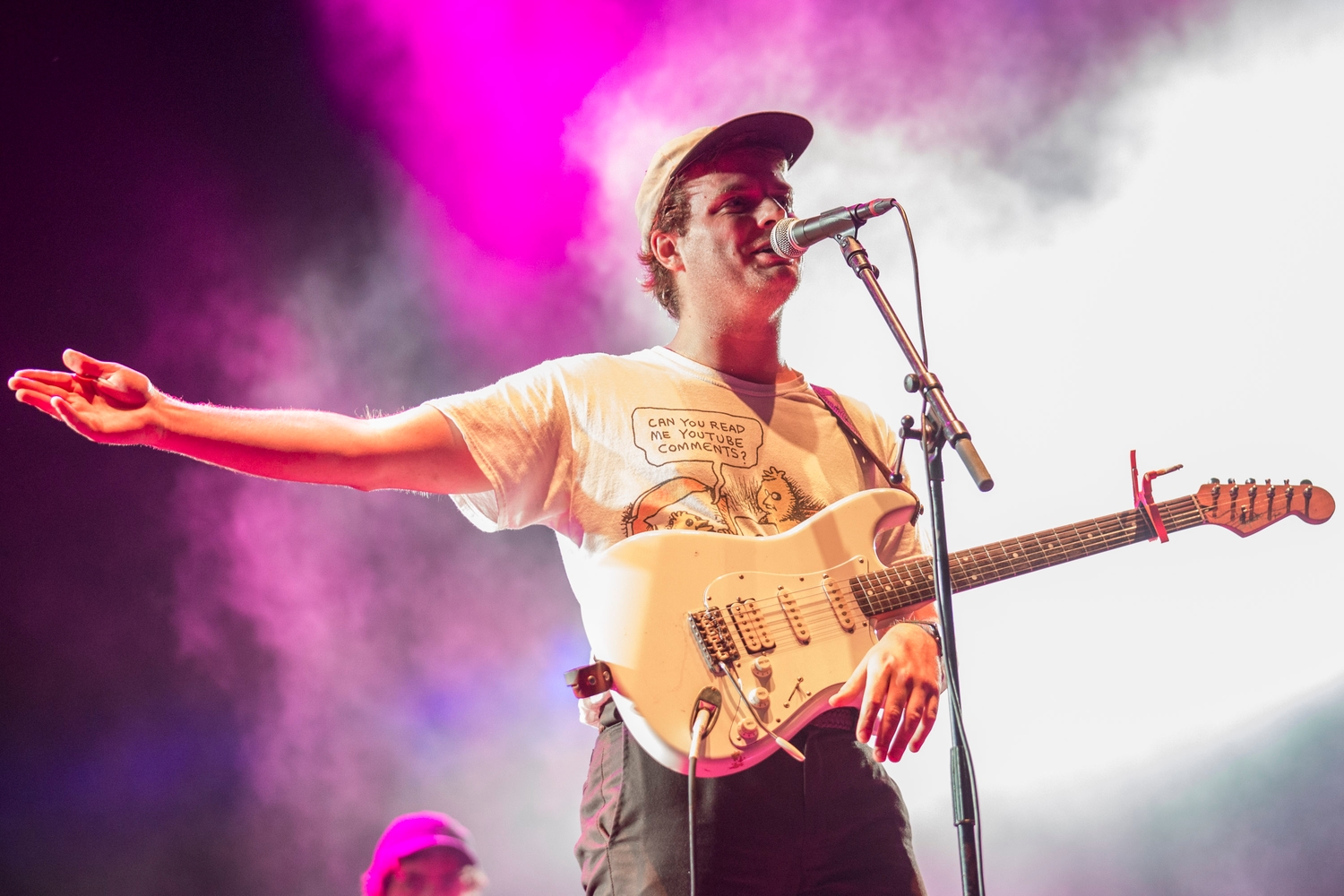 Soon The xx - and a shit-tonne of spinning mirrors - step up the the plate on the opposite stage; starting things minimally with the potent combination of 'Crystalised' and 'Islands'. The whole place is hushed and captivated by the combination of Romy Madley Croft and Oliver Sim's chalk-and-cheese vocals melding into one, and by starting small and sparing, they leave themselves infinite room to crank things up. And crank things up they do. Jamie xx - who has slowly morphed from a shadowey synth-man, to a disco-ball wielding maestro in his own right - has clearly stamped his influence all over the band's live presence, flipping the chiming 'Shelter' on its head, and creating a dance banger out of the skeletal foundations. The Hall & Oates-sampling 'On Hold' - all pulsing euphoria - is the strongest indication of just how far The xx have evolved, and as if to doff their caps in the direction of Jamie, the trio cover his solo track 'Loud Places' and all.

From start to finish, The xx are on fearless form, laughing off a fuck-up during a rare live performance of 'Replica' (which they pull off perfectly on the second attempt, fyi) and joking with the crowd about all the snogging couples at their shows. Winding things back down again to the bare notes of 'Intro,' and 'Angels' this show marks a massive milestone from The xx, who've clearly stepped up to the headlining plate by now.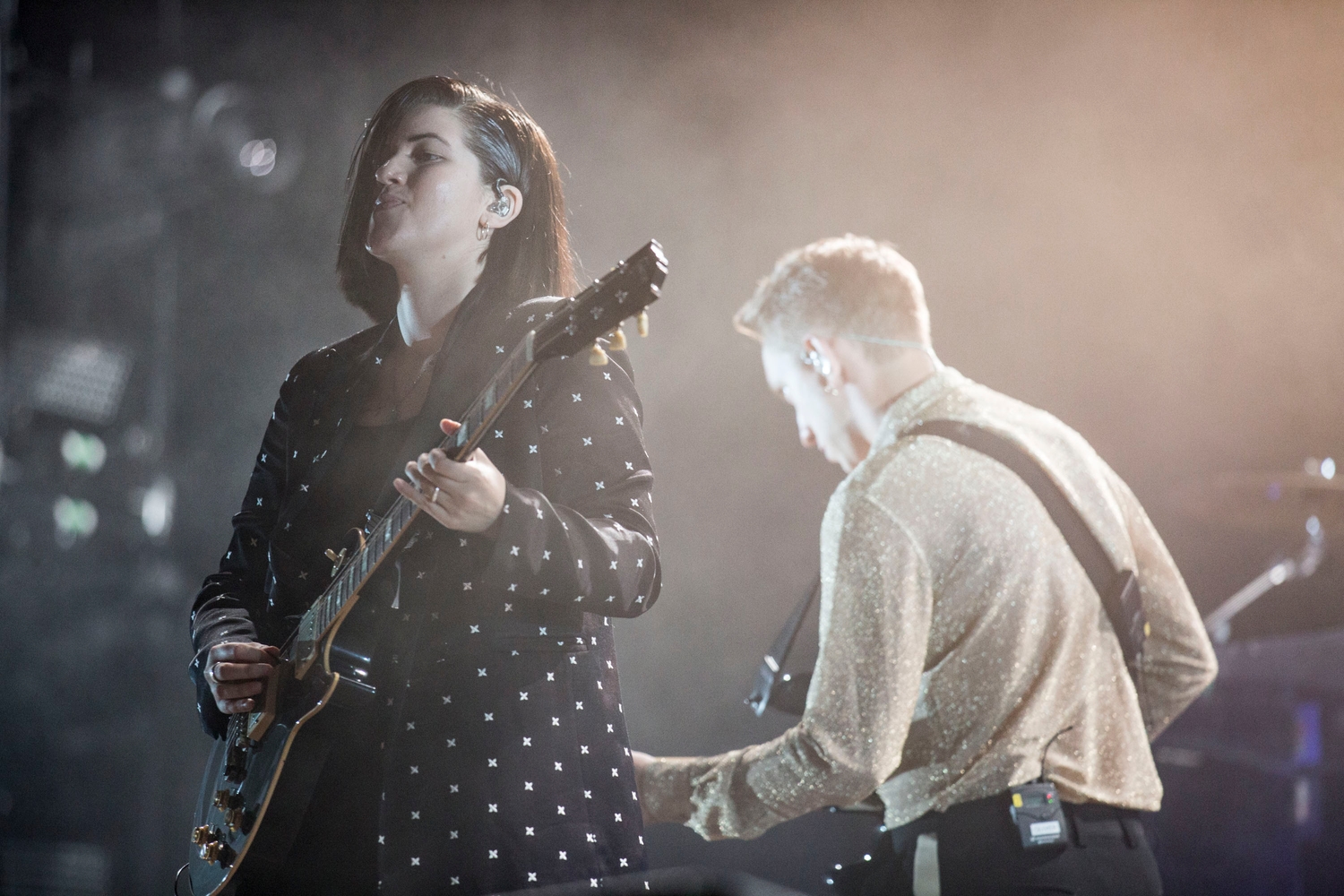 Well versed in commanding an entire festival, Run the Jewels, meanwhile, are so loud they blow the speakers. A fairly concerning bleep startles the crowds before the stage falls silent - but after a quick break to fetch fresh pints - El-P and Killer Mike bound back on stage again, just as booming as before, and always teetering on the very edge of total mayhem. They're on jovial form too, El announcing that he'd like a Barcelona passport at one stage. When they're not applauding their crowd for being attractive, Run the Jewels are sincere at times, too; reminiscing about the first time they brought 'RTJ1' to this very festival, and delivering a serious, solemn message of togetherness beneath the poodle-quips and quick-smart bars. "You have a community of people around you that love you," declares Mike, before launching into the hope-filled 'RTJ3' opener 'Down'. "They don't look the same as you… but know that they have your backs".

Filling in for late-cancellation Frank Ocean is a tall task, and hanging about for a second outing after The xx's set earlier on, Jamie xx returns on his tod, with a different shirt on, the world's biggest disco ball for company, and one clear aim. In tribute to his slot's original owner, proceedings begin with a burst of 'White Ferrari' (from Frank Ocean's 'Blonde') before his own 'In Colour' cuts intertwine tightly with fragments of carefully-chosen, eclectic disco; Imagination's 'So Good, So Right' proving one such standout. It all serves one purpose; getting people to dance. You suspect that's how Jamie xx likes things, too; he's visibly in his happy place behind the decks.

The Best Sights of Primavera, Day Two
- Cav from Swim Deep walking around with a plastic cup on his head. Alright, then.
- A lone man hiding in a bush near the Sagrada Familia, and playing the Titanic theme tune on his acoustic guitar. He also had taped backing music playing from a speaker.
- A man watching Mitki while dressed up as a unicorn
- Whitney swigging whiskey and causing havoc in the photo-pit during Mac DeMarco's chaotic set.
Read More