Festivals
Foals bring sweaty chaos as The Great Escape's returning heroes
Squid, Viagra Boys and The Nude Party were the day's brightest new hopes.
While The Great Escape's general vibe tends towards the buzzy and new, the festival also has good form in bringing some altogether larger surprises and treats to Brighton's seafront. This year, however, they've outdone themselves, and the 500 people that pack into Concorde 2 to witness Foals return to the venue they played a literal decade ago on the way up know they're in for something special.
Playing as part of label Transgressive's 15th anniversary celebrations, it's semi-ridiculous to hear this many massive hits packed into such a small space. Now five albums in (with a six mere months away), the band have enough bona fide anthems to fill 90 minutes without ever letting up; couple that with the intimate, high-intensity energy of such a small room and it's like being caught in a cathartic, chaotic glorious pressure chamber.
From the opening jagged jabs of recent single 'On The Luna', through the old crescendoes of 'Olympic Airwaves' via the emotional purging of 'Spanish Sahara' and the mammoth roars of 'What Went Down' and 'Inhaler', it's a tour through a band whose canon has swelled and side-stepped but also stayed completely true to itself; now, songs they played here first time around sit happily side by side with their newest as testament to a band that have always brimmed with ideas and excitement. As Yannis clambers around the side shelves of the venue during the familiar finale of 'Two Steps, Twice', there's the tangible awareness that few bands of their stature would ever still remain this intense, this edge-of-your-seat exciting so far into their career; tonight, as we've known for a long time now, Foals confirm themselves as true one-offs.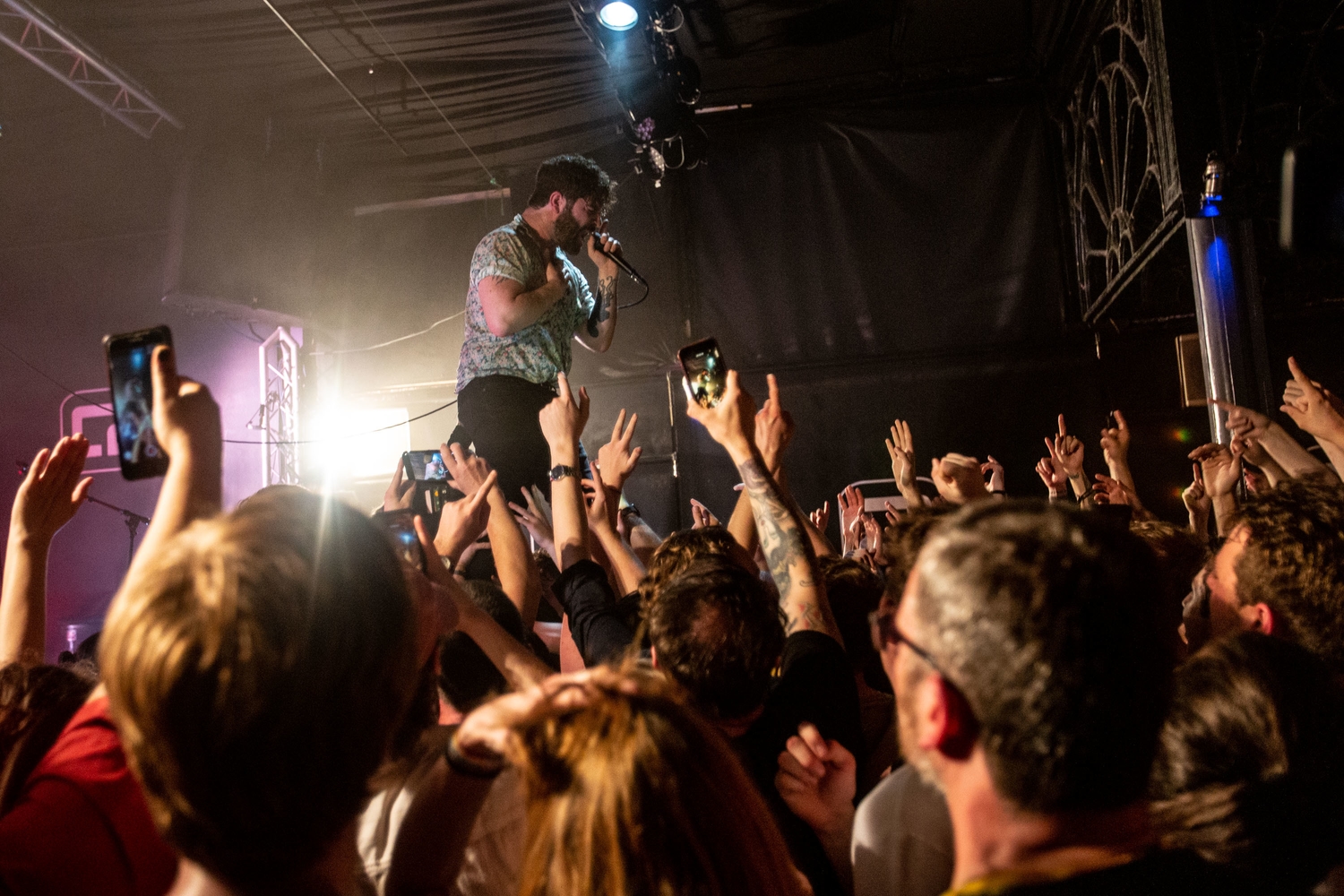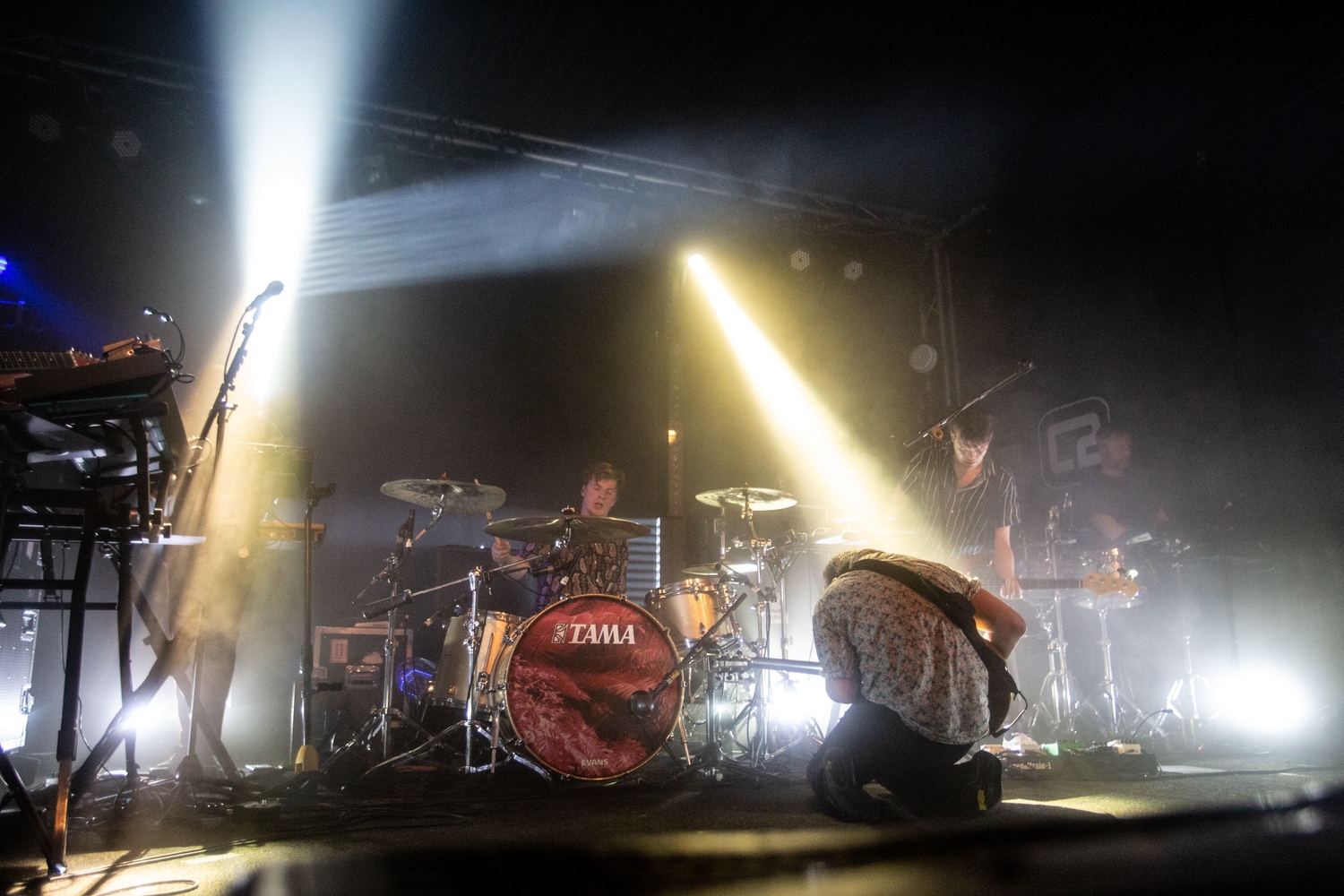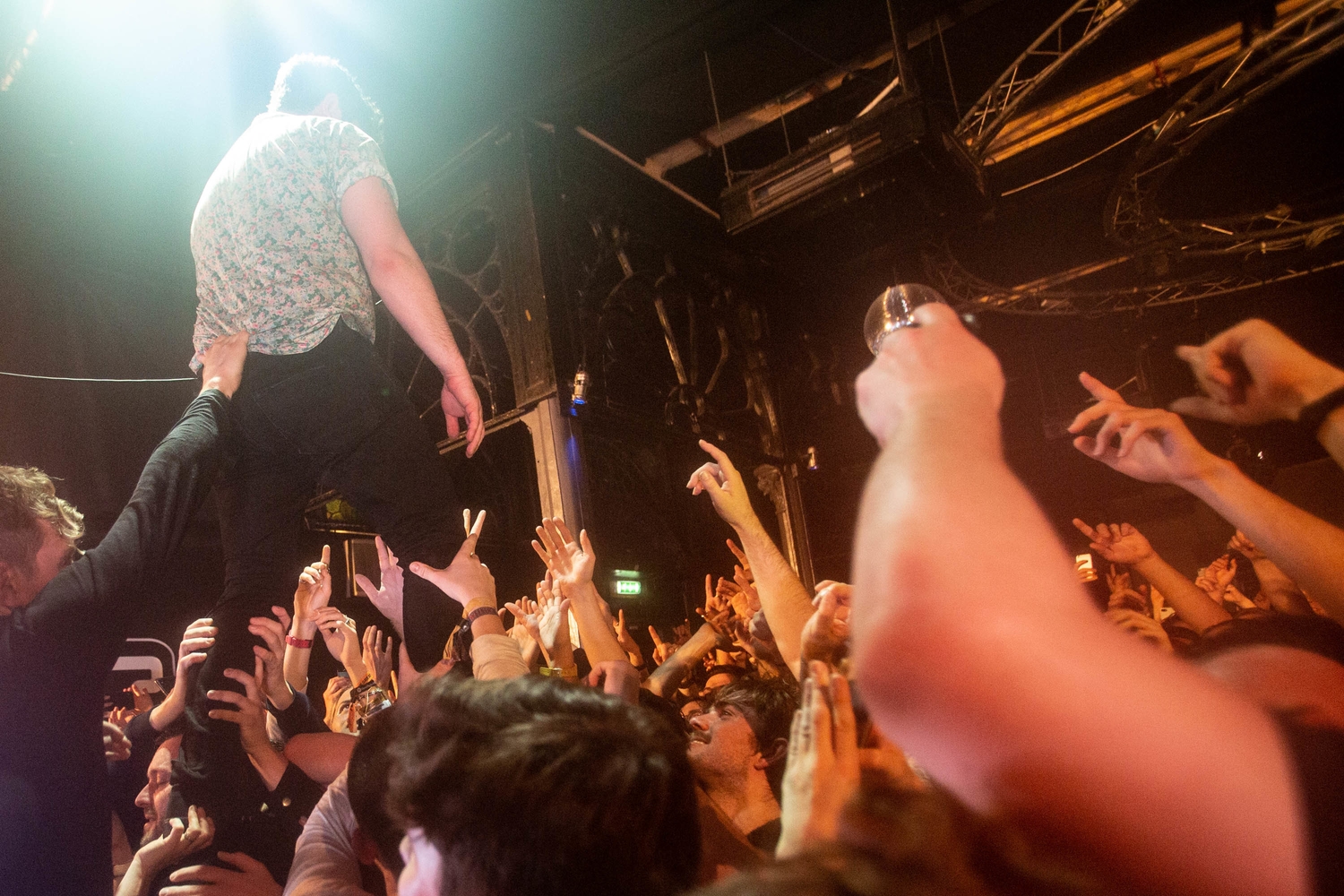 Earlier in the day, newcomers Do Nothing are greeted by the first proper sunshine of the weekend. The Nottingham boys play to a packed out Dive Bar tent, with gurgling bass lines and spiky flashes of guitar matching the stage's strobe lights. Singer Chris Bailey spits "won't you shut up for once in your life" on their excellent, LCD Soundsystem-esque single 'Gangs'.
Irish outfit Just Mustard sound dreamy on debut album 'Wednesday', but inside the cavernous walls of The Haunt they sound like Nine Inch Nails. Singer Katie Ball motionlessly delivers her glacial vocals as a monstrous wall of sound erupts around her. Creaking metal and roaring guitar feedback provides an industrial edge to tracks like 'Frank' and 'Pigs', which are given a whole new life at this volume.
Off the beaten track at one of the festival's Alternative Escape stages, North Carolina sextet The Nude Party are the coolest motherfuckers on the block. Like if The Velvet Underground and Black Lips hooked up and decided to collab, they're an effortlessly suave tumble of sunglasses, vintage shirts and jangling, '60s riffs. Very good indeed.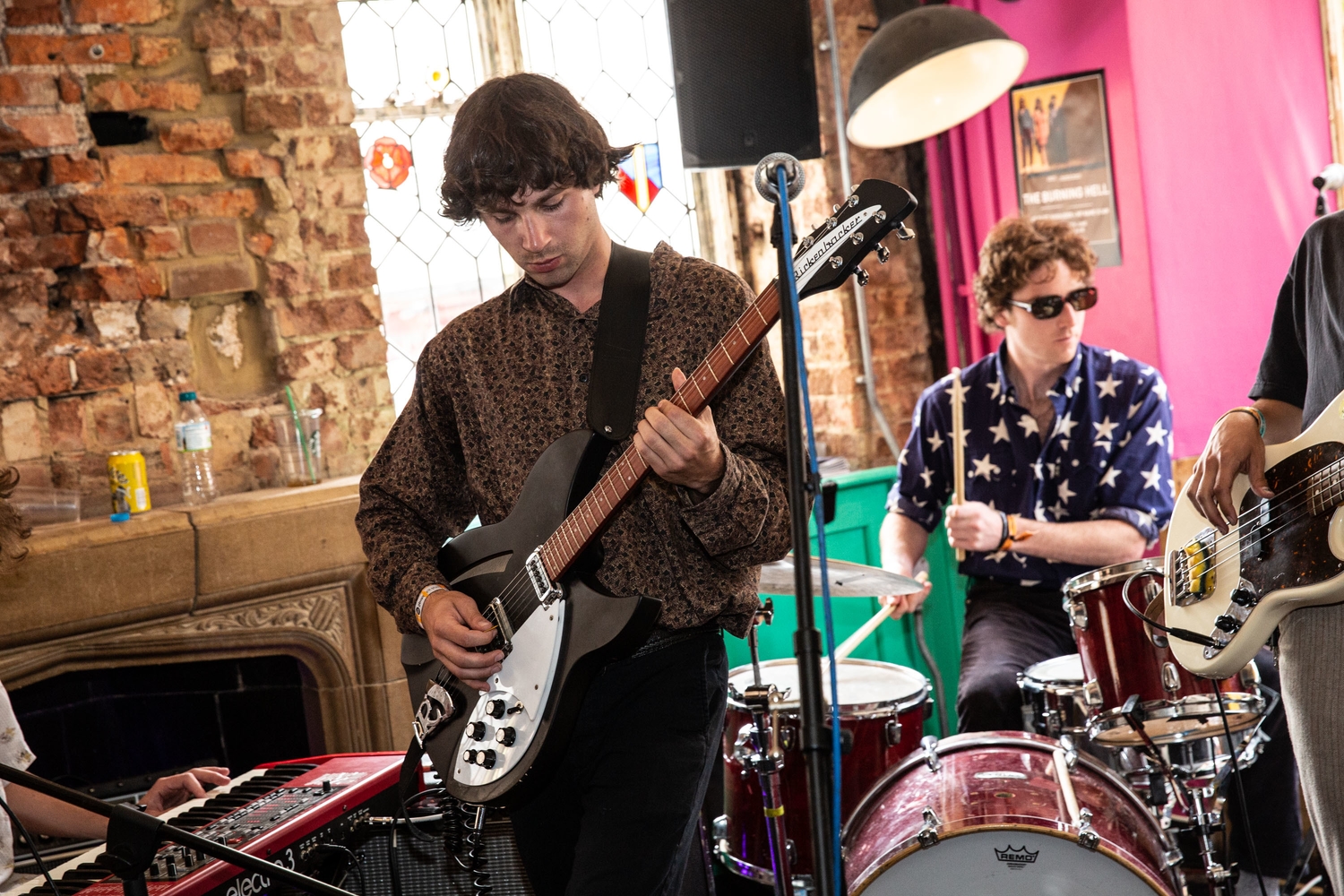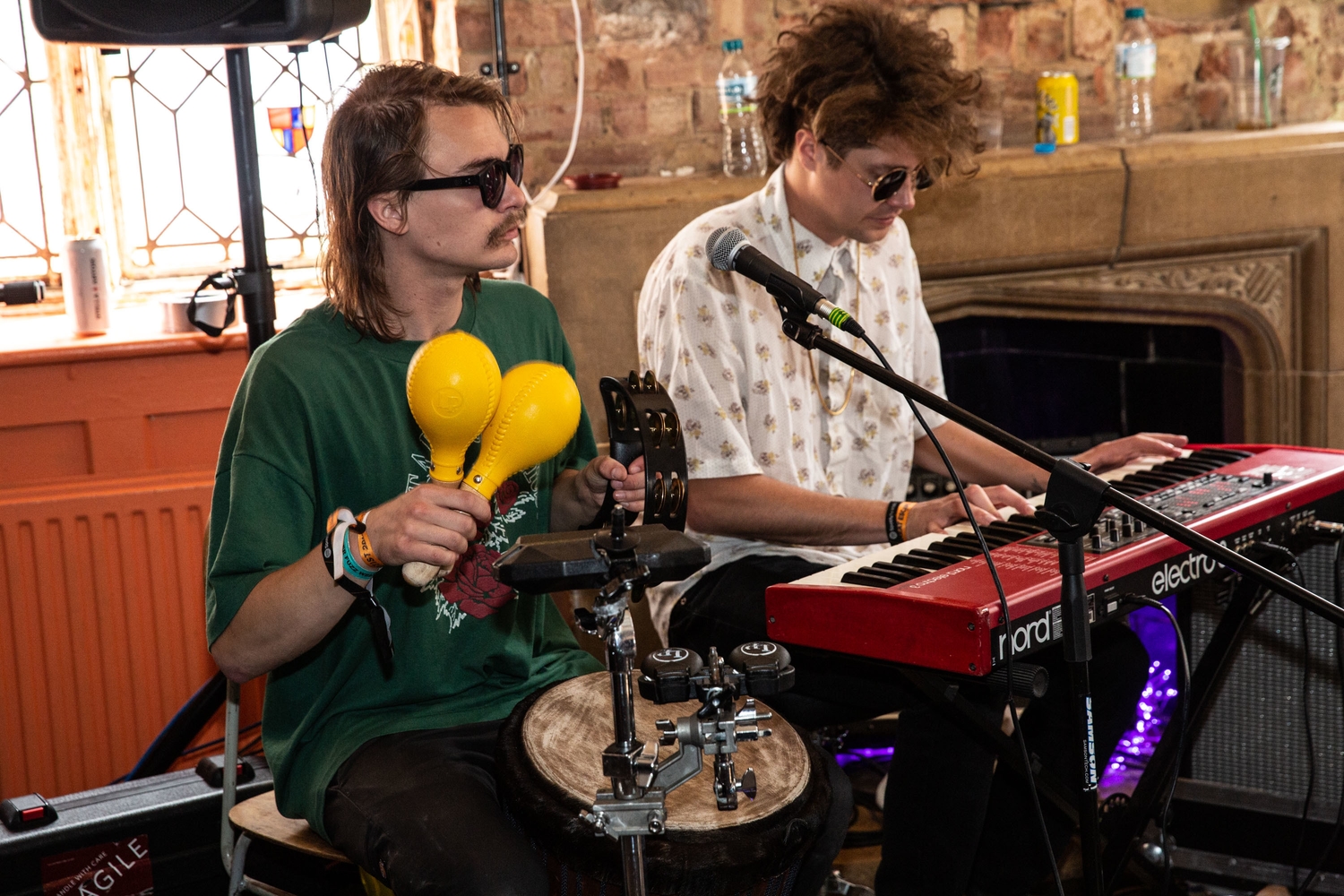 Pom Poko bring a rapturous atmosphere to the open air Jubilee Square stage.The Norwegian quartet sound like a supercharged Yeah Yeah Yeahs on tracks like 'My Blood' thanks to frenetic guitar work and Ragnhild Fangel's high-pitched whelps. But it's the band's percussive element that gets the crowd dancing. The skipping beat of 'Birthday' and the tropical cowbells 'Crazy Energy Night' are particular highlights; with beaming grins all round, the set climaxes with noodling guitars and staccato drum solos.

Looking like a glam '90s kid with eye make-up and striped sleeves, Emerson Snowe capitalises on the heavy crowds forming at The Haunt with a set full of saccharine melodies. The Brisbane songwriter draws on psych-y soft pop influences, channeling The Flaming Lips and Ariel Pink on songs like 'Sunlight', while over at The Beach Stage, Whenyoung are already sounding like established pros. With debut LP 'Reasons To Dream' just around the corner, the likes of 'Future' and 'The Others' are confident and riddled with hooks, while a closing 'Never Let Go' is a cathartic, ringing anthem.

Viagra Boys follow-up with one of the most hotly-anticipated sets of the weekend, and deliver with ease. The heavily-tattooed Stockholm six-piece, donning tracksuits and wraparound sunglasses, enter the stage in surreal fashion as a recording of an American dog show commentator echoes around the venue. "We are here to confuse you", declares vocalist Sebastian Murphy, as the band conjure up sordid thrills with pile-driving bass lines and wild saxophone free-styling. The reaction to unlikely anthem 'Sports' is incendiary - even the crowd watching from the balcony are bouncing. Long after the set finishes, people in the streets and surrounding pubs are still shouting the song's bizarre lyrics - "Ping pong! Wiener dog! Sports!"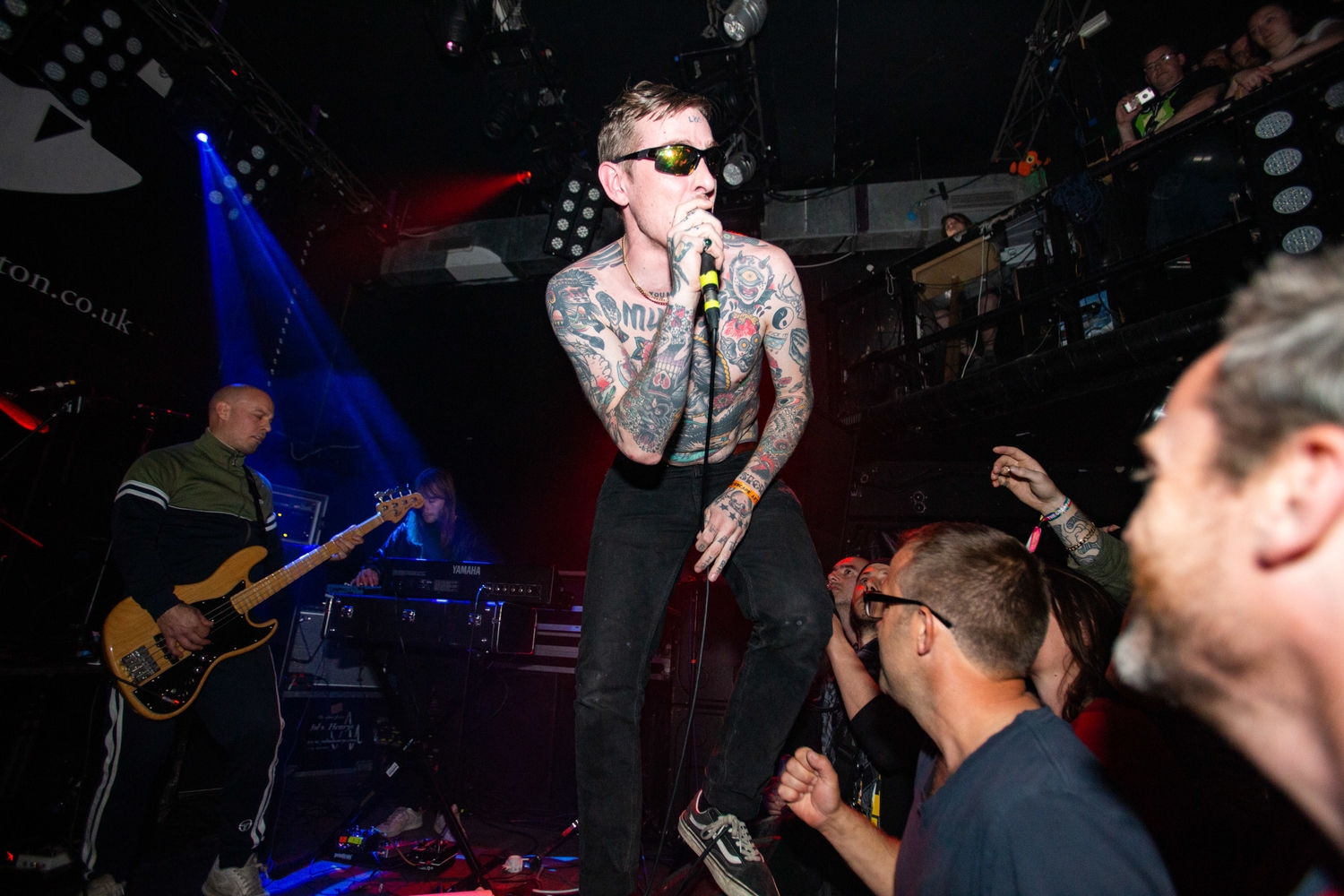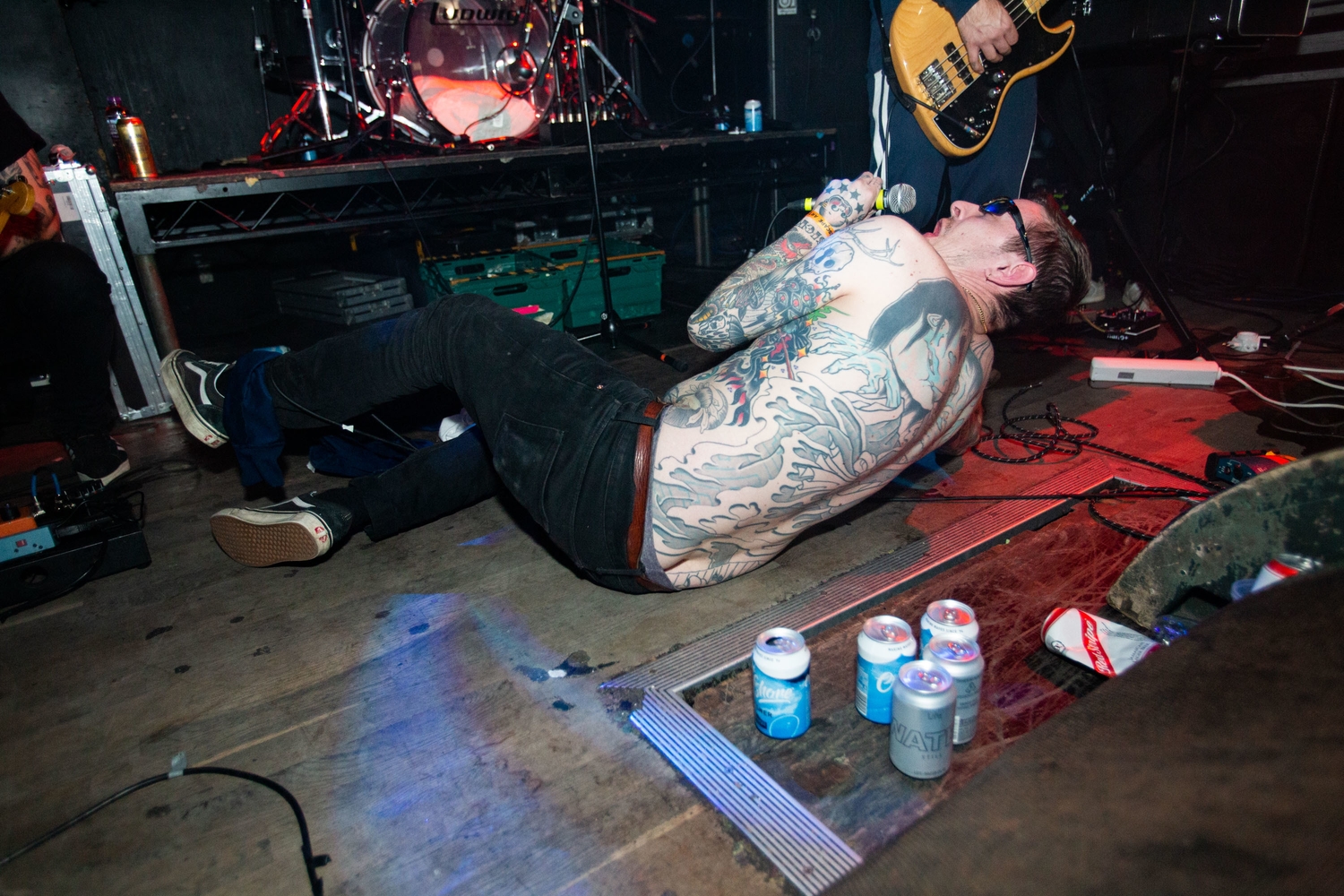 Over at DIY's stage at Horatios, Squid have a queue snaking down the pier. It's been the same for them across the festival – undoubtedly, the Brighton bunch are one of the festival's hot tickets, and tonight's frenetic set more than justifies why. At once taught yet chaotic, they're a magnetic mix of wild yelps and wired, almost mathy, technical precision, and in recent single 'Houseplants' they have probably the best song about leafy greenery in memory.
Meanwhile stage headliners FUR might deal in an altogether different kind of delight – theirs a paean to Beatles-esque jangles and sepia-tinged romance – but it's lapped up by the still-heaving crowd. On hometown turf, they may have played these streets for years, but now it feels like the band are really getting some momentum behind them; fully immersed in the nostalgic world they've created, from the vintage threads to singer Murray's honeyed croon, it's an easy one to love.

Approaching midnight, Los Bitchos perform upstairs at the East Street Tap. The all-female five-piece pass around a bottle of tequila as they perform infectious surf-rock instrumentals with guitars and keytars. "It's impossible not to have a good time," proclaims one reveller, as a party erupts in the pink-walled venue. It's hard to argue with that.

It's left to Brighton's own Black Honey to close the night at The Haunt, which they do with the help of guest pal Matt from The Amazons. Having played the festival, growing incrementally each time for years, now the band are back as a bona fide success story; with people clambering on each others' shoulders and a boisterous pit down front, it's a suitably victorious way to close the day.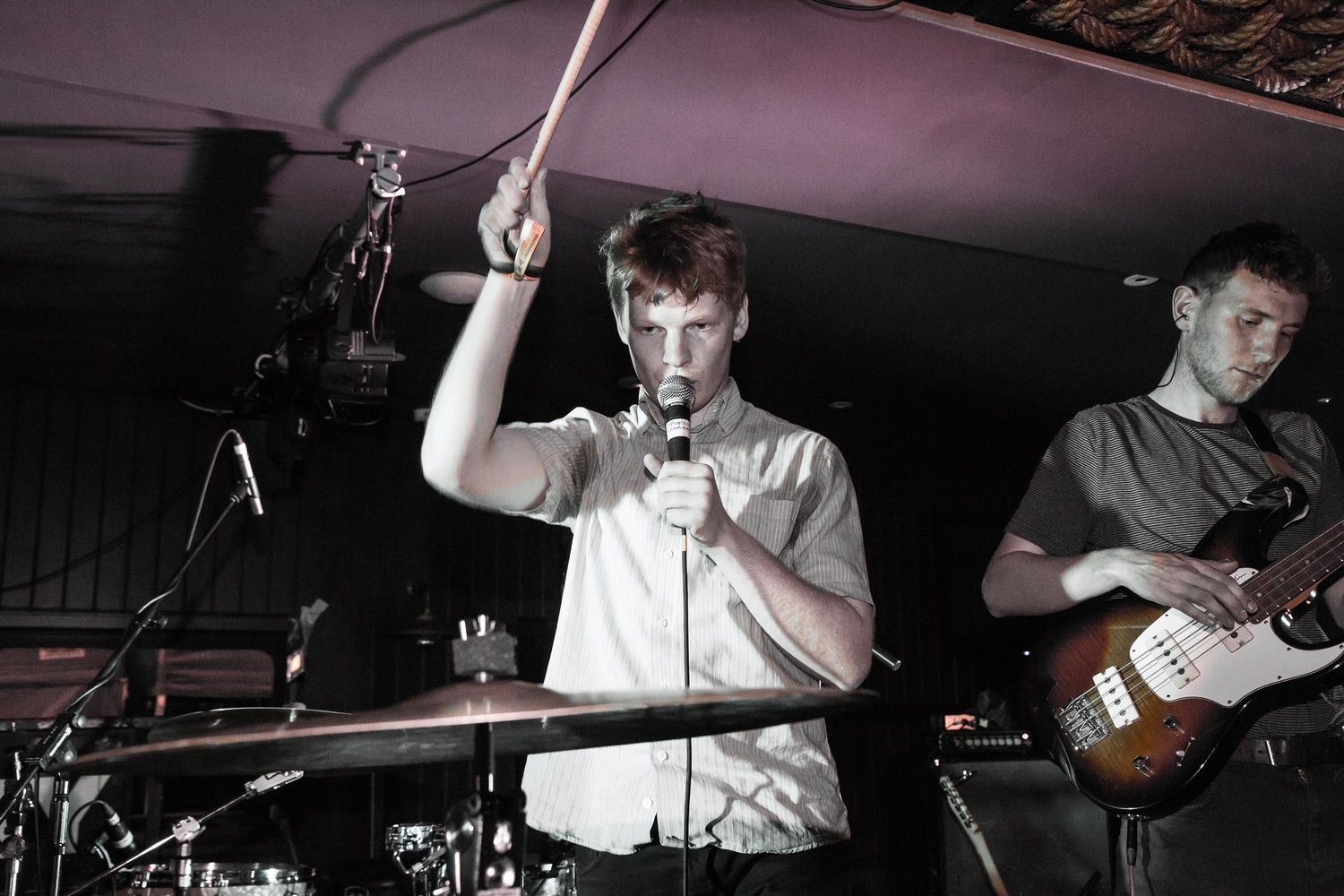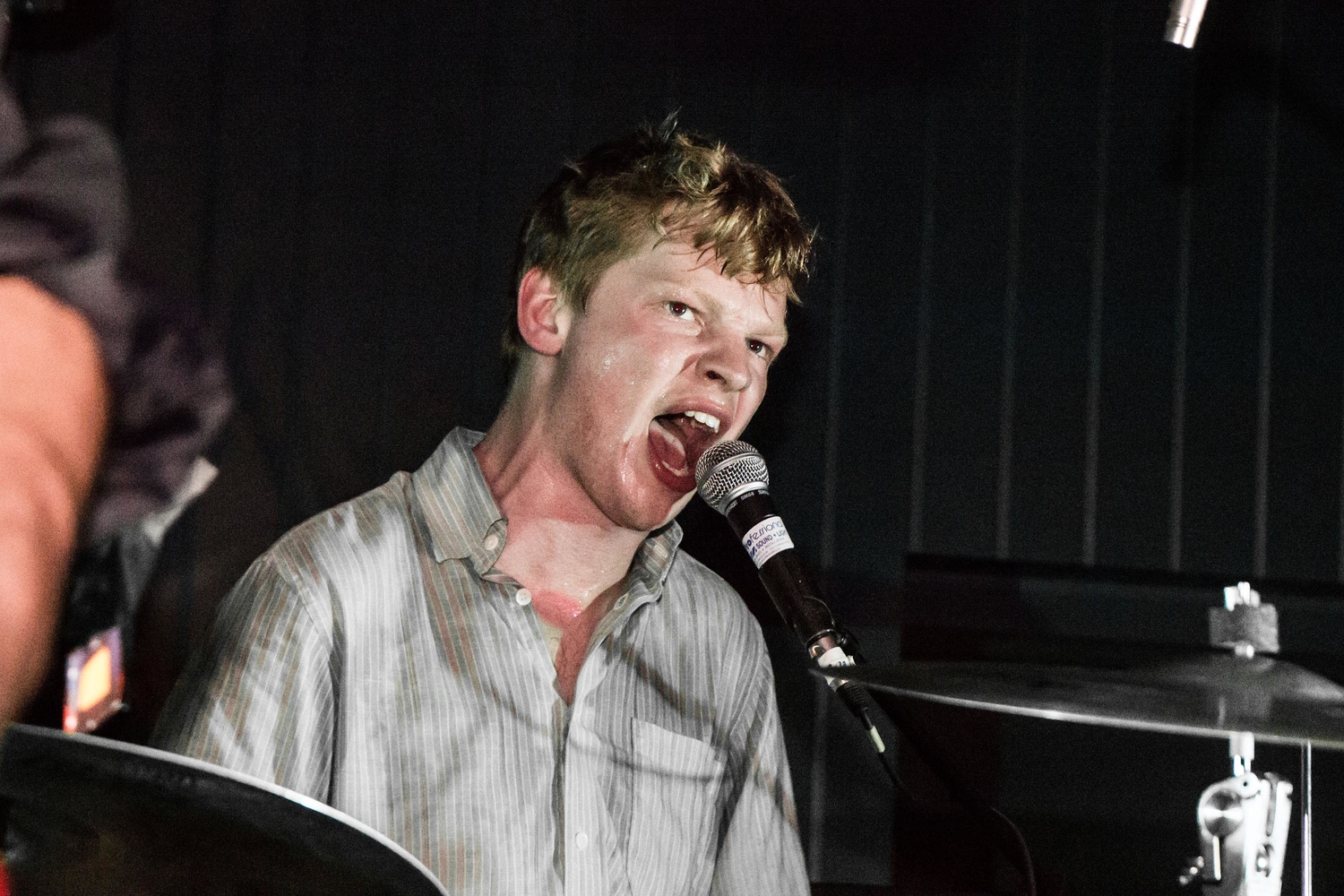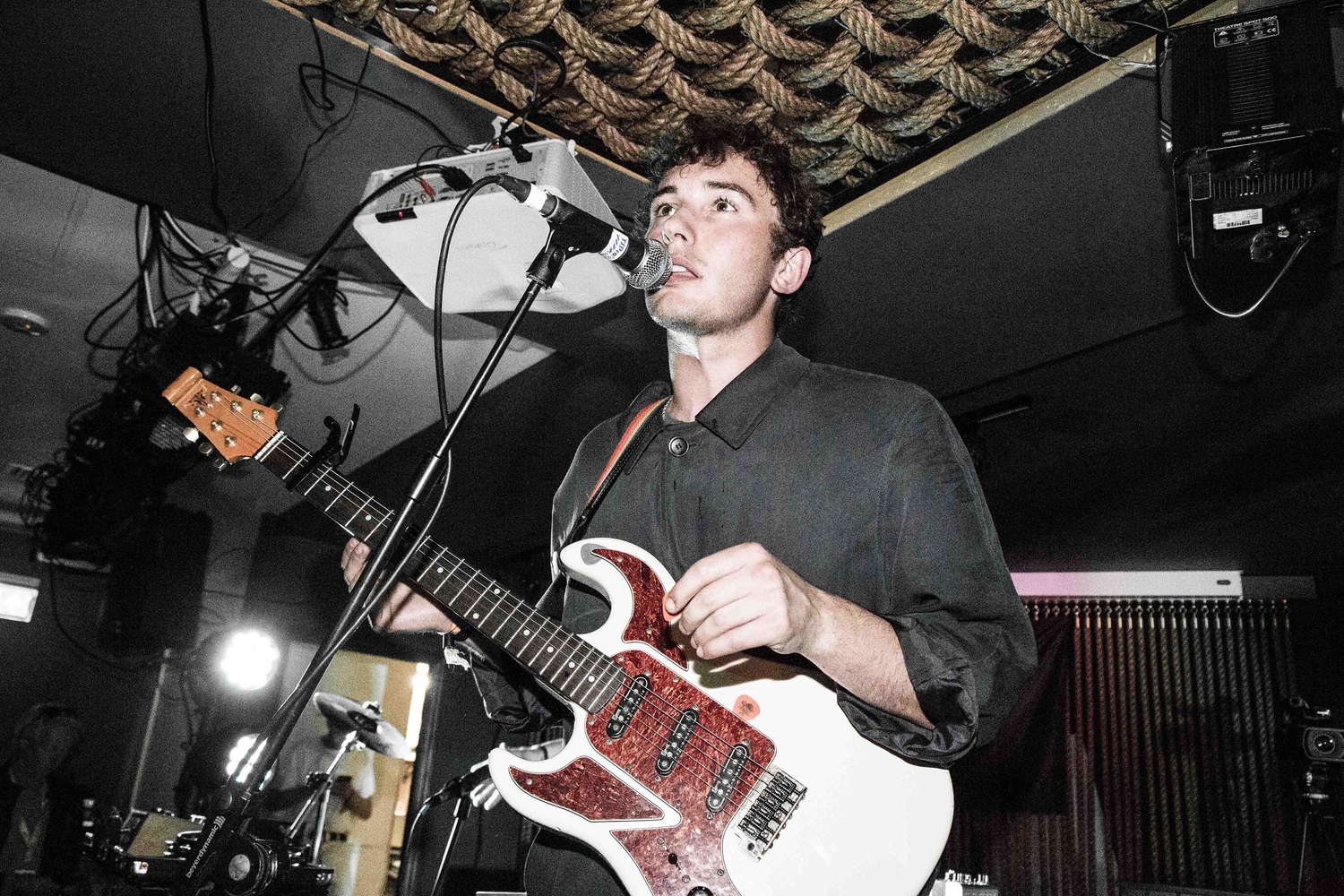 Read More
Featuring King Gizzard & The Lizard Wizard, IDLES, Tkay Maidza, Sleater-Kinney and more.