EP Review
The Strokes - Future Present Past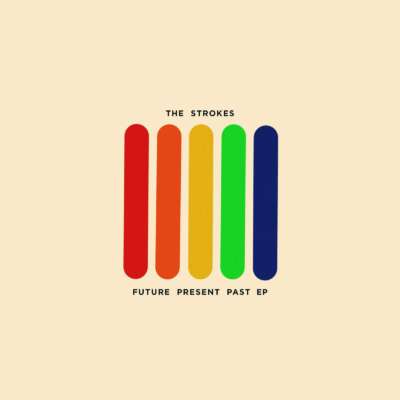 These trio of newbies are worth the fuss.
Label: Cult Records
There isn't another band quite like The Strokes. Sure, your Radioheads can ace a stealth release better than most, but unless we missed a throng of butter-blond mop tops in the mid-90s, Thom Yorke and pals didn't cause an entire generation to switch their wardrobes after a single drumbeat. Last year's (European) dual assault of a Primavera headline spot and mammoth Hyde Park concert displayed unequivocally that there's just as much - arguably more - love for The Strokes fifteen years after their breakthrough as on the days following the release of 'Is This It'.
New material wasn't entirely unexpected - talkative guitarist Albert Hammond, Jr has been cheekily hinting as much for some time now - but to wait mere hours from shining a logo on an East London wall to dominating the day's airwaves with track after track is a killer move. Best yet - these trio of newbies are worth the fuss.
It's possible 'Future Present Past' is little more than a stop-gap, bridging 2013's 'Comedown Machine' with what we're told the band are "working on" via official channels. It'd probably stand well as much - opener 'Drag Queen' fits in nicely with the previous record, while 'OBLIVIUS' and 'Threat of Joy' work their way backwards through the quintet's back catalogue respectively - the former evoking 'First Impressions Of Earth''s 'Ize of the World', with the third back in 'Room On Fire' territory, if not their debut. Almost, like, as if the release's name was deliberate.
(Fourth track, a Fab Moretti remix of 'OBLIVIUS' is a spaced-out reworking with sparkling synths a-go-go, including one that's not unlike the Doctor Who TV theme)
It's uncanny, too, for a band whose sound is as instantaneously recognisable now as at the turn of the millennium, that it all sounds so fresh. Those guitar solos, Julian's barely-intelligible vocal (we made out the lines "I am waiting for the time to / get you with your pyjamas on" in a did-he-really-say-that moment) and the vibes that caused a million hangovers may have altered little in the interim, but 'Future Present Past' more than proves The Strokes are as important a band in 2016 as they've ever been.