An album that cements her status as a true pop trailblazer.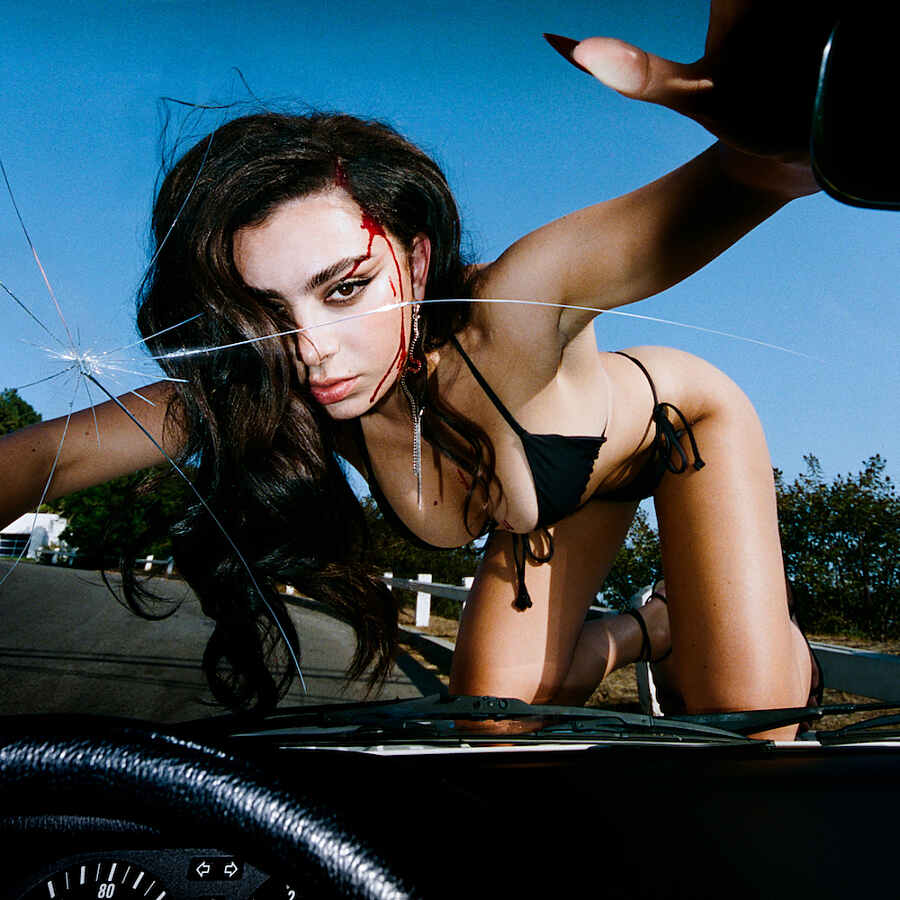 It's a bold move to tease an album's release with an image of your own gravestone on Instagram, but then again not every pop star is like Charli XCX. From her breakthrough in the early '10s and hits 'I Love It' and 'Break The Rules', to her influential hyper-pop innovation and love for experimentation in projects like 'Pop 2' right through to her landmark lockdown album 'how i'm feeling now', Charli's been a pioneering tour-de-force of the pop world for nearly a decade. Now her fifth full-length 'CRASH' arrives, and Charli is ready to add to her legacy of boundary-pushing records.
For album number 5, Charli has placed a tongue-in-cheek emphasis on this record being the end of an era in her career, as well as a new beginning. The aforementioned gravestone was part of a winking nod to 'CRASH' being "the fifth and final album in my record deal…". She's been filling her social media with lighthearted 'tips' for new artists ("tip for new artists: it only gets worse" one reads, "tip for new artists: suffer in silence" states another),and has been embracing a deal-with-the-devil motif. "I'm exploring what it means to be a pop star on a major label in a not very current way," she's previously explained. "And that's really fun to me." Welcoming us to her "new chapter [that] embraces all that my life has to offer in today's world - fame, glamour, inner demons and global hits", this may be her final record in her contract, but Charli was never not going to go out with a bang, opting for yet another album that delivers something exciting and unexpected. Moving away from the hyper-pop that has characterised her most recent releases, 'CRASH' delivers a sublime slice of punchy power-pop helmed by an all-star lineup of producers including AG Cook, The 1975's George Daniel, and Ariel Reichstaid (the latter having previously worked on the singer's debut 'True Romance'). 'CRASH' is glistening with influences ranging from Janet Jackson to Cyndi Lauper, and fist-pumping power-pop tropes that shone throughout the best of the '80s.
The record kicks in with thumping drums as Charli sings how it "ended all so legendary" over twinkling synths on the opening title track. The nostalgic pop influences quickly seep in, further highlighted by its guitar-solo finale. Elsewhere, previously released singles, such as the iconic Caroline Polachek and Christine and the Queens featuring 'New Shapes' and the 'September'-sampling Rina Sawayama collab 'Beg For You', shine brightly, while the pounding and anthemic 'Good Ones' stands as one of the best from Charli's back-catalogue. But at no time does Charli lose her forward-thinking pop flair either.
The dramatic 'Move Me' and 'Lightning' reinvent what pop and dance ballads should be, while 'Constant Repeat' is a refreshing slice of pure pop that shimmers as Charli sings about a relationship that could've been ("you could've had a bad girl by your side"). Dynamic strings open up the sleek, sexy bop 'Baby', and 'Every Rule' explores falling in love under tricky circumstances over dreamy synths. 'Used To Know Me' is a dance-floor ready club-pop number, while infectious ear worm 'Yuck' sings about simping hard ("that boy's so mushy, sending me flowers, I'm just trying to get lucky"). 'Twice', which Charli originally premiered in a livestream concert back in March 2021, brings a close to the 12-track record on a shimmering note as she sings about living in the moment ("All the things I love are gonna leave me, one day you're never gonna be there / I tell myself to take it easy, don't think twice about it").
'CRASH' may be closing a chapter for Charli but it is in no way a swan song. Instead, she once again explores new ventures, crafting a pop album that celebrates the old classics as well as the new, and cements her status as a true pop trailblazer.
More like this