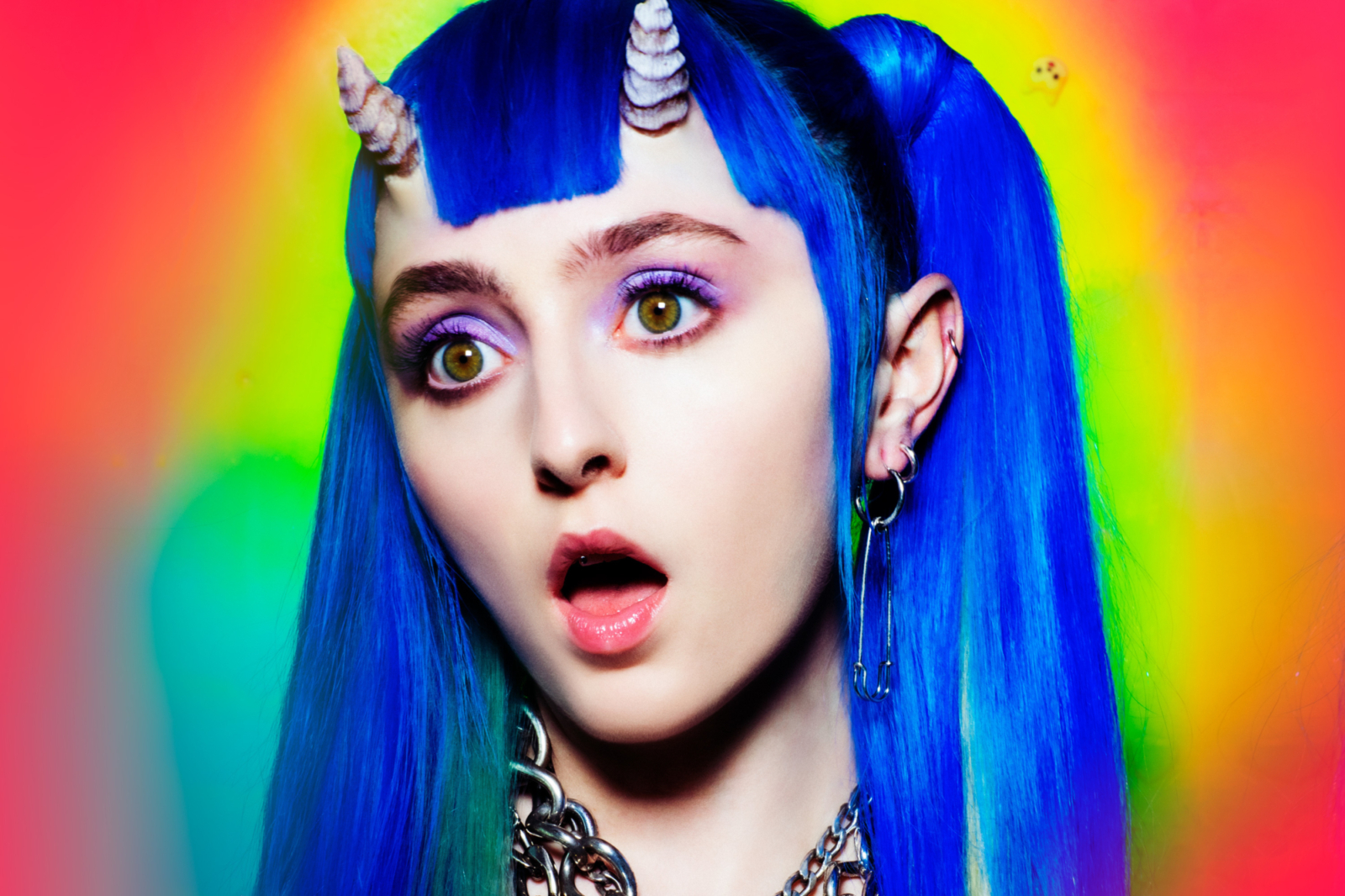 Class of 2021: Ashnikko
Arriving in a whirlwind of blue hair, badass lyrical quips and a penchant for life's filthier pleasures, Ashnikko is here to disrupt the pop landscape - and reclaim the word 'cunt' while she's at it.
Ashnikko sure knows how to make an entrance. At the beginning of this year, much of the world met her for the first time - and looked on with bewilderment - as she strode into the BRIT Awards flanked by two oiled and muscular subs holding up her giant blue ponytails. Elsewhere, the night was business-as-usual. Meanwhile this newcomer's turn on the red carpet felt like a proper pop moment: think Lady Gaga's meat dress, Rihanna's custard-hued Met Gala couture, or Britney Spears brandishing a snake. Chatting to journalists flanking the walkway, Ashnikko used the opportunity to grab their microphones, merrily yelling "fuck the patriarchy" as she went.
Capturing this kind of delicious silliness is something that Ashnikko does very well – prior to her conversation with DIY, a garish blue shoebox bound with a heavy metal chain arrives one late and spooky evening, complete with a combination code. Housed within, there are bountiful treats: a bottle of lube, a lacey blue thong, some blue roses, hair spray, and a slightly spooky-looking doll bearing the singer's likeness. Happy Christmas!
"If you can hear, my voice is a little raspy," Ashnikko informs us a couple of days later. Over the weekend she's been necking shots and partying, and with good reason – we're speaking just two days after Donald Trump was finally ousted from the White House in the 2020 US election. Born in the States, yet based predominantly in London, Ash has seen a series of terrible political developments unfold on both sides of the Atlantic over the last half decade – from Trump and Brexit to respective governments' handling of the COVID-19 pandemic. Being confronted with a positive crumb of news at this point feels exceedingly odd. "I am SO hungover," she laughs, a hint of Southern twang emphasising the "so" for effect. Despite this, however, she's managing to sound relatively chipper. "I drank so much tequila last night, literally a whole bottle. Too much celebrating…"
Booze-fog gradually lifting in the stark light of day, and with big plans for a restorative smoothie later on, Ashnikko is cautiously jubilant - but acknowledges that the victory of Democratic President-Elect Joe Biden now needs to be followed by substantial and progressive change. The US turning blue is not enough on its own. "Biden winning is cause for celebration for sure, but it's just the tip of the iceberg really with all of the problems in America," she says. "I'm hoping this is a step in the right direction. It's just nice to not have a very outwardly racist, homophobic and misogynist piece of shit in office." Next up, she's hopeful that the UK will follow suit in voting out Boris Johnson - "the other man with horrible hair."
"
The [Egyptian] root word of cunt means mother. Normalise saying cunt, say it more!
Born in the rural town of Oak Ridge, North Carolina, Ashnikko spent her formative years in Riga following her family's relocation to Estonia, and then Latvia, in her early teens. Currently, she's back in North Carolina due to the pandemic, where she's working on her debut album proper.

Growing up between the American south and the chilly Baltic made for a "super-conservative and patriarchal" backdrop, she explains: "Being a very liberal, outspoken feminist did not bode well with a lot of my family members and classmates. I've gotten in a lot of family arguments and screaming fights." Over differing politics? "It isn't politics when it's just human decency," she says resolutely. "But yes." As soon as she turned 18, she moved to London. "Maybe that's why I'm so outspoken and loud," she wonders now, "because of that background?"

And Ashnikko is certainly outspoken, as evidenced on her next mixtape 'Demidevil' - a collection that pulls no punches. On 'Slumber Party' (also featuring New York rapper Princess Nokia), Ashnikko plays around with predictable and tropey lesbian fantasies about 'girly sleepovers' and quickly destroys them. "Me and your girlfriend playing dress-up in my house," she sings sweetly, before morphing into a Disney villain here to steal your girl: "I gave your girlfriend cunnilingus on my couch."

Marika Hackman has done admirable work to champion eating out in the field of indie rock (shout out 'Violet' and 'All Night'), while Cardi B and Megan Thee Stallion's filthy tour de force 'WAP' has made valiant strides in the pop world. But still, the number of songs about vagina-havers getting head is tragically low - and fewer artists still have managed to squeeze its full Latin title into a pop hook. "I thought that was funny," Ashnikko laughs. "I was like, should I put cunnilingus in there? But you know what, it can be a little sex education. Put the whole word in there, we don't use slang! The official word!"

Ashnikko's hopeful that the cunnilingus streak will continue to blaze through the music world - and when it does, she's even got a genre name ready: cuntry music. "I've had this thought before," she says. "The [Egyptian] root word of cunt means mother. That's why it's in the word country. It's not a dirty word - the word cunt is not a dirty word. Normalise saying cunt, say it more!"

Elsewhere, 'Demidevil' features an updated version of Avril Lavigne's 'Sk8r Boi' - except in Ash's 'L8r Boi' he gets swiftly dumped for being selfish and staggeringly mediocre in bed. 'Cry' - featuring "big inspiration" Grimes - spirals to roaring, Evanescence-esque heights, while 'Deal with It' samples Kelis' signature yell of "I hate you so much right now" from her 1999 hit 'Caught Out There'. It's a musical collage of Ashnikko's biggest influences.

And then, the finale. 'Demidevil' closes with a song titled 'Clitoris! The Musical' - a campy, giggle-peppered show tune about "cis-gender, heterosexual man"s inability to get her off. "I've got double the nerve endings in your pee-pee," Ashnikko sings gleefully, enlisting orgasmic gasps that would horrify Julie Andrews: "if you do your fucking research this would be so easy."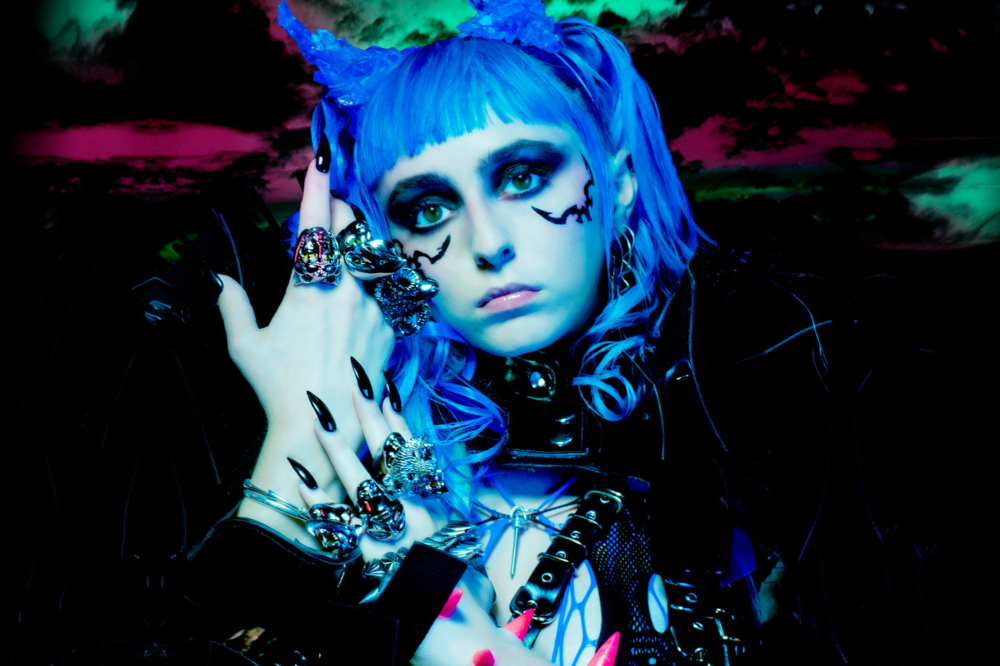 "
My whole stage thing is a persona. I can't be Ashnikko all the time, or I would go crazy.
Pleasure Seeker
So you've designed a vibrator?
"It's in process, yes. I've been working on a lot of sex toys. My collection is growing – it has been growing quite a lot through lockdown! I love sex toys, and they've really helped me to learn about my body and my pleasure, and prioritise it. Highly recommend. I read a funny quote from an Amazon warehouse worker, and he was mad - for good reason - about the conditions being really fucked up, and warehouses not prioritising safety during COVID. But he also said: I don't wanna be delivering your fucking dildos. That's what everyone's ordering. Warehouses are exploding, filled to the brim, with dildoe. Everyone should get one! But from ethical sources."

For Ashnikko - now aged 24 - becoming confident in her queerness and sexuality is an ongoing journey, and with her music she wants to channel the kind of sex positivity that she heard from artists like Missy Elliott, Lil Kim, Kelis and Nicki Minaj growing up. "The media would have you believe that female pleasure and orgasm is mysterious and extremely vulgar, but alas," she sighs theatrically, "it is not. The clitoris is a very accessible part of the body! My pleasure deserves prioritising. Vagina-having people deserve pleasure, and they deserve to not be censored.

"Why do you see cis-het men [straight men whose gender identity matches the sex they were assigned at birth] ejaculating all over PG movies, and then as soon as you see a vagina or any sort of orgasm pertaining to the vagina - nope, it's rated R?" she asks. "I'm learning and undoing a lot of the internalised misogyny that I guess we all have. I think it's always good to be willing to learn. I'm still learning things about my sexuality, my body, every single day."

Adapting 'Clitoris! The Musical' into a stage-show, Ashnikko adds, is "already in process. I'm writing the songs now. We're going to get a crazy budget for it, it's gonna be a touring production: Broadway, West End, the whole nine yards. I haven't really decided how we're going to do the clitoris. I think she might be a character at the end, very elusive. Casting TBC."

And erm… can we expect a jaunty show tune about the g-spot any time soon? "Perfect idea!" she says. "I'll add it in. Yes. It's going to basically be sex education on Broadway."

Ashnikko's sex positive mission isn't a new one - back in 2017, on debut EP 'Sass Pancakes', she was taking aim at slut-shamers on the title track and boasting about "giving your girlfriend head on my studio couch" on 'Thrust'. Since then, her mission has only become more pointed and provocative. Written following a messy break-up, last year's EP, 'Hi, It's Me' smoulders with whip-smart, sexually-charged one-liners, and swaggers with confidence. The best of the lot is addressed to the ex in question. "I know you think about me in the shower, PornHub in your browser, fantasize about the pussy power," she smirks on 'STUPID'.

The withering post-break up putdown quickly spread like wildfire through viral video app TikTok, and escalated. Within a month, Miley Cyrus was lip-syncing to it. At the time of writing, the music video has been watched 4.3 million times. Tot up all those separate two-and-a-bit minute viewings, and it'll leave you with enough time to comfortably fill two centuries - with a few extra decades left over for good measure. It's almost too huge to wrap your head around.

"It was very strange. I remember being in a Popeyes parking lot on tour, and I just started crying," Ashnikko recalls, looking back to the moment she realised 'STUPID' had mutated into a force beyond her control. "Like, hyperventilating crying - snot was dripping into my mouth. I was like: I can't do this. This is not a normal way of human existence, to be watched, and being so hyper-aware of everything that you do and how you're perceived. I really wanted to spend my hard-earned cash on a Chanel bag," she laughs, "but I was like, bitch you're going to therapy, let's do this. It helped."

Despite being grateful for the song propelling her to where she is today, Ashnikko is plain-speaking, and doesn't gloss over the more disorientating aspects of shooting into the spotlight practically overnight. "I love 'STUPID', and I love that it happened," she footnotes, "but when I think about that surreal moment of it going from zero to 100, I just think about my mental health. I was there losing my fucking marbles, and I was like, I wish there was an emergency room for this.

"I feel like all record labels should be providing mental health services to artists, and honestly, all lines of employment," she adds firmly. "I think mental health services should be readily available to everyone, and way more accessible. Why do we have an emergency room for physical ailments and not for your brain?"


"
Why do we have an emergency room for physical ailments and not for your brain?
Show Us Your Party Trick!
"It's burping. I can burp really loud. My burps echo and reverberate around the whole room. It's a very hardened burp, and it doesn't sound like it comes out of my body. I also think that it honestly helps me with my singing voice. I have a good burping tone, and I think that it has a similar tone to when I rap and sing. They all feed off of one another. I burp all the time, just ask anybody. Without a care in the world on set or whatever, I will burp so loudly that the room shakes. There may or may not be a fart hidden in 'Daisy' on the mixtape. I won't say whether it's true, to keep the mystery."
Since she was young, Ashnikko has had a skillful command of drama; "My parents would definitely use the word 'melodrama' when describing me…" she laughs. As a kid, she was once suspended from school for penning a troublingly erotic story about her teacher ("there was a lot of poop in it"). After that came hordes of Twilight fan-fic and a spell running a dedicated fan site for the vampire novels: since, she's concluded that "the morality in those stories is very questionable." Eventually Ashnikko's knack for the theatrical led her to star in a stage production of The Wizard of Oz for a whopping five years.

Initially she played a munchkin, and there was a brief stint as a crow, but the singer insists her time portraying a flying monkey was especially fulfilling. "I got to be strapped to a harness and thrown across the stage," she remembers. "I got to hold the tiny dog Toto in my harness. Oh man, I think Toto shit on the stage once when I was swinging and holding him up in the air. There's a lot of metaphor in that, I just can't find it right now. Shocking performance art," she hoots. "It was a very formative role for me, it really shaped me as an artist."

Clearly she's taking the piss, but all the same Ashnikko's time on the stage has stayed with her in some ways; nowadays, she deals with the increasing pressure by seeing her artistic moniker as another role. "My whole stage thing is a persona," she says. "I can't be Ashnikko all the time, or I would go crazy. If you're putting actual statistics and figures onto your human self, your human body, your mind, soul, everything, that's a recipe for disaster."

When it comes to making sense of the steaming hot cesspit of shit that is 2020 and beyond, Ashnikko's answer often comes from laughing in the face of despair. "I'll be laughing on my deathbed probably," she quips, darkly. "Humour is definitely a coping mechanism for me, I don't think I can do anything seriously. Young people have a whole lifetime of climate change and fucked-up politics to deal with, and so Gen Z humour is impeccable," she reckons.

As much as Ashnikko's world is absurdist, overblown, and a little bit ridiculous, don't underestimate the fierce trail she's blazing. 2021 looks set to be hers for the taking, and 'Demidevil' is just the beginning.