Phoebe Bridgers on 2020, Grammy nominations and making DIY's Album of the Year
In a year of next to no live music and with a planet in turmoil, Phoebe's second album 'Punisher' managed to cut through and embrace the chaos of 2020 and cement her as the voice of a new generation.
In a year such as 2020, music could have easily taken a back seat, replaced by - you know - real life. However in actuality, music's importance has become even clearer over the past 12 months, and there's one record that we've clung onto for dear life through the worst of it all: Phoebe Bridgers' 'Punisher', DIY's album of the year.
Through her 2017 debut 'Stranger In The Alps', and records with side-projects Better Oblivion Community Center (alongside Bright Eyes' Conor Oberst) and boygenius (a 21st-century supergroup of dreams joined by Julien Baker and Lucy Dacus), Phoebe's ascendancy to singer-songwriter royalty was already well underway. But 'Punisher' felt like a true arrival, and a confirmation that Phoebe is destined to be remembered as one of the greats.
When 'Punisher''s first single 'Garden Song' arrived at the end of February, it was set to signal the beginning of a relentless year of touring, zig-zagging across the planet and securing her mantle as indie rock's next queen. The throne still arrived, but in a distinctly different way. "It was fun to reimagine what I do this year," Phoebe says in retrospect, chatting as the year comes to a long-awaited close.
"That first couple of weeks [of quarantine] was so terrifying," she continues, "but I remember as the situation slowly started to dawn on everybody, and Ben Gibbard started doing his home performances and every yoga studio was like, 'Oh, now we have online classes', it was heartwarming to me to watch the world adjusting, because everyone was so freaked out together."
Despite being "so fucking done" with the quirks of isolation as we speak now ("No more banana bread or reimagining of your house"), the singer finds herself "kind of nostalgic" for those terrifying but somewhat adventurous first few weeks of quarantine. Or, as Phoebe said to herself at the time, "What if I play in my bathtub?!"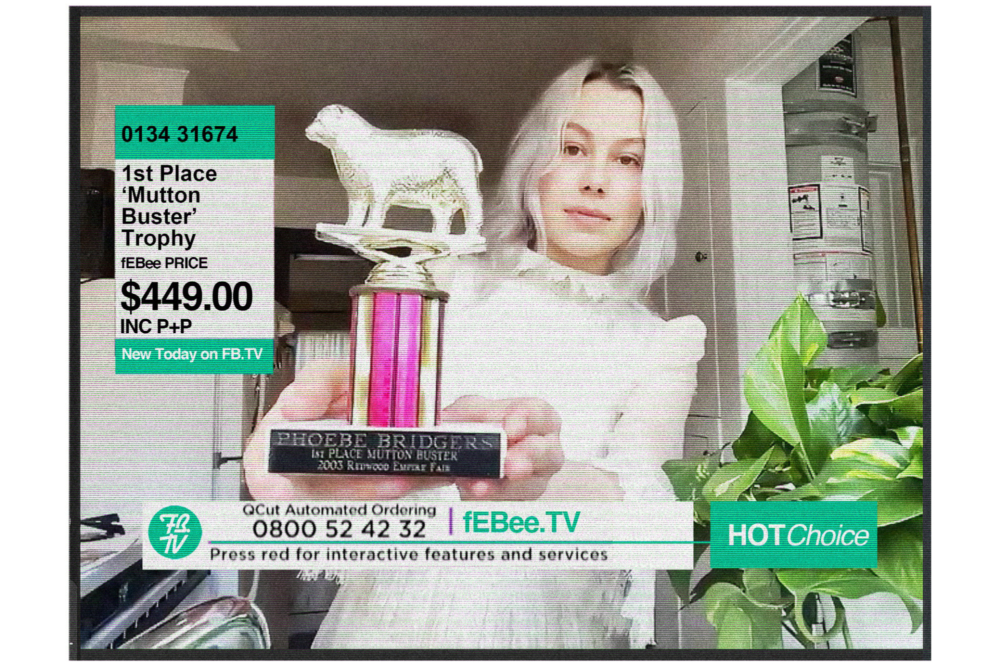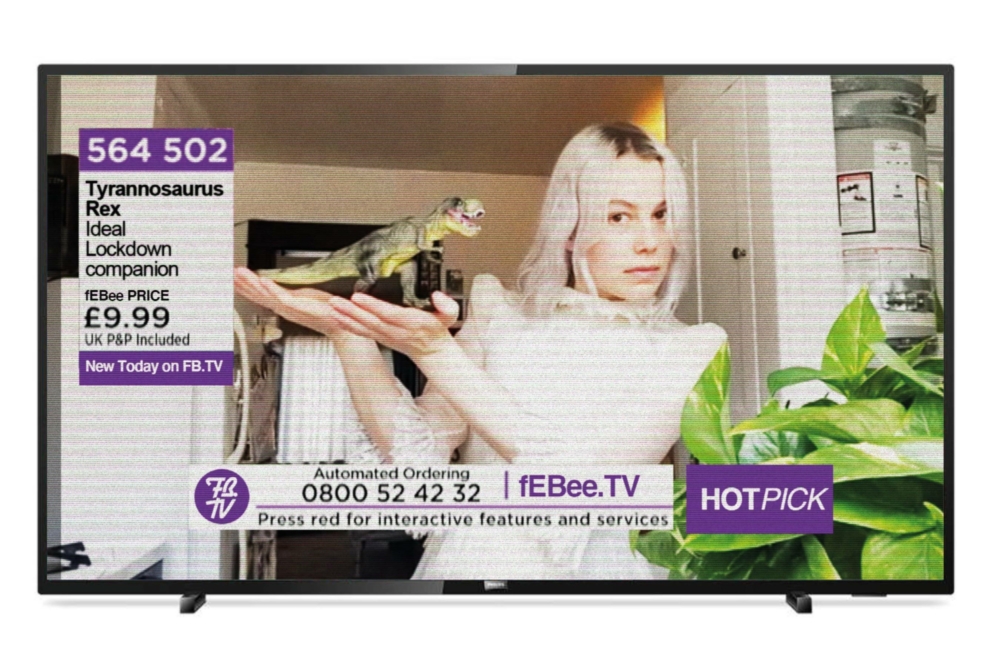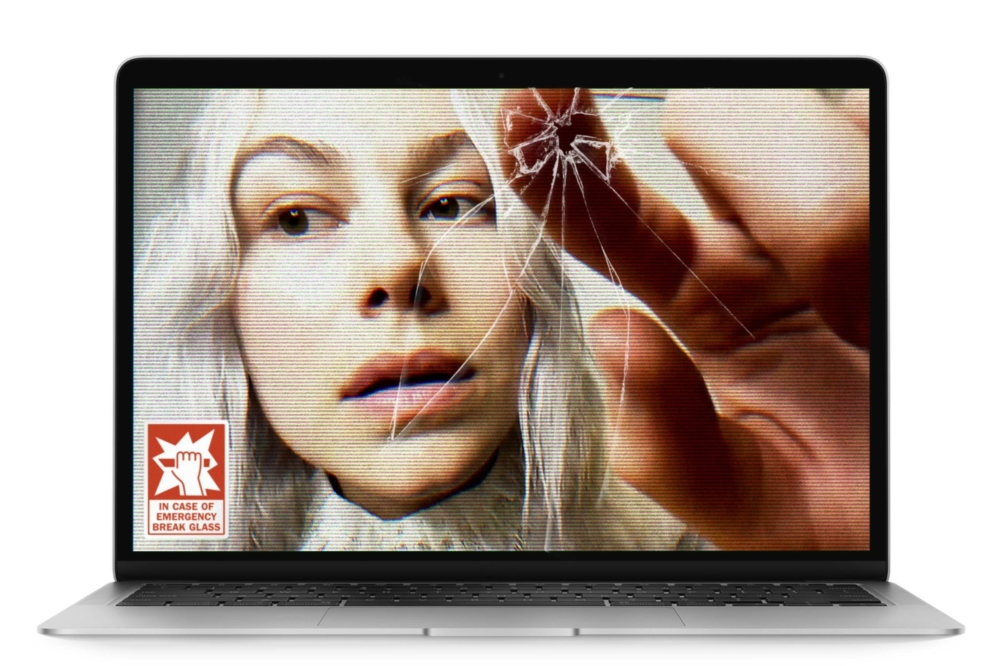 "Contrary to popular belief, I actually have to be distant from emotional turmoil to write."
The performance she speaks of, on Jimmy Kimmel Live in early April, was one of a host of TV appearances in support of 'Punisher' that now feel like a time capsule to a frightening but universal time. Phoebe skidded around a car park doing donuts while singing 'I See You' on James Corden's show, took up residency at the White House for NPR's pandemic-era version of their Tiny Desk series, invited DIY into her house for a distinctly 2020 photoshoot over Zoom for our June cover and headed out on a 'world tour' of her house, including a headline set in her bed as part of our very own DIYsolation livestream festival.
While every musician on earth had to innovate this year, Phoebe's presence during this period was unique and distinct. "I happen to have a sound guy and a lighting guy and a manager who for some reason don't think a boring normal show is compelling enough," she says. "I did a Halloween show a couple of years ago where we had blow-up lawn ornaments in this tiny club. I'm always looking for fun shit like that. But definitely even more so [in 2020]. And just knowing how easy it is to go on Instagram Live, I feel like that will make it into my life. It definitely doesn't replace live shows, but Marshall my drummer used to go on Live for soundcheck and stuff. And I used to be like, 'Why the fuck are you doing that?' But I feel like now I know why. It's fun."
Describing these performances as her only "creative kick" during quarantine, they've given new, ever-changing textures to 'Punisher' that would normally be discovered on a cut-and-paste 200-date world tour. "I just can't write songs," Phoebe says of her time spent in lockdown. "I'm too stressed out. Contrary to popular belief, I actually have to be distant from emotional turmoil to write. My songs are stupid when I try to write too close to the thing I'm feeling, so the only real way for me to be creative at the moment is basically to keep covering myself."
Yet, though her endlessly entertaining public performances made a significant mark in quarantine, Phoebe Bridgers' 2020 was anchored around 'Punisher' itself: a gargantuan step up of a second album, and a funny, devastating, intimately relatable masterpiece.
"Touring with Better Oblivion Community Centre was so fun, because we wrote rock songs. I was kind of in that mindset, and recorded a lot [of 'Punisher'] on and off that tour."
It's a record that cemented Bridgers as a songwriter with a knack for an unusual, cutting turn of phrase, somehow squirming an emotional hammerblow out of a seemingly innocuous situation. "The doctor put her hands over my liver / She told me my resentment's getting smaller," she sings on the aching 'Garden Song', while on 'Halloween' she curses the sirens from a nearby hospital to her house, joking "if they woke you up, somebody better be dying".
Her lyrical prowess, meanwhile, was matched with musicianship that took the framework of her debut and sent it to darker, poppier extremes. Whether on the rollocking, arena-ready rock of 'Kyoto', the lush, cinematic 'Chinese Satellite' or the hellbound noise of closer 'I Know The End', every sound on 'Punisher' provided a gut-punch of feeling, and the ability to transport the listener somewhere else for a brief moment. "When I was touring ['Stranger In The Alps'], my favourite songs to play were 'Motion Sickness' and 'Scott Street' – songs where things happened – and not really my dirges, even though I really like writing those," Phoebe explains of the genesis of the sonic shift. "Touring with Better Oblivion Community Centre was so fun, because we wrote rock songs. I was kind of in that mindset, and recorded a lot [of 'Punisher'] on and off that tour."
What followed 'Punisher''s June release was a deserved fast-track to critical adoration. After guiding us through another six months of coronavirus-related anguish, 'Punisher' picked up four Grammy nominations in November for Best Rock Performance and Best Rock Song ('Kyoto'), Best Alternative Music Album, and Best New Artist. "When I was a kid, I was like, 'Oh, that's what you get when you've made it', you know?" she says of the nods. "I think I've found other things about my life that are rewarding, but it is cool that, you know, my 10-year-old cousin, and my grandpa, and all these people in my life who maybe don't have their face buried in Pitchfork every morning can say, 'Oh, my god, that's so cool!'. It's connecting with a wider audience, so I think it's great."
"That ['Savior Complex'] video will throw me back to this year so hard. When the fuck else would Phoebe Waller-Bridge do that, you know what I mean?"
The revelations then continued to flow on what felt like a weekly basis for the singer. Four songs from 'Punisher' were revamped with gorgeous, sweeping strings courtesy of Rob Moose on a new EP called 'Copycat Killer'. The release saw 'Kyoto' – DIY's song of the year – taken back to its past life as a slow, sombre ballad, and lyrics that are somewhat hidden by the bouncy exterior of the album version suddenly hit like a hurricane. One musical swerve after another, she then appeared on Kid Cudi's new album 'Man On The Moon 3', rubbishing traditional genre boundaries and proving that Phoebe Bridgers can go wherever she likes in the future. "He posted a screenshot of 'Scott Street' because of course, his name is Scott," Phoebe explains of the unlikely collaboration. "And then we started DM-ing, and it turns out he lives very close to me and has this tiny studio in his house where he made the whole record."
Then, in early December, Phoebe shared her 'Savior Complex' video, directed by 'Fleabag' creator (and Phoebe's near-namesake) Phoebe Waller-Bridge, with Bridgers starring opposite Paul Mescal in a distinctly 2020 pairing (don't pretend you weren't sobbing to 'Normal People' for the few rare hours of lockdown where you weren't sobbing to 'Punisher'). "That video will throw me back to this year so hard," Phoebe reflects, weighing up her highlights from a year stuffed full of them. "Just because when the fuck else would [Waller-Bridge] do that, you know what I mean? She's probably working on 'James Bond' every other second, so it just seemed like a magical time and place."
A magical time and place is also an apt way to describe the arrival of 'Punisher' back in June, and the mark it's left on our bruised world since, catapulting the singer to star status without even leaving her house. It's frightening to think where Phoebe Bridgers could be once she hits the road next year.
'Punisher' is out now via Dead Oceans.

Get your copy of the latest issue
Read More