Album Review
Billie Eilish - When We All Fall Asleep, Where Do We Go?
4-5 Stars
A supremely exciting, innovative first move from a pop voice that feels utterly fresh and modern.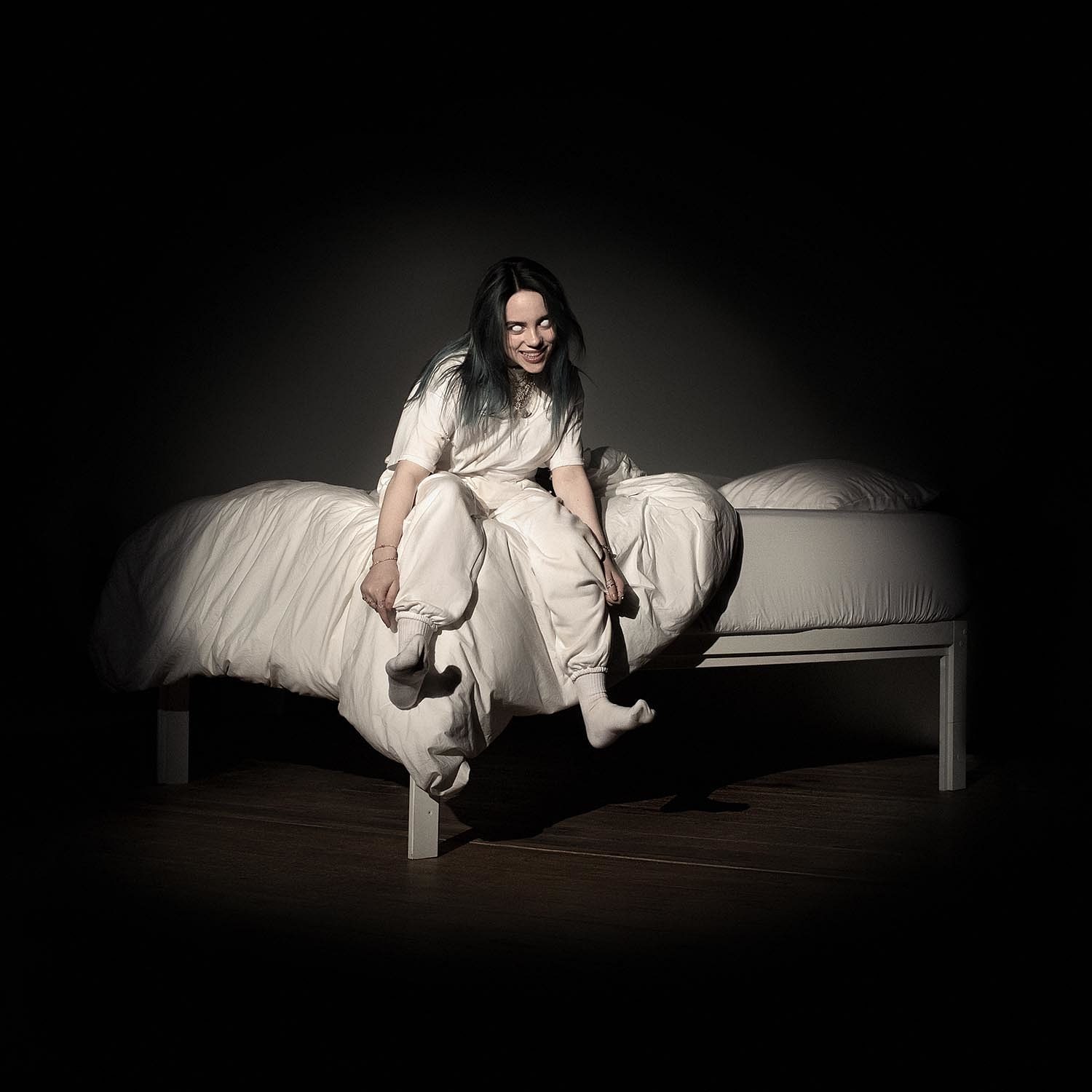 When Billie Eilish arrived in London for a three-night stint at Shepherd's Bush Empire last month, it felt like the first proper physical manifestation in the UK of what the internet had known for a long while now. Kids camped out since the early hours of the morning. Tickets going for upwards of £300 on secondary sites. Ear-splitting screams up there with any that have greeted history's bona fide teenage icons, from The Beatles to BTS.
The fervour around the 17-year-old LA star feels at once both hyper modern and yet completely classic. She's a child of the internet, whose legend - from her first Soundcloud demo of 'Ocean Eyes' in 2016 - has arisen largely via that platform rather than through endless touring and promo. However, like any cult teen obsession since the dawn of time, half of her charm is that the kids love her and the old bores don't get it. She belongs to the youth and your mum probably only heard of her last week when the billboards started becoming un-ignorable.
Yet now, with the unbelievably hyped release of debut LP 'When We All Fall Asleep, Where Do We Go?', is the time when music's biggest secret superstar goes fully above ground. Before its release, the album had already become Apple Music's most pre-added album ever; it seems nigh-on impossible that Billie won't soar into Number One come next Friday. So does the singer have the chops to go from beloved youth icon into a genuine, mass-appealing, world-beating star? Not for years has the answer been such an exciting, resounding 'yes'.
'When We All Fall Asleep…' is almost certainly the weirdest album from a huge, major label pop concern in recent memory. It is, as represents a young person born into an age with everything at their fingertips, an amorphous thing that pays little attention to genre, going from grinding industrial throbs ('you should see me in a crown') to playful trap beats (opener 'bad guy') to fragile, forlorn balladry ('listen before i go') to big, cheeky classic pop ('wish u were gay') at will. It begins with a 10-second snippet of Billie pissing around in the studio: "I've taken out my Invisalign [brace], now here's the album!". There's even a track - the whomping, minimal 90s hip-hop of 'my strange addiction' - that, amazingly, has samples from The Office US dotted throughout.
The notion of Michael Scott waffling away over sparse beats might seem a baffling one, but this sense of fun runs throughout. Though there are undoubtedly some tender moments to be found, and the record's latter quarter is comprised of a trio of tracks ripped straight from a tear-stained diary (angelic, intimate closer 'goodbye' the best of them), the record's finest moments come served with a wink and / or swagger. Single 'bury a friend' is a dark, gothic masterpiece, the embodiment of Billie's customary dead-eyed stare, while the aforementioned 'bad guy' flips the trope around, putting Billie in the driving seat: "I'm that bad type/ Make your mama sad type/ Make your girlfriend mad tight/ Might seduce your dad type".
The only real wobble comes with '8' - a ukulele ditty that begins with the singer affecting a purposefully-babyish twang. Maybe it's meant to be jarring or uncomfortable; with lyrics about rejection and doomed romance, then there's an argument to be made for adding another layer of vulnerability, but it still remains slightly grating.
Aside from that, however 'When We All Fall Asleep, Where Do We Go?' is a supremely exciting, innovative first move from a pop voice that feels utterly fresh and modern. Every so often, someone comes along that immediately seems to represent a generation, someone who almost seems pre-destined to have arrived to translate the youth to the masses. Billie is that person for right now, and if 'When We All Fall Asleep…' is the result, then it maybe the kids are alright after all.
Read More
Featuring King Gizzard & The Lizard Wizard, IDLES, Tkay Maidza, Sleater-Kinney and more.