Album Review
Lana Del Rey - Chemtrails Over the Country Club
3-5 Stars
The confidence feels diminished, the rich production of its predecessor replaced by something thinner, sadder.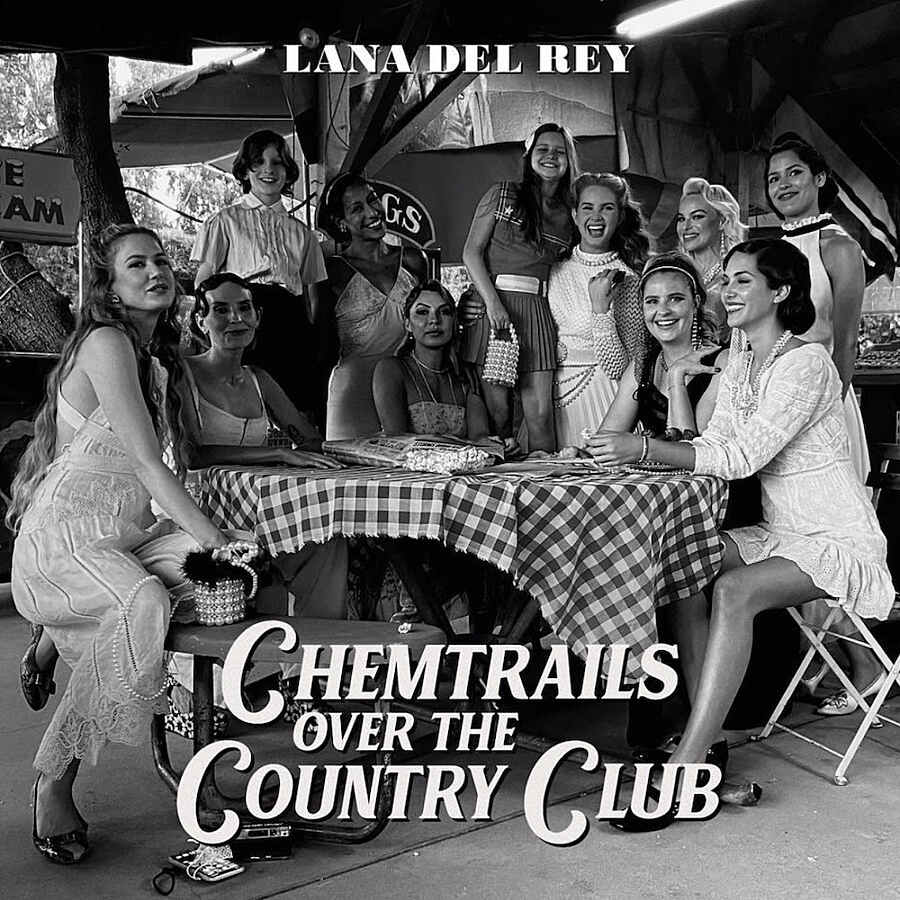 Few modern artists have had as tempestuous and rollercoaster a relationship with their own celebrity as Lana Del Rey. A self-made star of sorts (all-conquering 2011 breakthrough single 'Video Games' was, after all, first revealed as a casual internet upload before being picked up by a major label and blasted into the stratosphere), the 35-year-old has built one of the most recognisable and singular personal brands out there and yet faced backlash at almost every turn.
There was the initial furore and social media slamming following a shaky debut public performance on SNL (sample tweet: "Stayed up to watch Lana Del Rey on #SNL only to discover she's basically a drunk Julia Roberts trying to remember her own lyrics"), and a hotly-debated 2014 interview in which she declared that she "wish[ed she] was dead already". With 2019's superlative 'Norman Fucking Rockwell!' - almost certainly her greatest LP to date - it felt like the tides had turned unanimously in her favour, but the record was swiftly followed by a rambling Instagram post that sparked controversy over its potentially racially-insensitive tone. That incident was likely why, upon the reveal of seventh album 'Chemtrails Over The Country Club''s artwork, Lana accompanied the picture with an unprompted defence of its cast, declaring, "In 11 years working I have always been extremely inclusive without even trying to. My best friends are rappers, my boyfriends have been rappers." Huh.
Which is all to say that Lana has more to prove on 'Chemtrails…' than an artist reasonably should on the follow-up to the most lauded record of their career. And also perhaps goes a way to explaining the tone of the album: an elegiac, introverted release that feels more like a late-career meditation than the victory lap for 'NFR!'.
Of course, the singer has never exactly been one for uptempo bangers, but at her best there's a defiance and sass to Lana that stops the swoons from drifting too far into the ether; here, however, the confidence feels diminished, the rich production of its predecessor replaced by something thinner, sadder. On single 'Let Me Love You Like A Woman', she declares "I come from a small town far away / I only mention it 'cause I'm ready to leave LA"; on the heart-tugging, fingerpicked 'Dark But Just A Game', it's "I don't even want what's mine, much less the fame." Sandwiched between the two, 'Wild At Heart''s more familiar swells and lyrical tropes feel like a flashback to a different era.
Opener 'White Dress' - a piano-based reflection on "a simpler time," pre-fame, working the night shift as a waitress - sets the tone for an album that grapples with the singer's current situation and seems unsure of where it wants to end up. It paints an evocatively nostalgic picture that will particularly resonate after a year spent reminiscing (her determination to cram the phrase "men in music business conference" into about three syllables, meanwhile, is either brilliant or awful and we're still not entirely sure which). Elsewhere, we get two guest turns on the romantically maudlin 'Breaking Up Slowly', featuring country singer Nikki Lane, and the Weyes Blood and Zella Day-featuring closer 'For Free': a cover of Joni Mitchell's 1970 original that provides a swirling, emotive highlight.
In the track, the protagonist (sung by Lana) who "plays for fortunes", dripping in jewels, staying in lavish hotels, looks on at a street performer caught up in his own world, not thinking about fame and money. The undercurrent, you sense, is that his situation might be preferable after all. As the album's conclusion, you wonder if it could also be Lana trying to tell us something.
As featured in the April 2021 issue of DIY, out now. Scroll down to get your copy.