Live Review
Queens Of The Stone Age, Finsbury Park, London
30th June 2018
Sound problems, long queues and scorching heat are the order of the day, but nothing can dampen the majesty of Josh and co.
If it's become something of an inevitable whinge to bemoan the sound levels at a London festival, then it's still one that bears repeating – especially when the band in question comes armed with the kind of thunderous riffs that should never, ever be played at anything less than bone-shaking volume. So let's get the obvious gripe out of the way: tonight, the sound is shit. Unless you're in the first quarter of the crowd, directly in line with a speaker, then Queens of the Stone Age's big, meaty slabs of noise are more like an appealing, distant siren song. It's wildly frustrating, especially after a day of appropriately desert-level heat and unfathomably long queues for literally everything. But it's also testament to the rock titans that they still hold 45,000 people in the palms of their hands, regardless.
First, however, we have an entire day's worth of treats to sweat through – kicking off with Black Honey, who've come dressed for the occasion in matching double denim, with the lusty lips of their recently-announced debut album artwork daubed on their backs. Said record may still be a couple of months off, but its wares already sound massive on the main stage; disco gem 'Midnight' is a strutting, 70s curveball from their usual spaghetti western twangs, while the joyous optimism of 'Hello Today' is born to fill spaces of this size.
LA duo Deap Vally are clearly feeling right at home, as they throw out playfully teasing one liners to the wilting masses about the British not being used to the weather. They're right, we're dying out here, but the howling riffs of 'Walk Of Shame' and 'Smile More"s brilliantly pissed off prowl go some way to helping the revival process. Miles Kane, too, gives the crowd something of a jolt into action – albeit not quite in the way he may have intended. Topless and toting a pair of Johnny Borrell-esque white skinny jeans, he careers through cuts from forthcoming LP 'Coup de Grace' with all the swaggering bombast you'd expect. So far; so Miles. But then… what's that we hear? Is it? No, it can't be… Is… is he actually about to cover Donna Summer's saucy anthem to going on the prowl, 'Hot Stuff'?? Yes, that is in fact happening. And that, dear readers, is something that we can never unsee.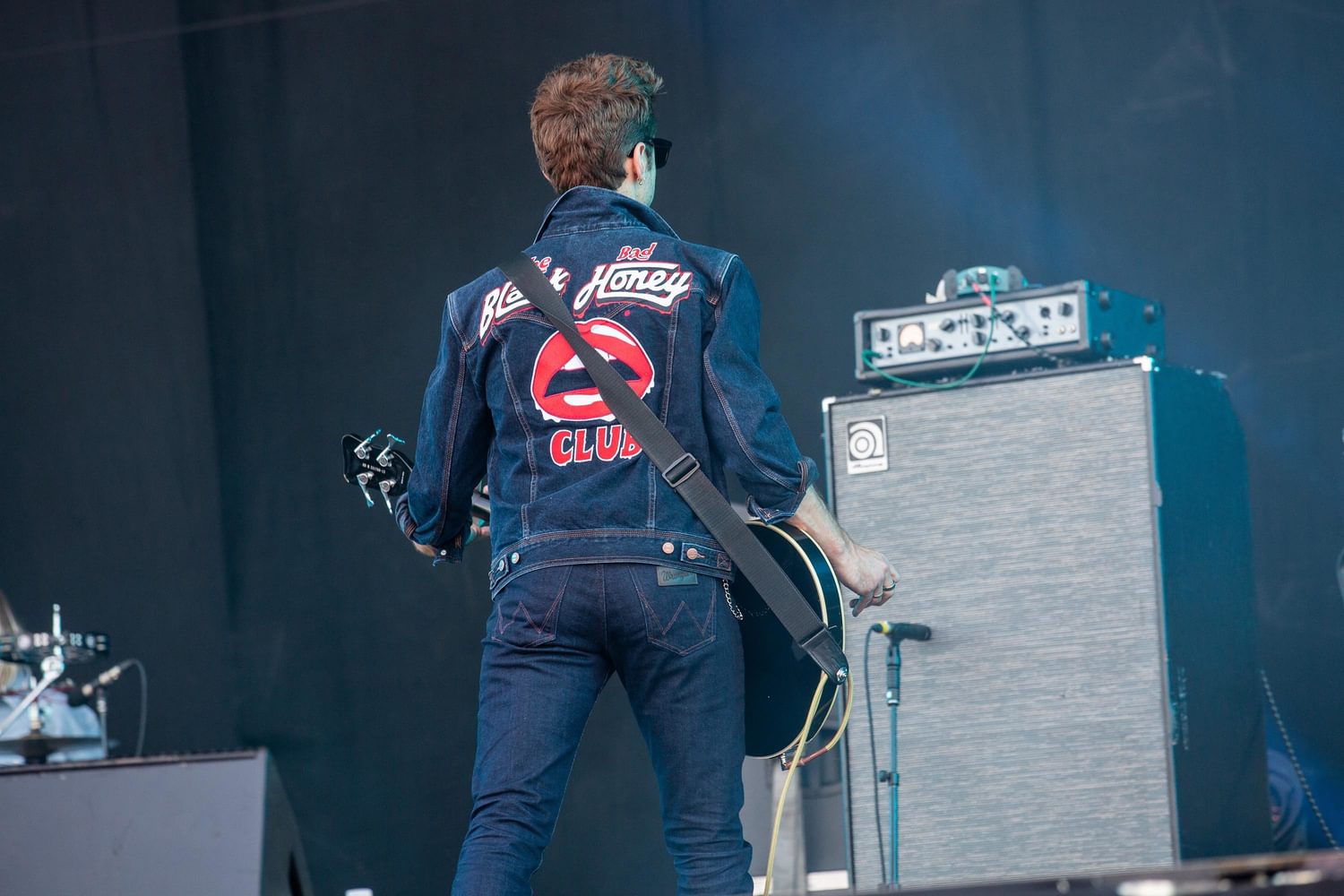 After a quick cleansing bathe of our eyeballs, it's off to the second stage as Brody Dalle and a backing band comprised of members temporarily pinched from Savages tear through the guttural squalls of solo album 'Diploid Love'. It might not quite ring with the excitement of her old outfit The Distillers' recent reunion jaunts, but Dalle is an uncompromising frontwoman of clout, nonetheless. Over on the main stage, meanwhile, The Hives have been defrosted from the cryogenic chamber in which they presumably reside from October to May for another summer season. Every inch the perennial festival favourites, and having seemingly not aged in at least a decade, the Swedes have this lark down to a tee. "I like being up there, because it makes me feel like a God," begins Howlin' Pelle Almquist, gesticulating to the stage while striding through the photo pit. "But maybe down here, I'm a God walking among you? I'll do the next one from down here – turn up the volume, I'll pay the fine, I'm rich." Coming from anyone else, it's a statement that would be a punchable offence; from the cheeky singer - decked head to in monochrome, down to one white and one black shoe – it elicits a laugh from the whole crowd. By an elongated, closing 'Tick Tick Boom', the band's title of feel-good festival kings remains intact.
Run The Jewels are, unsurprisingly, a more weighty proposition, as they pepper between-song patter with urges for the crowd to be respectful to each other. But though their arsenal is one embedded in political and social commentary, they're still powerful enough to win through in otherwise more light-hearted surrounds.
Wiggling out to the strains of 'I Wanna Be Your Dog' like a toddler that's just been let off the leash, bona fide legend Iggy Pop may resemble a well-preserved leather satchel these days, but he throws his arms around and shakes his hips with the unselfconscious exuberance of someone a tenth of his age. It's a joy to watch. While the likes of 'The Passenger' and 'Lust For Life' – both thrown out within the first 15 minutes – are unquestionable anthems, it's the science-defying tenacity of the punk icon at their centre that makes today so special. Everyone loves Iggy – how could you not? - and the good vibes in the crowd are only echoed back by the brilliant weirdo trotting around in front of us.
With the sun still blaring down, it seems all too early for the nocturnal swagger of today's headliners. Yet cometh the hour, cometh the band, and despite literally everything working against them, Queens of the Stone Age are on the kind of unstoppable form that charges forth to victory, regardless.
Flanked on all sides by the wobbling light pillars that slowly start to make themselves known as the sun sets, the band play hard and intense tonight. "I remember playing to 200 people in London," recalls Josh Homme at one point, "and now we're stood here in front of 45,000 of you." The magnitude of the show – the band's largest ever London headline – is clearly not lost, and there's something suitably celebratory in the air tonight. Playing for a full two-hours, the set encompasses all of the genius oxymorons that make the quintet a true one-off. Opener 'Do It Again' is wired and relentless, but still playful and giddy; 'Feet Don't Fail Me' builds slowly before an almighty, pogo-ing drop; 'I Sat By The Ocean' purrs by on hip-swivelling guitar licks but feels huge and dense. Across the set they move seamlessly from full on, monstrously heavy riffs ('Sick Sick Sick', a final closing 'A Song For The Dead'), to come-hither sauce ('Make It Wit Chu') to finger-clicking struts ('The Way You Used To Do'), intertwining light and dark, heavy and soft with a dexterity that's become all their own.
So yeah, maybe tonight is quieter than anyone would like. But the fact that this big hulking rock band can still emerge victorious even without noise on their side? Well, that's true praise indeed.