Album Review
Royal Blood - Royal Blood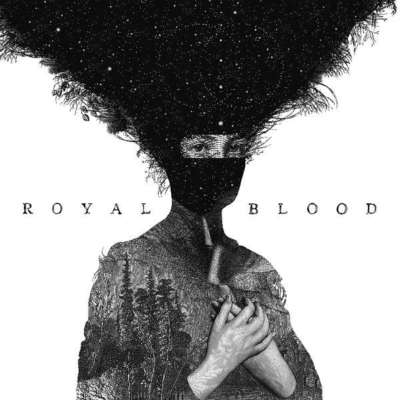 When it comes to noise they're surfing a soundwave straight out of the hellmouth.
Label: Warner Bros.
Released: 25th August 2014
Eleven is one louder than ten, so said Nigel Tufnel. The more the number goes up, the more extreme the volume. Common sense, right? So how exactly do we explain Royal Blood? The two piece may be svelte in terms of number, but when it comes to noise they're surfing a soundwave straight out of the hellmouth.
Yet where a bit of a good old fashioned racket usually means an underground rather than mainstream concern, over the past twelve months Royal Blood have exploded. In an era where rock on the radio has found itself staring longingly at arenas by becoming ever more epic, often risking sharing a student bedsit full of Coldplay's discarded pissy mattresses, they've led the charge by going back to its glorious roots. Thumping, sleazy blues, mile high riffs, a mighty crunch that could turn a skeleton to dust; far from reinventing the wheel, Fred Flintstone's car has been painted with go faster stripes and fitted with nitros.
Even with a debut album, their ascent has been so steep the opening salvo feels like a premature greatest hits. 'Out Of The Black' remains an incendiary calling card - a roaring, snarling Godzilla levelling sky scrapers at will. 'Come On Over', a pulsing engine of oil and metal, retains its stature too, while 'Figure It Out' brings a touch of the funk, rolling and strutting into a high risk of headbanging whiplash.
There are fresh delights too. 'You Can Be So Cruel' has a delightful hint of the Homme to it, cruising the desert in a way the Queens of the Stone Age main man would no doubt approve of. 'Blood Hands', 'Loose Change' and 'Careless' all have echoes of an augmented Jack White, the former as close to a ballad as a band can get while taking everything to its loudest point. 'Ten Tonne Skeleton' is the deal maker, though. Mike Kerr yelps like a banshee, Ben Thatcher beats the living shit out of everything in sight - this isn't a cooler than thou indie band masquerading as something heavier; Royal Blood can mix it. As a flash of their credentials, it's waved right through.
For what feels like eons, anyone with more than a passing interest in rock music - proper rock music - has not-so-quietly been praying for a saviour. A homegrown concern who might have a chance of punching through to prove that Britain can still raise hell. Their faith is rewarded, Royal Blood will save us all.