"We turned up with a wig in a flight case" - Black Honey talk their new 'I Don't Ever Wanna Love' video
Ahead of their visit to Mad Cool Festival next month, we caught up with the band's Izzy B. Phillips to chat their new offering.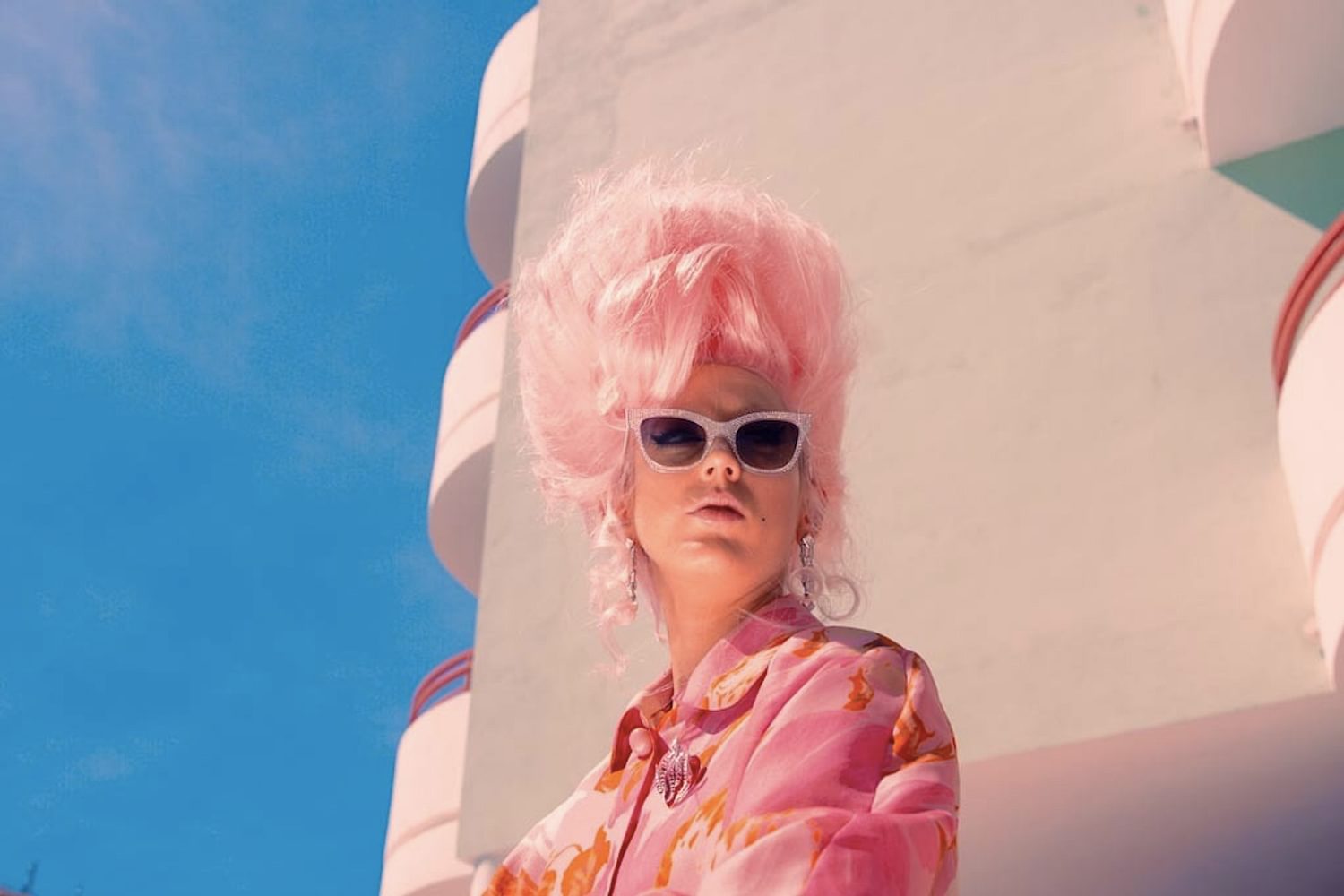 Fresh from offering up their brilliant and frankly bonkers new video, we've had a bit of a catch up with Black Honey.
Having released their debut album last year, the Brighton-based quartet are back with their first new material in the form of 'I Don't Ever Wanna Love', and it comes accompanied by a series of pastel-hued visuals that pack in more unexpected drama than you can shake your powder pink wig at.
Naturally, we immediately had to find out what went into making their latest vid, while catching up with what's been happening in their world, ahead of their upcoming set at Spanish weekender Mad Cool Festival. So here's the always-effervescent Izzy B. Phillips, giving us the lowdown ahead of an Ibiza DJ set.
What's new in the world of Black Honey, then?
We've got a new romantic muse by the name of Larry for all the Jerry the flamingo fans out there. Get ready. OH AND ONLY SOME NEW MUSIC!
Yes, a brand new single! Can you tell us a bit about that?
It's called 'I Don't Ever Wanna Love' and it's my biggest eye roll yet! It's a portal into the world we have been living in with beautiful Motown beats and retro rock and roll. I feel and mean EVERY word.
When did you find time to start writing?
We don't ever stop writing otherwise I get depressed!
The track also has a bloody brilliant video - how did the vid come about?
We have a mate in Ibiza who owns all of the pink hotels out of the wildest Black Honey dream. We turned up with a wig in a flight case and a bunch of light reflectors and then made it all up as we went!
What was it like making it?
Funny as fuck! Tommy and Tom were cocktail drunk before 12pm most days and we went bowling in the evenings and swimming in the pink pools!
What was your favourite bit?
My favourite bit to film was watching Sam my director use my actual bedsheets and hair clips as sunscreen tent for him and his camera. Then second to that greasing up Tommy's chest hair and dragging him about by the pool. Also making love to Larry the lobster was alright.
And what exactly is it like to lick a cactus?!
Like any bad bitch giving zero fucks would say… I've done worse..
You must be looking forward to festival season and you're off to Mad Cool in Madrid - you looking forward to heading back to Spain?
Yeah, it's gonna be a an honour, we have been told it's the best Spanish festival. I don't know what to expect but I like that!
What should people be looking forward to when it comes to your sets - will you debuting much new material?
We are stoked to be playing our new jam 'I Don't Ever Wanna Love' at Mad Cool but we wanna play all our big moshes too!
Who else are you excited to see on the bill for Mad Cool?
Lykke Li, Viagra Boys, Iggy Pop and The 1975.
What advice would you give to punters heading to Spain for a festival?
Bring two credit cards, and try all the food you wouldn't get in England.
What summer essentials do you reckon they'll need?
Sunscreen. Hip flask. Plastic lobsters.
Black Honey play Mad Cool Festival (11th - 13th May) where DIY is an official media partner. Tickets are on sale now.
Read More
Featuring King Gizzard & The Lizard Wizard, IDLES, Tkay Maidza, Sleater-Kinney and more.