Album Review
Sufjan Stevens, Nico Muhly, Bryce Dessner, James McAlister - Planetarium
3 Stars
Its sheer scale can be as daunting as the vastness of what lies beyond the stratosphere.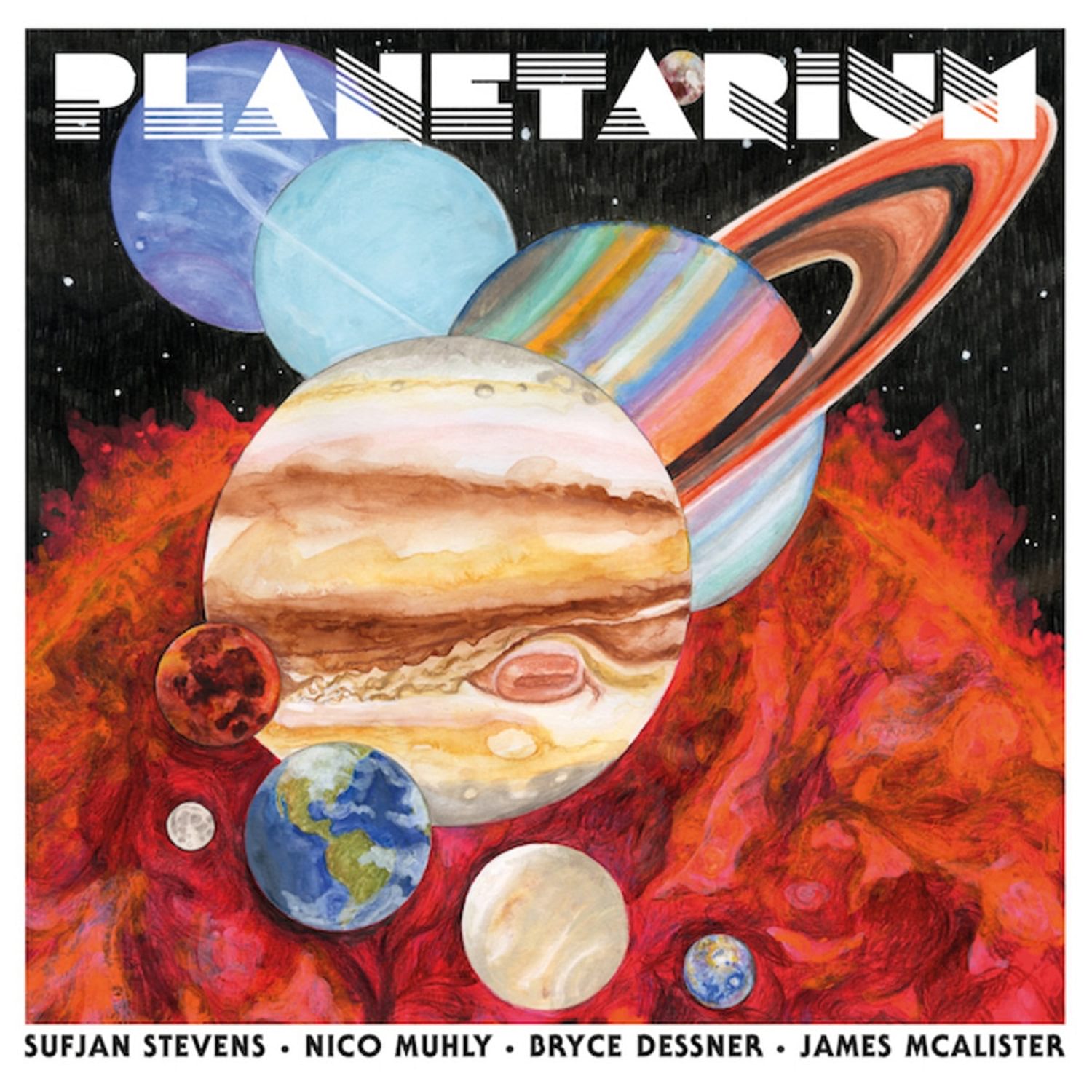 For centuries, man has studied the nature of the cosmos, looking to the stars and thinking both spiritually and scientifically about what lies beyond our own atmosphere. Seemingly, it's also a fascination that's captured the imagination of Sufjan Stevens, as well as composer Nico Muhly, drummer James McAlister and The National's Bryce Dessner.

Their song cycle 'Planetarium,' which initially kicked off years ago as a single composition, explores the universe and its many celestial bodies. Fittingly, its music is as grand as you'd expect. Backed by a string quartet and no less than twelve (yes, twelve) trombones, the four musicians create complex, intricate pieces of electronica with orchestral motifs. The term "cinematic" was pretty much made for this album. It's sweeping, and even contains a passage of three ambient tracks that take the listener on a journey to discover dark energy, the Sun and the tides.

Serving as tour guide on this voyage through an asteroid field of ideas is Sufjan, his voice sounding more energetic than ever. While the scope is nowhere near as introverted as on 'Carrie & Lowell' (except perhaps on the hushed, more acoustic 'Mercury'), he still grounds the album by tying the cosmos to human experience and existential themes, not too unlike Björk's approach on 'Biophilia.'

It's beautifully crafted, but if there's a major criticism to be had of 'Planetarium,' it's that its sheer size and scope is almost as enormous as the universe itself – perhaps too enormous. Its 75 minute length would probably fit a live experience in an impressive concert hall (or even watching the moons go by in an actual planetarium) but on record sometimes its tones can start blending into one super-heavy mass of ideas. Sure, there's moments of differentiation that feel vital. 'Saturn' is gripping and urgent, pulsating with reverberating, almost techno-inspired synths, while 'Moon' evokes Far Eastern folklore by punctuating the track with light flutters of indigenous flutes. These moments are mesmerising because they break from the formula, but aside from Sufjan's range of vocal styles, not every track has something that immediately sets them apart from the tried and tested recipe.

That's most apparent on 'Earth.' While it may introduce some interesting, tinny clattering that seems to represent human activity towards the end, over the course of its 15 minutes and many stop-start shifts in tone, it feels like it simply drags every other element of the record together into one shorter piece. Though arguably that might be to represent the Earth's place in among the rest of the cosmos, you just can't shake the feeling that you've been here before. When Bryce says that the album still contains "a footprint from all the various timelines" during the lengthy production process, you can start to really hear that here.

'Planetarium' is a big project tackling an equally huge topic. You can't knock the quartet's ambition and the dedication that they showed across a long period of time putting the song cycle together. There's undeniably magical moments here, and taken in small doses it can be a cosmic voyage. All in one go though, its sheer scale can be as daunting as the vastness of what lies beyond the stratosphere.
Read More
Featuring James Blake, Romy, Marika Hackman, yeule and more.