A clear, unedited picture of who they are and what they're made of. It's a joy to witness.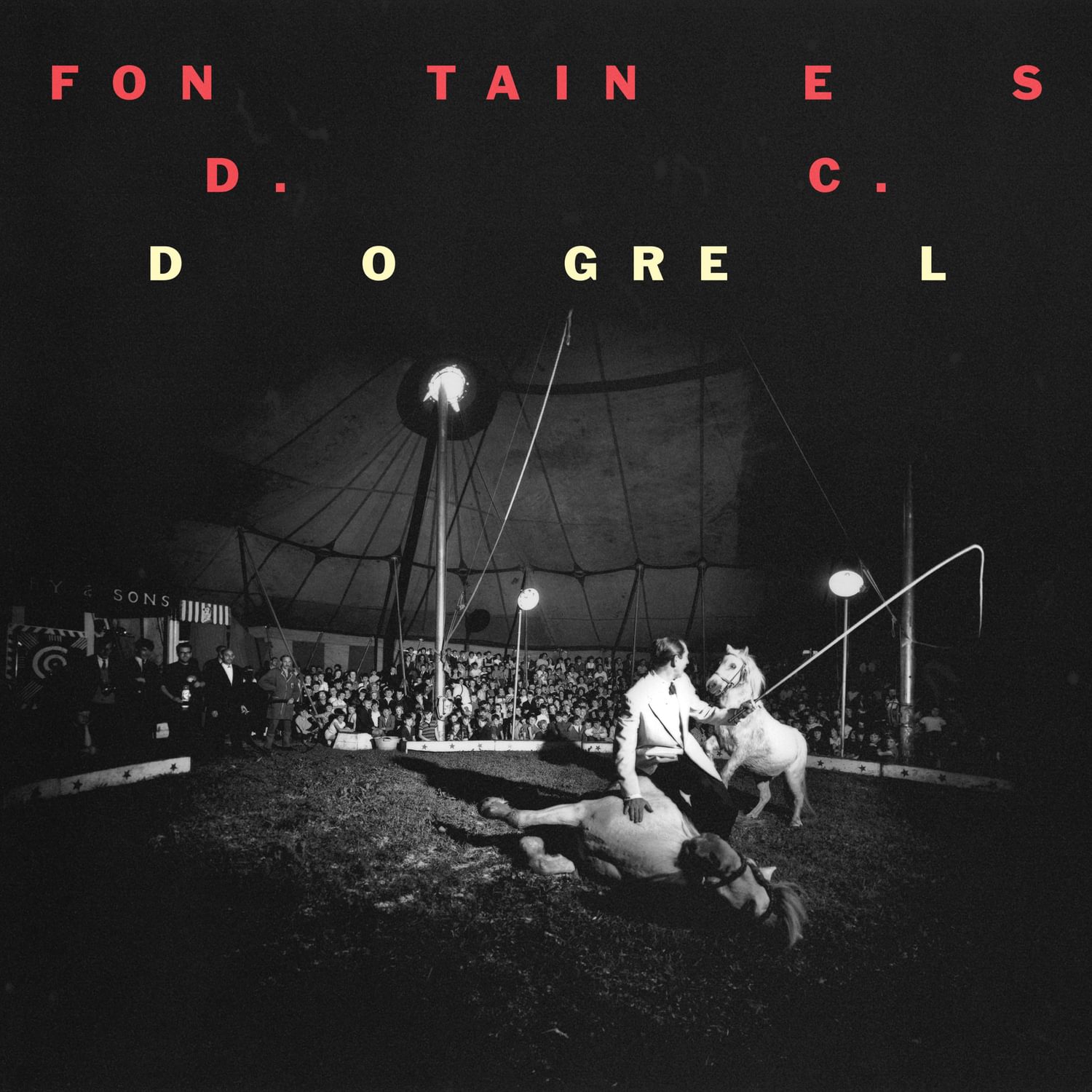 There are several ways in which, amid a swarm of industry buzz, Ireland's Fontaines DC have been described. Depending on the article, they're a bunch of misty-eyed poets, extolling the virtues of Keats and Joyce like a bunch of rag-tag Morrisseys with dirtier shoes. Or they're the next in line to tourmates IDLES' throne - a biting, visceral live force who've already taken over SXSW in a barrage of amp-scaling and high-intensity mosh pits. Or, they're some true Irish (or should we say Oirish) lads, cut from the innate emerald cloth of the homeland: prick them and they bleed Guinness.
The real beauty of Fontaines DC, however, is that they're all of these things and more. Though the Dublin quintet might find kinship in one form or another with the aforementioned Bristol punks or neighbours Girl Band, theirs is a patchwork fused together from a truly personal set of threads. On debut album 'Dogrel', they display the unique results in exceptional style.
Take opener 'Big' - as solid and statement-making a start to a record as any of music's great first albums. A twitchy rattle of ride cymbal and kick drum gives you an eight-second head-start before singer Grian Chatten's blunt, no-nonsense brogue comes in to claim his kingdom: "Dublin in the rain is mine". It's an almost monotone bark, shot through with bassist Conor Deegan's probing, insistent repetitions that only relent when a squall of guitars dredged up from the earth pronounce its climactic chorus: "My childhood was small, but I'm gonna be big". Sentimental yet direct, ambitious yet rooted in their history, it cuts to the heart of their stance from the off.
For a band known for their poetic sensibilities, many of their best lines are these kind of succinct missives. There's a cliche that a love of literature lends itself to flamboyance and wordiness, yet though there are moments of this throughout, they're never the pay-off. 'Too Real''s opening line (following swirling, warped crashes of guitar from co-axemen Conor Curley and Carlos O'Connell) might be "None can pull the passion loose from youth's ungrateful hands", but its crescendo is far more visceral, Grian spitting "Is it too real for ya?" with all the disdain and physicality of a man more used to getting into a brawl than a good book. 'Hurricane Laughter' works in a similar fashion, its verses full of stream-of-consciousness intrigue before building to a moshpit-inducing, shout-along inclusive chorus.
Whether on the softer, plaintive lament of 'Roy's Tune' or the excitable, grinding riff of 'Chequeless Reckless', Fontaines DC are masters of when to pull back and when to let go. If it sounds like a basic comment to suggest that the music perfectly serves the words - building up the intensity and then cutting back to let Grian's lyrics land with their fullest force - then trust us, it isn't. In many ways, like a lot of good punk music, these are tracks that are fairly simple - a few notes, a lot of repetition - but there's nothing plug-in-and-play about this lot, they've simply stripped things back for maximum impact. 'Sha Sha Sha' shuffles along like a pissed-off 'Lovecats' on the dole; 'Liberty Belle' is like the smartest, sharpest football chant in town, while old favourite 'Boys In The Better Land' still barrels along with the same excitement it did on first listen.
'Dogrel' – or doggerel – might refer to a sentiment badly expressed, but on their debut, Fontaines DC have crafted a clear, unedited picture of who they are and what they're made of. It's a joy to witness.