In-depth:
A beginner's guide to… Brockhampton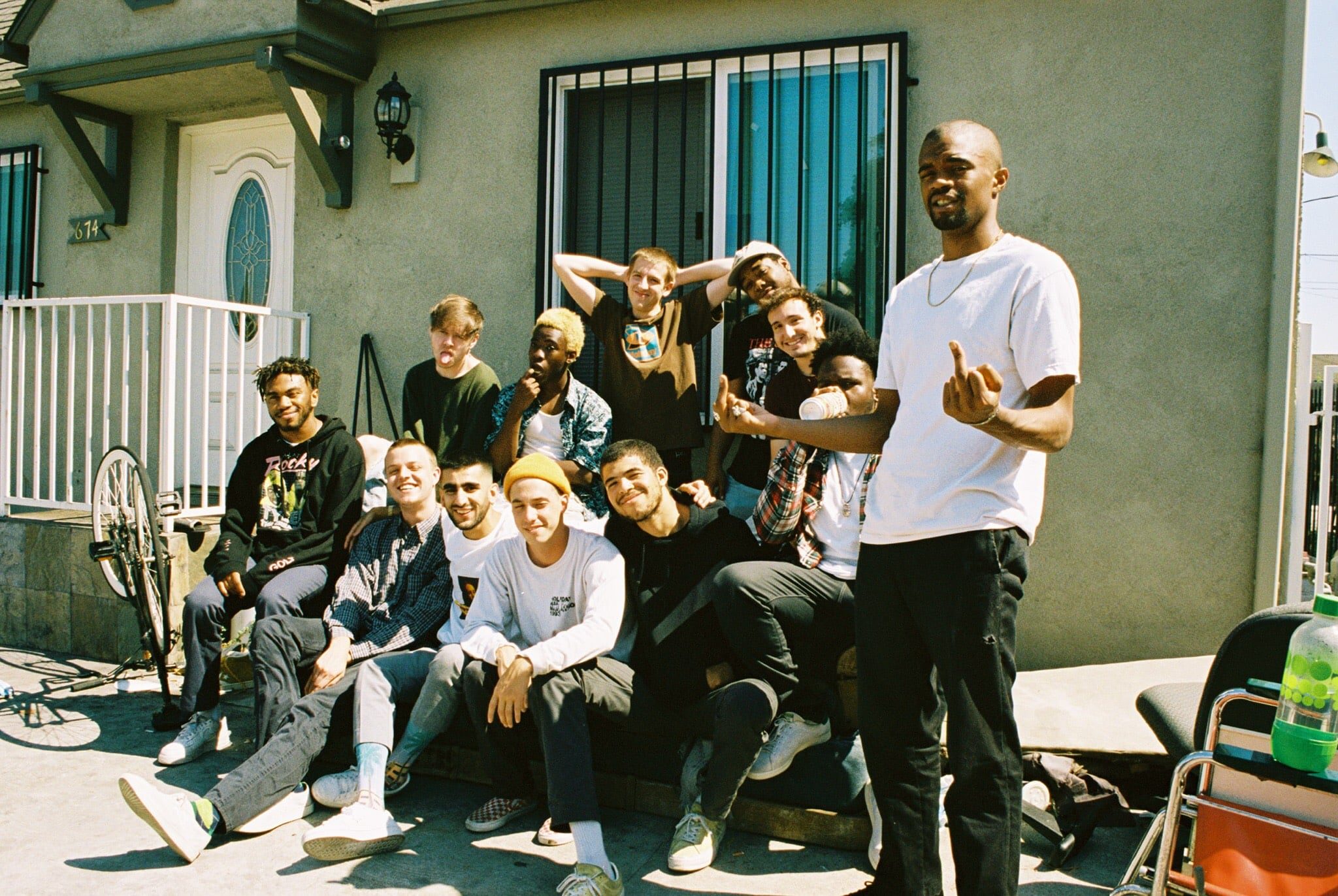 From fan forum beginnings, to becoming the best boyband since One Direction - get to know this game-changing Texan collective.
Three studio albums. A documentary television series. Sold out headline shows, a dozen self-directed videos, a dream slot at Tyler, The Creator's prestigious Camp Flognaw festival, and a landmark performance of 'BOOGIE' in the middle of New York's Times Square. These mark just some of the career highs recent months have had in store for Brockhampton, the Texas-formed group of multi-talented artists, producers, directors and designers who will outright reject any label thrust upon them that isn't boyband because, well, they're a boyband in the truest sense of the word.
With the boys scheduled to make their first trip across the pond later this year, there's never been a better time to get caught up with their inspiring - and extensive - journey thus far. Just what it is that has fans worldwide infatuated with the self-proclaimed best boyband since One Direction? Well…
"Anybody wanna make a band?"
It was 2011 when Kevin Abstract – Brockhampton's aspirational figurehead and founder - made a post looking for potential bandmates on KanyeToThe, a forum centred around discussing all things Kanye West. With responses soon trickling in, Abstract started piecing together the first loose iteration of Brockhampton – originally called AliveSinceForever – which would feature future members Ameer Vann and Dom McLennon. At one time the line-up consisted of over thirty contributors. Blimey.
While AliveSinceForever certainly mirrored the scope of Brockhampton's ambition to achieve big things, it wasn't until the release of Abstract's debut album 'MTV1987' in 2014 that there was a body of work that suggested their goals could come to fruition. Working together with Romil Hemnani - the nucleus of Brockhampton's current producer roster, alongside Jabari Manwa and Kiko Merley – Abstract outlined the tumultuous effects of the internet on his personal life while sonically pooling from all the influences that inspired his growth as a person. It's unrefined in the sense that it feels like Abstract's stream of consciousness set to his own jukebox, but highlights like 'Hell / Heroina' and the grandiose 'Tame Cab' emit a star quality that surpasses derivations.
Kevin Abstract - Hell / Heroina
The years following 'MTV1987' were the most formative in regards to shaping the genre-spanning sound of Brockhampton, with Kevin Abstract experimenting and collaborating on a variety of projects with the members that would go on to comprise Brockhampton's present day lineup. There's the bizarre 'Bubblegum', released in late 2014; an infectious dual effort with Dom McLennon over a sputtering beat that feels synonymous with the weird pop stylings of PC Music's output at the time. Then there's the 'NOT ON DOASM' collection – offcuts from Abstract's eventual second solo album featuring Vann and Matt Champion that have since been scrubbed from streaming services – that offered a glimpse into the bombastic production and vitriol that would flavour some of their more aggressive cuts. Even the solitary EP 'MEMORIAL DAY'- a grungy, lo-fi affair from NOWIFII; a project orchestrated by Abstract, Hemnani and Brockhampton's enigmatic crooner bearface. under aliases – is a key piece to the puzzle, an early indication of the group's creative spontaneity and their tendency to flirt with the fuzzy tones of college rock.
Establishing an expansive repertoire of music spanning a multitude of genres between them, the final footnote in the era preceding Brockhampton's explosive 2017 came in the form of 'All-American Trash'. The equivalent of a handpicked mixtape you might gift a crush after a few dates in the hope that they'll understand you better, it serves to put the spotlight on the talents and quirks of the group's individual members, above demonstrating their prowess as a cohesive unit. For anybody wanting to quickly familiarise themselves with the who's who of the group, it's the ideal starting point – especially since 'Flip Mo' gives the charismatic Merlyn Wood his first starring role on a track and 'Lost In Love' puts full focus on the delightful singing chops of vocal powerhouse Joba.
Brockhampton - All-American Trash
Being prolific isn't necessarily an uncommon thing when it comes to hip-hop. With the ongoing trend of artists churning out 'commercial' mixtapes that often seem filler-loaded just to take advantage of new streaming rules, Brockhampton's 'Saturation' trilogy's unwavering hunger to reinvent and best its predecessors with each instalment sets it apart as a brash, vital alternative.
The original and first 'Saturation' release marks the first time that the members of Brockhampton all wrote and recorded together in the same living space. Their newfound sense of intimacy immediately translates to their output. There's a burning desire to bring out the best in each other that bubbles to the surface on songs like 'STAR', the album's de-facto banger that sees McLennon, Vann and Abstract bouncing pop culture references off one another in quick succession. There's also a collective outpouring of bottled-up thoughts and emotions that spill over tracks like 'MILK'– a special moment that sees Wood opening up about feeling ostracised by college despite being formally accepted, and McLennon delivering a deeply introspective monologue at its tail-end.
In a lot of ways 'Saturation II' is a cultivation of the seeds sown by its predecessor, but there's still new elements that bloom amidst the old ones. It's more adventurous in its composition, while elevating the group's pop sensibilities, demonstrated by 'QUEER' tinkering with the boom bap formula and Joba's harmonic vocal runs on the sax-ridden 'TOKYO' that call back to early Outkast. It's the middle child of the trilogy that also fosters 'JUNKY' – positioning Brockhampton at their most abrasive and thematically dark - in which Kevin Abstract claps back at those criticising him for putting his sexuality front and centre in his lyrics, and Champion tears into rape culture.
Giving ample weight to the adage of saving the best 'till last, it's 'Saturation III' that feels like the record Brockhampton have been threatening to make since their inception. From the album's riotous opener 'BOOGIE' – graduating from the school of N.E.R.D. yet wasting no time in showing up its teachers – to the hazy slowburn of 'BLEACH', their camaraderie and diverse range of skills have never been more potent. With the sheer breadth of musical territory the album covers, it's at this point that comes the feeling Brockhampton could pull off just about anything they set their minds to.
While Brockhampton's commitment to emphasising every aspect of their factory-like creative process means that nobody is truly behind the scenes, there are members with roles that fall outside of writing and performing music. Graphic designer Henock 'HK' Sileshi and photographer Ashlan Grey head up Brockhampton's artistic direction, taking the group's ambitious concepts for artwork and visual media, and meticulously crafting them into the striking imagery that adorns their records and floods their videos. Garnering inspiration from artists who take immense pride on the aesthetic of their work like Odd Future, their contributions have been vital to the appearance of Brockhampton's persona - right down to the less glamorous tasks like sifting through 300+ hours of footage for an intensive making-of documentary that was bundled with the limited run boxset for 'Saturation'.
Administrative tasks that come with being the internet's biggest boyband are also handled internally. Jon Nunes acts as Brockhampton's onsite manager - a huge logistical undertaking for a group with so many individuals. And with nobody on hand to sort out the technical side of establishing online presence, Robert Ontenient stepped up to the plate as the group's webmaster instead. His main responsibility is coding and developing their websites and apps, but he's also become something of a viral sensation thanks to his "Me Ilamo Roberto" skits that precede every music video tied to the 'Saturation' trilogy.
While Brockhampton themselves were the ones who first claimed their boyband title, the ravenous fanbase they've amassed - particular over the past year - have been instrumental in cementing that label. Flocking to the boys for a myriad of reasons – the diversity of their craft, apathy towards societal norms and their endearing personalities to name a few big draws – the affection of their audience is akin to the kind of support you might expect to see associated with a K-pop group, and it's a testament to their importance in redefining what it means to be a boyband in the 21st century.
The members of Brockhampton aren't shy about expressing their own fandom either, whether it be Hemnani's pleas to get in the studio with 1D alumni Zayn Malik or Abstract's ecstatic Twitter exchanges with Canadian pop dreamboat Shawn Mendes. It's not surprising when you consider their roots in online fan forums, yet it's still refreshing to see musicians conduct themselves in such a carefree way. Elsewhere internet culture can be all too quick to shun or delegitimise the reactions of 'fanatical' fans. Not here.
While some might think that releasing three albums in a year might warrant a sizeable vacation period in its aftermath, Brockhampton have zero interest in resting on their laurels. Their fourth album is already titled and scheduled for release sometime this year. It's called 'Team Effort', and there's not a band in the world that the term could be applied to in a more appropriate manner.