Best Of 2015:
The DIY List: The year in music [31-40]
Albums, tracks, headline slots, stupid tweets. Everything counts in the list, our definitive rundown of who and what made our 2015.
It's list season. Christmas shopping lists come first, but there's also snowman-related gif lists, lists for the best ways to cook brussel sprouts. And then there's the all important end of year, tracks and albums of the year lists.
But for a band to go from small concern to Oh My God Massive, it usually takes more than an album. Triumphant festival slots, ridiculous videos, regrettable tweets - these all come into the equation. At DIY we're obsessed with bands. We follow their every move and laugh at their shit jokes. The best acts go way beyond releasing a record before going back into hibernation. They play surprise gigs, they form best mates with their tour buddies. Sometimes, they steal copies of The Sun from a service station before throwing them in the bin.
The DIY List is our look back at the year's defining artists. Albums and standout tracks obviously have an impact, but we'll also be explaining why an act's made the cut by picking out their other eye-catching moments. Last year, St. Vincent topped The DIY List 2014 by transforming into a musical superhero. Across this week (14th-18th December), we'll be running through the year's finest. Follow everything here.

How The DIY List was decided
The DIY List is a combination of DIY writers' favourite albums and tracks, and the stunning pinch-yourself moments that took place throughout the year. We've sat down and tried to take stock of the past twelve months, whether it's a bizarre news story or an unforgettable headline slot.
Nothing 'earns' more 'points'. This isn't a deep analytical discussion or a frog-leaping competition. It's a collection of the best and most bonkers acts, all ranked in a list (because lists are fun, let's face it).
Catch up with the top 100 below:
40. Girl Band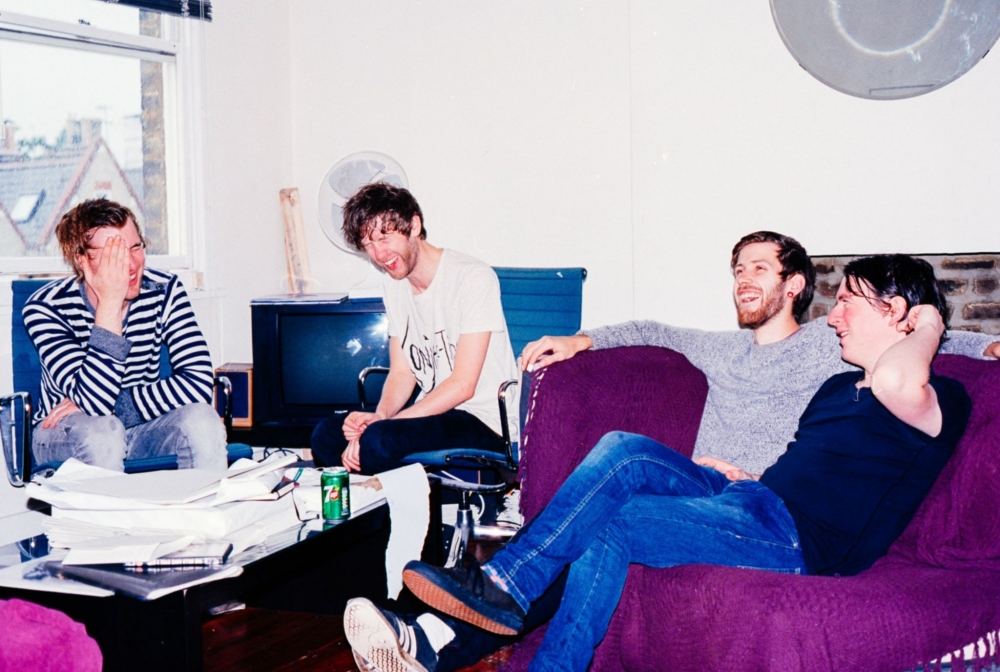 On-stage madness and an unmistakable gang mentality.
Photo: Phil Smithies
There's no live show in the world quite like Girl Band's. From beer bottles being dragged across guitar necks, to frontman Dara Kiely pulling frantically at his t-shirt like he's going to rip his own skin off with it, 'gripping' doesn't even come close. Harnessing that mania was never going to be an easy task, but Girl Band took to the challenge with aplomb, leaping into the studio with all manner of spoons, dismantled cars and nu-rave associations in tow to craft 'Holding Hands With Jamie'.
There might be dark underpinnings to Girl Band's manic noise-rock, but it's their tight-knit gang mentality that make them one of Britain's most exciting new outfits, and that ain't going anywhere. Tom Connick
Enough wit and weirdness to make your average banjo plucker wince.
On the surface, Father John Misty is little more than a ten-a-penny Americana-obsessed singer-songwriter, all slide guitars, lyrical tropes and back porch sitting melancholy. Delve deeper, and by deeper we mean towards his online presence, and you'll find enough wit and weirdness to make your average banjo plucker wince (in a good way). 'I Love You, Honeybear' is fine, sure, but knocking out a tongue-in-cheek Velvet Underground-aping Taylor Swift cover, quickly deleting it, and claiming to have been visited in a dream by Lou Reed himself within hours is easily his finest moment. Emma Swann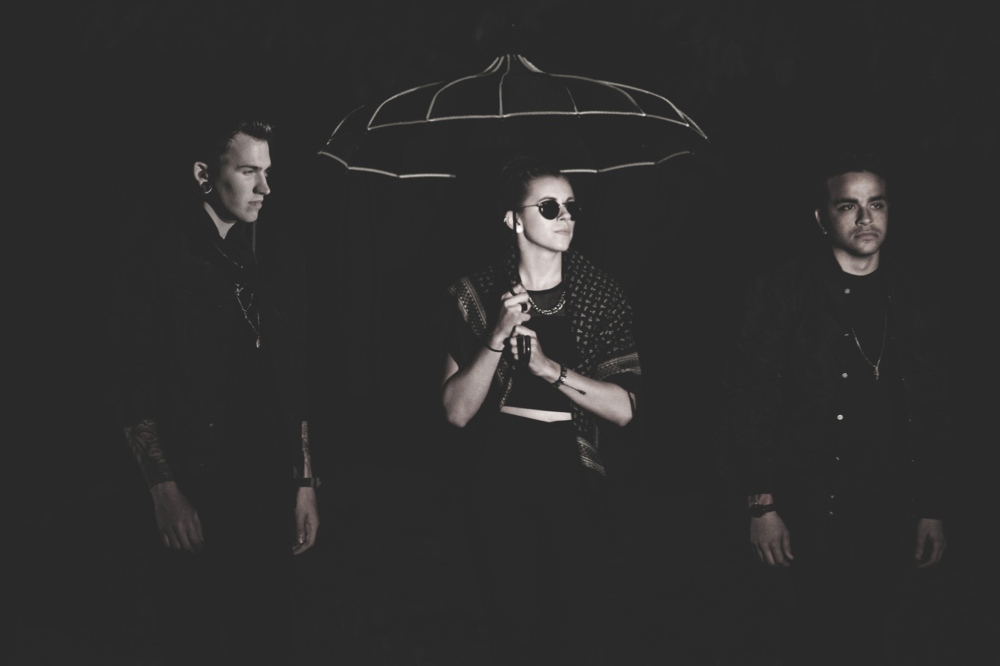 A fanbase growing into the hundreds of thousands.
Granted, PVRIS' debut 'White Noise' may have technically been released in late 2014, but it wasn't really until this year that their darkly infectious electro-pop really began to seep into the consciousness of the masses. While 'St. Patrick' saw them pick up major momentum across genres, it's been the trio's slew of performances that have really seen their fanbase swell over the past twelve months. After all, few bands have been invited to play across the pond as often as the three-piece have this year, and after huge performances at Reading and Leeds festivals along with a slot supporting Bring Me The Horizon in massive venues across the country last month, it'd be no surprise if they've got a taste for bigger stages already. Sarah Jamieson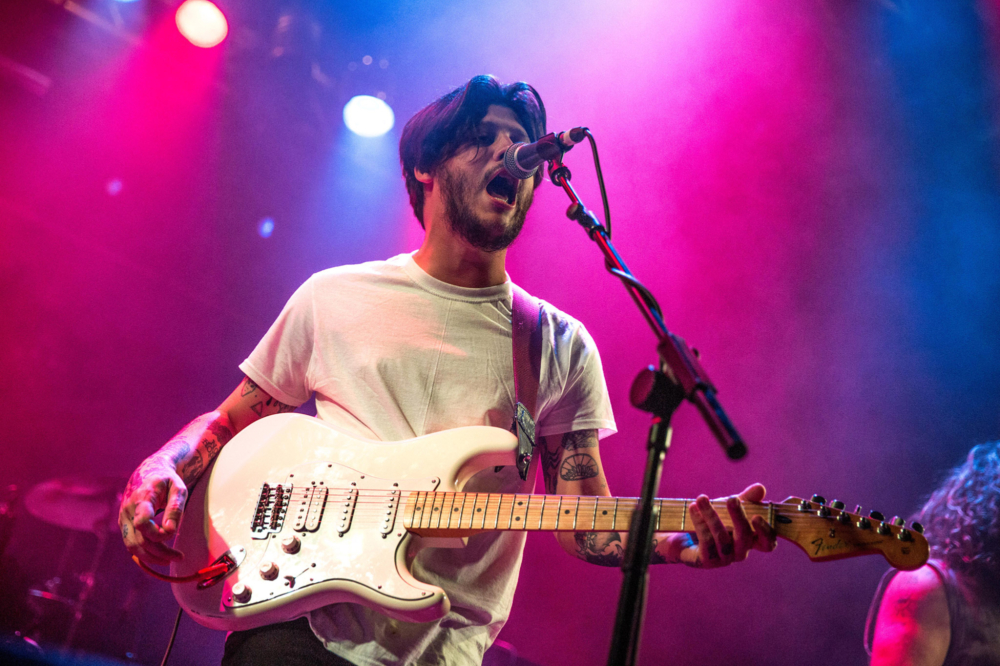 Photo: Emma Swann
Nathan Williams is one busy bloody man. Take, for example, the projects that he's been playing with in 2015 alone: not only have Wavves brought out one of their best albums yet with 'V', but it landed after Williams revealed his new band Spirit Club back in January, collaborated with Cloud Nothings on an album which landed in June, all before launching a subscription series which sees them join forces with Best Coast too. The fact that Williams manages to keep so many plates spinning at the same time is nothing short of brilliant, and it's his continued creativity that makes Wavves so great. With 'V', they've created an album that is bratty, boisterous and filled to the brim with energy which, let's face it, is exactly what the band do best. Sarah Jamieson
36. Florence + The Machine
A deserved festival headliner in every sense.
He kept it pretty quiet to be fair, but in case you missed it, Dave Grohl actually broke his leg this year. Foo Fighters couldn't top the bill at Glastonbury because of said breakage, so second on the bill Florence and the Machine - who also broke her foot earlier this year, such is fate - stepped up into headliner shoes instead. Thankfully, her foot was in top-notch condition at the time. Fast-forwarding to where she was destined to end up eventually anyway - at the top of a bill - Flo's last minute Pyramid set was the crowning gem in a year that saw 'How Big, How Blue, How Beautiful' top every chart worth topping. El Hunt
35. HEALTH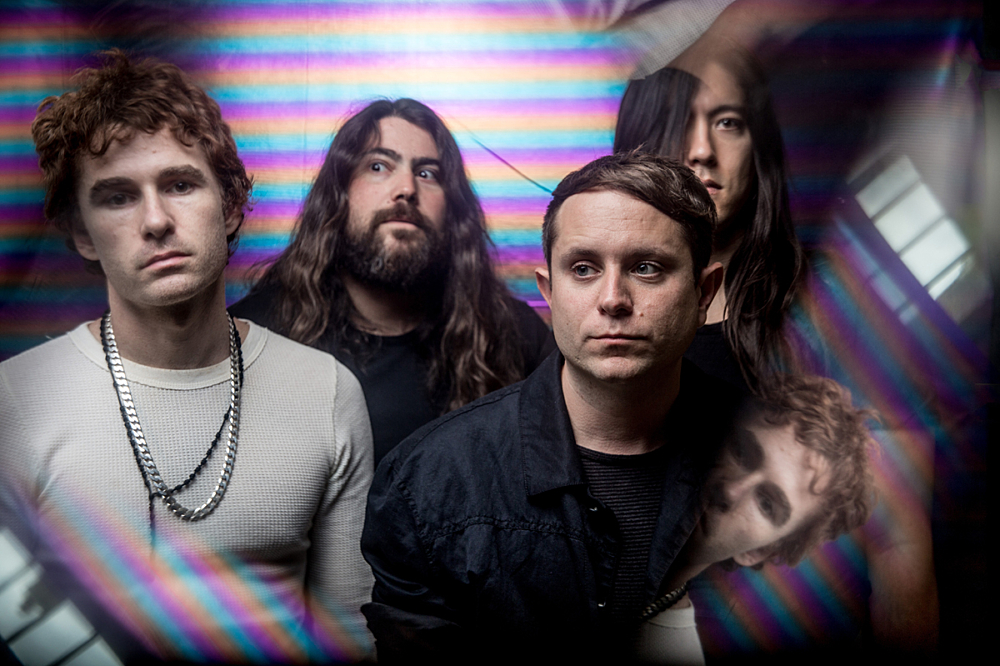 Back and more manic than ever.
Photo: Emma Swann
Six years after the release of their incredible 'Get Color', it's fair to say that people were starting to think another album from HEALTH wasn't actually going to ever materialise. Delays, Max Payne soundtracks and perfectionism became easily blamed for their third effort's absence and hope began to wain. Then it all changed. In a flurry of chaotic noise and a vomit-splatted video, the band announced their return with lead track 'New Coke' and as expected, 'Death Magic' is as unsettling, extreme and visceral as we could've hoped, yet somehow, it's completely different all at the same time. Sarah Jamieson
34. Spring King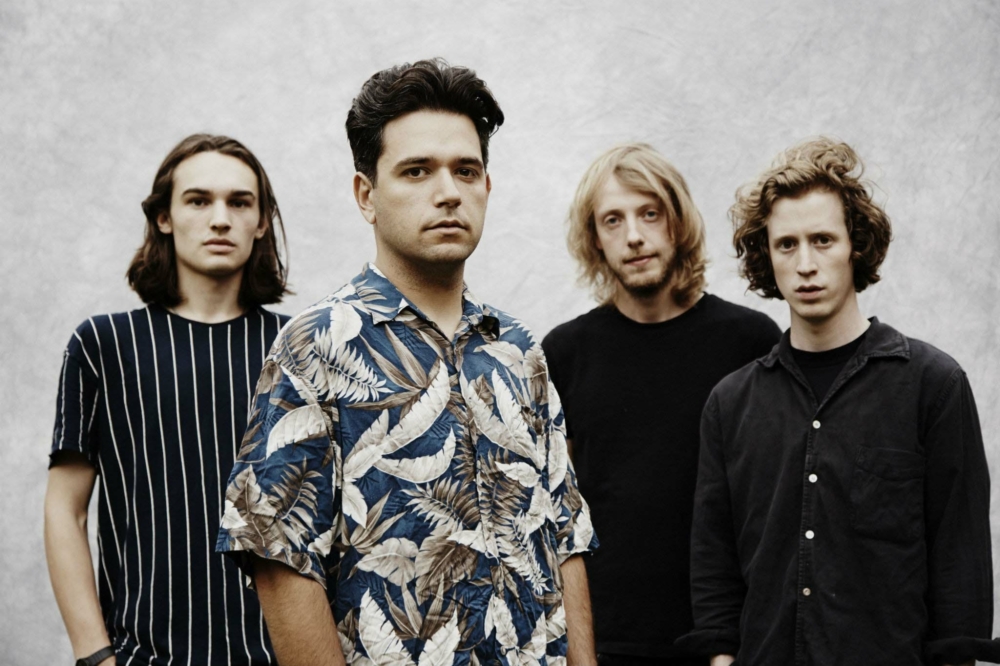 2015 was their springboard.
It's funny how in an age of unlimited access, where music arrives in all forms at all times, it can still take just a single radio play to change a band's career. There's no understating the severe turn Spring King's lives took when Zane Lowe decided to launch his Beats 1 show with their 'City' single. Ever since, this do-it-yourself group have gone on a previously unthinkable journey. They were happy to play gigs night after night, to half a dozen or a thousand people, but they've embraced their newfound fame with heart-racing enthusiasm.
Now, Tarek Musa and co. are signed to Island, storming ahead beyond the adrenaline rush of 'City'. Few bands deserve a big break quite like Spring King did. They've gone from a project made of scraps, recording in bathrooms because there was nowhere else to go, into one of the UK's most exciting new acts. All of a sudden, they have a big backing. It'd be foolish to bet against these guys going one bigger, but 2015 was their true turning point. Jamie Milton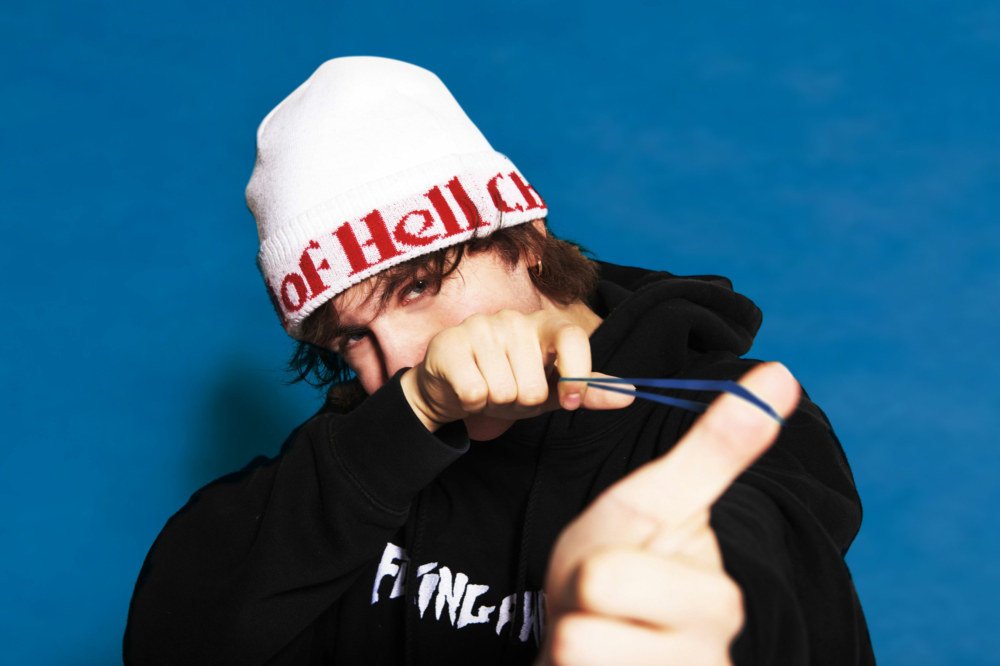 A complete prat and a loveable sod at the same time.
Photo: Mike Massaro
Rat Boy somehow manages to balance the fine art of being a complete prat and a loveable sod at the same time. He approaches everything like a kid in a playground, from self-made videos to skate footage to the brute-force songs he's packing. Rude, in your face, an instant charmer - however you stomach Rat Boy, he's not likely to be forgotten anytime soon.
If there's one thing that truly makes Jordan Cardy stand out, it's the speed at which he approaches music. While going through the dull and probably quite nerve wracking process of seeing label big wigs and being schmoozed, instead of playing the game he'd record voice memos from meetings and put them in his own songs. When he wants something, he gets it, whether that's a stage invasion or a plug on some mate's blog. At the start of 2015 he looked like an improbable chancer whose sell by date was fast approaching. Now he's looks like one of 2016's certain stars.
32. MØ
Officially bigger than Jesus.
This year Danish pop ledge MØ achieved a pretty modest feat. No biggy, or anything, but her collaborative track with Diplo, 'Lean On,' broke a fairly impressive record on Spotify. Add together every single play over the last 6 months, and it adds up to a pretty hard to fathom 2,709 years. That's enough time to get to Pluto, and back, 89 times! Even Jesus hasn't been a thing for that long. El Hunt
31. Marina & The Diamonds
2015 really has been quite the year for Marina & The Diamonds. Returning with her third album 'FROOT', Marina Diamandis used her newest offering to step out on her own. A record that saw her become bolder and braver in just about every way, it's safe to say her previous musical incarnation Elektra Heart couldn't be further behind her. Now, she's truly playing by her own rules.
Unsurprisingly, her adoring fans have stuck with her through it all, and her flamboyant flurry of live shows throughout the year has been their reward. From worldwide festival appearances to her teeny tiny DIY Presents… show back in March, every performance has been a delight and 2016 will see her continue to bring her Neon Nature party around the world. Getting frooty has never seemed quite so appealing.

Get your copy of the latest issue