Best Of 2015:
The DIY List: The year in music [21-30]
Albums, tracks, headline slots, stupid tweets. Everything counts in the list, our definitive rundown of who and what made our 2015.
It's list season. Christmas shopping lists come first, but there's also snowman-related gif lists, lists for the best ways to cook brussel sprouts. And then there's the all important end of year, tracks and albums of the year lists.
But for a band to go from small concern to Oh My God Massive, it usually takes more than an album. Triumphant festival slots, ridiculous videos, regrettable tweets - these all come into the equation. At DIY we're obsessed with bands. We follow their every move and laugh at their shit jokes. The best acts go way beyond releasing a record before going back into hibernation. They play surprise gigs, they form best mates with their tour buddies. Sometimes, they steal copies of The Sun from a service station before throwing them in the bin.
The DIY List is our look back at the year's defining artists. Albums and standout tracks obviously have an impact, but we'll also be explaining why an act's made the cut by picking out their other eye-catching moments. Last year, St. Vincent topped The DIY List 2014 by transforming into a musical superhero. Across this week (14th-18th December), we'll be running through the year's finest. Follow everything here.

How The DIY List was decided
The DIY List is a combination of DIY writers' favourite albums and tracks, and the stunning pinch-yourself moments that took place throughout the year. We've sat down and tried to take stock of the past twelve months, whether it's a bizarre news story or an unforgettable headline slot.
Nothing 'earns' more 'points'. This isn't a deep analytical discussion or a frog-leaping competition. It's a collection of the best and most bonkers acts, all ranked in a list (because lists are fun, let's face it).
Catch up with the top 100 below: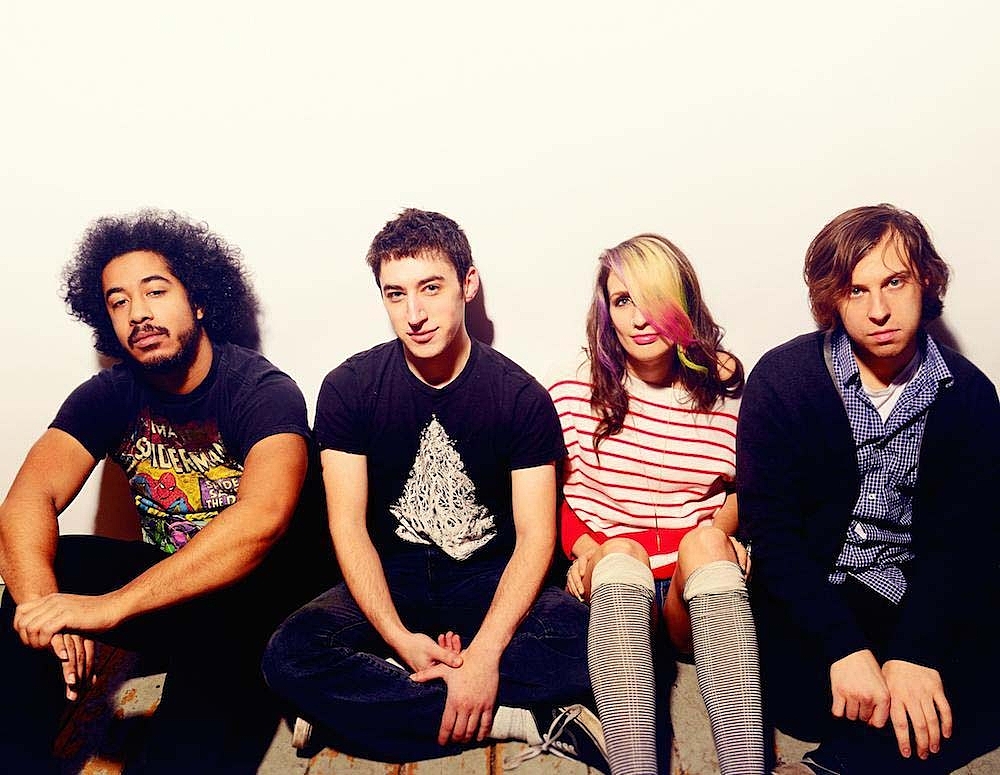 Busting bullshit all year long.
Scuzzy weirdos in the best way.
Photo: Carolina Faruolo
You can never have too many scuzzy, sort-of-melodic-but-not-quite, weirdo pop bands. Sure, it's not a genre label that you'd fit on a display down your local chain record emporium, but it's certainly one that matches Menace Beach. A genetically modified splicing of some of the best acts the UK underground has produced in recent years, together they're seemingly incapable of putting a foot wrong
Debut album 'Ratworld' shows it best. The kind of full-length you can play a hundred times and still not find yourself remotely tired of its imperfect charms, the fact it's not exactly rocket science is part of what makes it all the more special. Better than that - they're prolific too. Following it up with a new EP, 'Super Transporterreum', Menace Beach proved there's much more to come - and all of it will be bloody brilliant. Stephen Ackroyd
Who had 2015 on their 'new Blur album' sweepstakes? The record we all expected but nobody was willing to put their hard earned money on, 'The Magic Whip' is a full-length unlike any other.
Recorded initially out of a few days mucking about in a Hong Kong studio after a cancelled festival gave the four piece some down time, the mish mash of ideas that fell out of that session were originally tossed aside. There might have been something in it, but nothing was really happening. That was, until Graham Coxon decided to sort it out. Taking them to the band's regular collaborator Stephen Street, they came up with something that demanded Damon Albarn got off his arse and headed back east to come up with the lyrics.
And thank goodness he did. It's not the Blur of their Britpop commercial peak, but this is a band that evolve with age. From slow burning melancholy to frenzied sugar-rush, 'The Magic Whip' achieves what seemed almost impossible - Blur's eighth studio album adds to their legacy. Never say never again. Stephen Ackroyd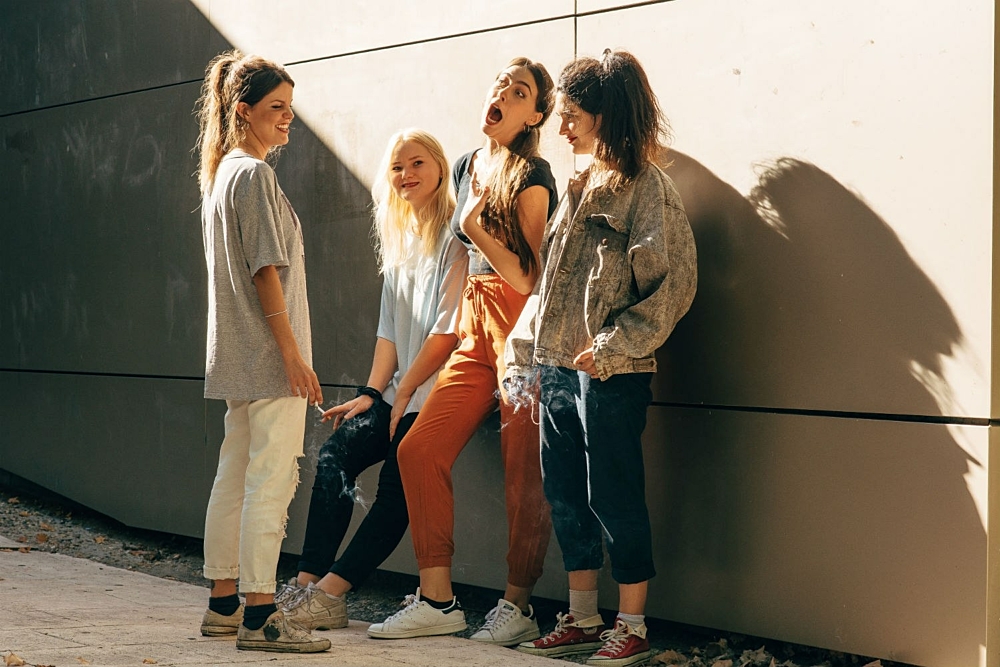 FKA Deers no more - 2016 undoubtedly belonged to Hinds.
Photo: Mike Massaro
This year begun with Hinds officially announcing their new band name by way of a scribbled on noticeboard filled with (often) silly alternatives that didn't make the cut. It set the precedent for a mayhem-filled year of endless pasta dishes, stage invasions, yet more broken kazoos, a Greatest Hits EP before the debut was even out, and that cover of 'Davey Crockett'. This year alone Hinds have: popularised Botellón street drinking as an international practice, battled their way through a fairly serious storm while on tour in the U.S, and scared the shit out of Mac DeMarco by creeping up on him in Barcelona. With their debut 'Leave Me Alone' out early 2016, expect the batshit antics to continue. El Hunt
Read: DIY's November 'Our Shit, Our Rules' cover feature with Hinds.
Grubby, snarling and sorely underrated.
The grubbiest, most snarling, psychotic debut of the year? Without a doubt. And Brighton bunch Demob Happy's 'Dream Soda' is also sorely underrated, a record that points the way forward without boasting about it. Around the album, Demob have lifted out of their seaside studio and toured relentlessly. One of the hardest working bands around, there's every chance this plugging away will get them due rewards eventually. Jamie Milton
25. Mac DeMarco
Helpful, but still utterly batshit.
Photo: Rob Hadley
Whether he's helping to back up cars all night under his alter-ego guise of The Backer, or hand delivering bottles of water from his rider to worse-for-wear fans, Mac DeMarco's a helpful dude. He sure did a smashing job warming people up for the return of Coldplay, too, doing Chris Martin a massive in the process. Swaggering all grins onto the stage at Primavera - delicately holding a flute glass filled with cava - a broken guitar prompted Mac's band to perform blissful swayathon 'Yellow' to an uproarious crowd. Between that, and his ten minute crowd surf across Victoria Park, it was truly a summer of Mac shows to cherish. What an absolute gent. El Hunt

24. Sleater-Kinney
Take off the rose-tinteds - Sleater-Kinney are living in the here and now.
More often than not, comebacks can feel pretty stale - like a pack of open Quavers discovered months on, stuffed down the side of the sofa. Watching a reunion that's happening for the wrong reasons, the cash registers seem to ding with every half-arsed guitar riff, and it leaves you wishing you'd left the rose-tinted sunnies on instead.
Sleater-Kinney, as you might expect, fervently avoided treading that particular route when they returned this year. Sitting on a near-flawless back catalogue, Corin, Carrie and Janet were adamant that they needed something new to say instead. In 'No Cities To Love' - an anxious, claustrophobic assessment of a world that's tricky to find a shape in - they land on that goldmine. Ever relevant, ever with something potently important to say, and always giving an almighty finger to nostalgia, don't call it a comeback. This year marked Sleater-Kinney picking up right where they left off. El Hunt
23. The Maccabees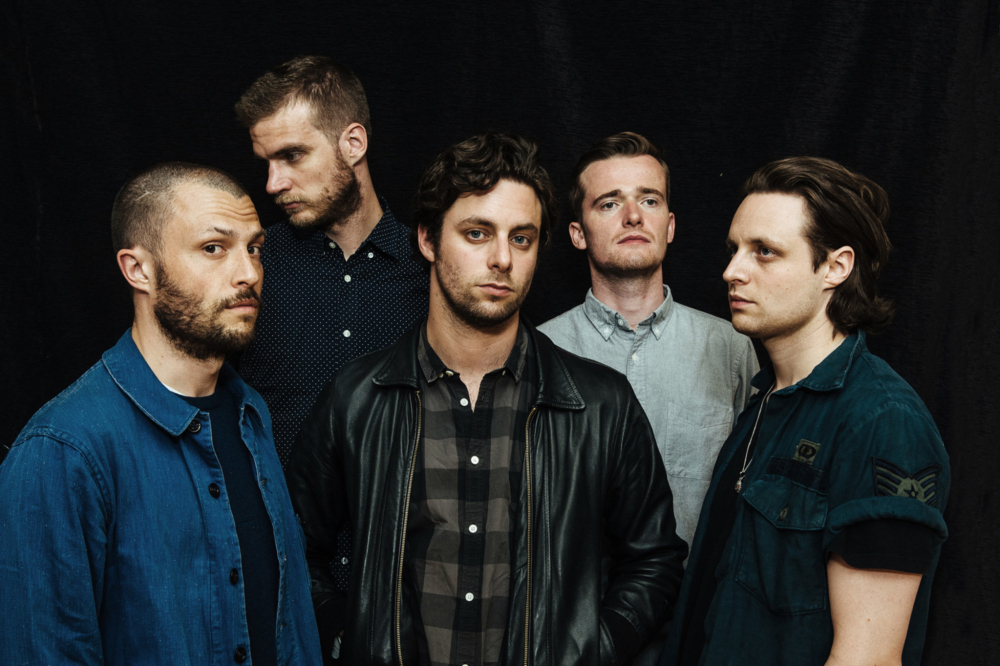 So much more than a teenage obsession, The Maccabees are a band for the ages.
Photo: Mike Massaro
The Maccabees are one of those bands that everyone of a certain age fondly remembers being obsessed with as a teenager, but there's a distinct difference with this lot. 'Latchmere' might've morphed from Underage Festival's unofficial anthem into a heady slice of nostalgia over the last eight years, but while other bands slide down the long, dark chute of history, The Maccabees continue to put out astoundingly good music. Concrete-strong consistency is rarer than an unclaimed chocolate truffle, but on the evidence of fourth album 'Marks To Prove It', The Maccabees haven't got a duffer in 'em.
And what a fine fourth record it was, too. Chucking the synthetic richness of 'Given To The Wild' to one side, and grasping ahold of all things physical and touchable, The Maccabees also crafted an anthemic record custom-made for some of the loftiest festival stages in the world. Soundtracking the sun's descent on the main stage of Reading and Leeds - a place where they're well-established veterans already - Orlando Weeks raised his arms to his face as a thousands-strong crowd shouted back every word of an album that was barely a month old. That's just what being in a lasting band is all about. El Hunt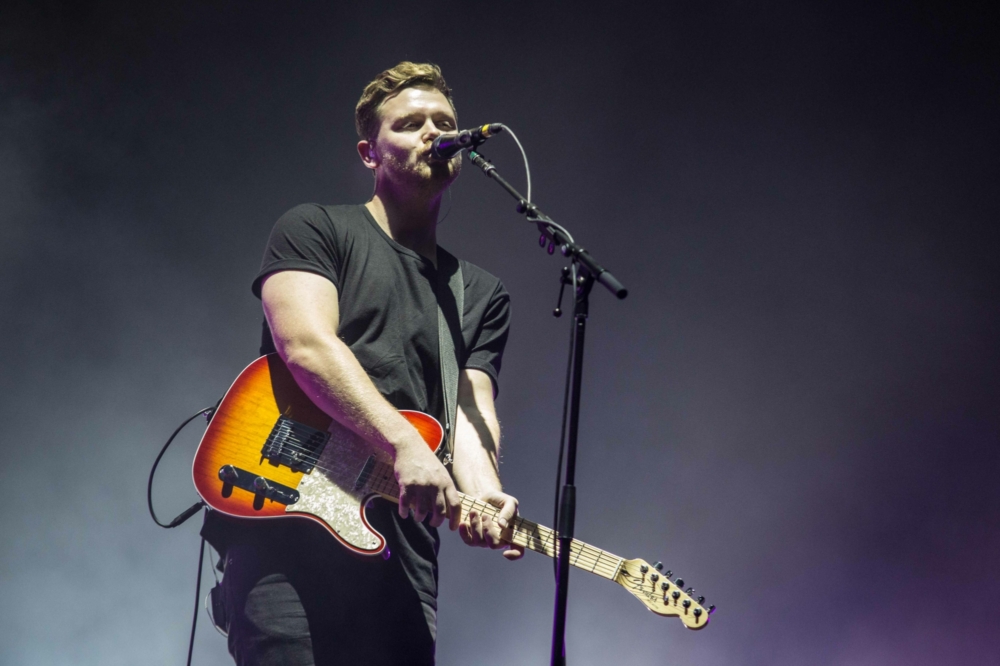 Regular future festival headliners, guaranteed.
Vocals from a higher plain and a timeless beauty.
'Vocal moment of the year' wasn't exactly high on our idea list for the Readers Poll (we're decidedly not the types to get technical on anyone's asses, for one) but if there were to be such a list somewhere, the moment approximately 39 seconds into Alabama Shakes' 'Don't Wanna Fight' (above) would probably be 'the one'. It wasn't as if we didn't know Brittany Howard's voice was some kind of higher being, but here it's stretched to breaking point in the best possible way. 'Sound & Color' is pristine, timeless and all the other overused platitudes in the 'music that sounds a bit retro' box (see also: Leon Bridges, Tobias Jesso Jr), but as the band's festival appearances this summer proved, they're no throwbacks. Emma Swann

Get your copy of the latest issue